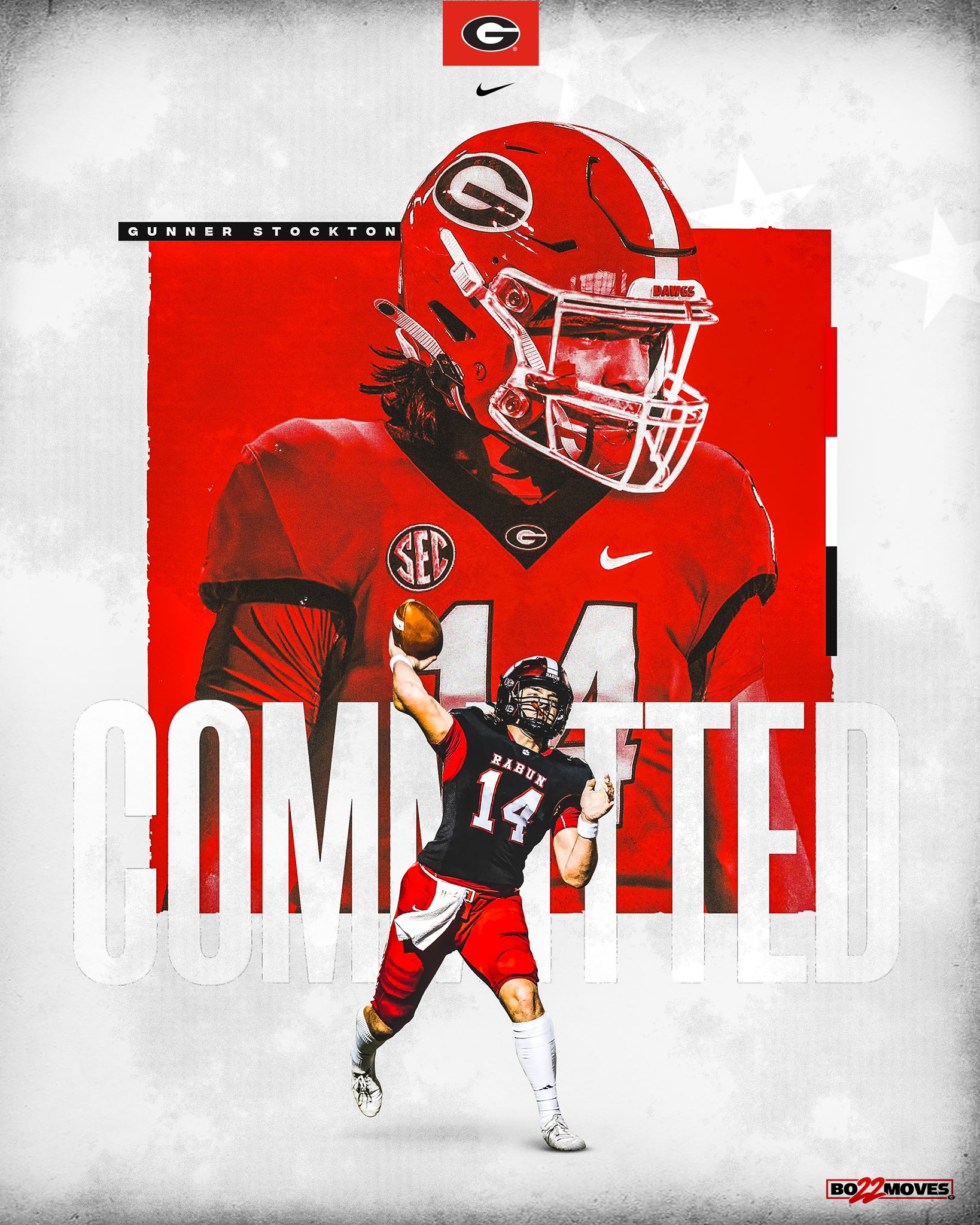 Kirby Smart and the Georgia Bulldogs pulled in an impressive commitment with 2022 Quarterback Gunner Stockton . Despite Stockton still having another year of high school remaining, there is no doubt those that follow Georgia football will be debating Brock Vandagriff and Gunner Stockton as the heir apparent to JT Daniels. Now, there is absolutely no way Vandagriff is going to come in and just sit back and enjoy watching Daniels play in 2021. Vandagriff will fight and compete for every rep possible during his freshmen year at Georgia. However, if everything goes as planned for the Dawgs in 2021, Daniels will have played at a Heisman like level and lead UGA back to the College Football Playoff at a minimum. If so, Vandagriff and Stockton would both be coming into the 2022 season looking to secure the starting job for the Dawgs. Oh, and don't forget former 4-Star prospect and current Georgia QB Carson Beck is still on the roster.
In today's game you can never have too many big-time quarterbacks on the roster. Alabama, Clemson, Ohio State, and LSU all stockpile talent at the most important position. It just so happens that Nick Saban, Dabo Swinney, Urban Meyer, and Ed Orgeron pushed the right buttons at the right times to turn their treasure-troves of gunner slingers into championships. Now Kirby Smart is going to get a 2nd run at navigating a loaded depth chart at quarterback while also trying to win the SEC and bring Georgia a national championship. Now, as I said before, Dawg fans will hope that this is a mute point when 2022 rolls around and that JT Daniels has helped Georgia end their national championship drought. If that's not the case however, Vandagriff or Stockton will be looked to the next hopeful to take UGA to the promised land.
A lot can happen between now and the time that Gunner Stockton signs with Georgia. Heck, in the age of COVID, a lot can happen by next week. One thing is for certain though. Georgia is going to continue to bring in talented quarterbacks in each and every class, sometimes multiples with the transfer market factored in. Kirby Smart has proven to be one of the best in the country at accumulating elite talent at the position. Now it's up to Todd Monken, Buster Faulkner, Cortez Hankton, and ultimately Kirby Smart to develop these superstar prospects, identify a trigger man and put that player in a position to make championship winning plays.
Again, there is no doubt in my mind that JT Daniels will play at an extremely high caliber this fall for Georgia. With hindsight being 2020 though, and from what Kirby Smart and company learned from teh situation with Justin Fields and Jake Fromm, I would expect Brock Vandagriff to see snaps in every game in 2021, with the exceptions of possibly Clemson, Florida, and the SEC Championship (should Georgia take care of business in the East). For the sake of the 2021 team, the future of the program, and the development of Vandagriff himself, it would be highly beneficial for Vandagriff to be used for entire offensive series instead of random plays.
Kirby Smart welcomes and actively pursues a plethora of talent. Obviously players like Beck, Vandagriff, and Stockton are not scared to compete. It will be interesting and gut churning all at the same time for the Georgia faithful as this one plays out. In the end, the only thing that will matter is can of the high profile prospects turned Georgia signal callers produce a national championship. It can be done. Let's keep in mind that Mac Jones, Tua Tagovailoa, and Jalen Hurts were all teammates. Georgia hopes their talented QB room can experience similar success going forward.