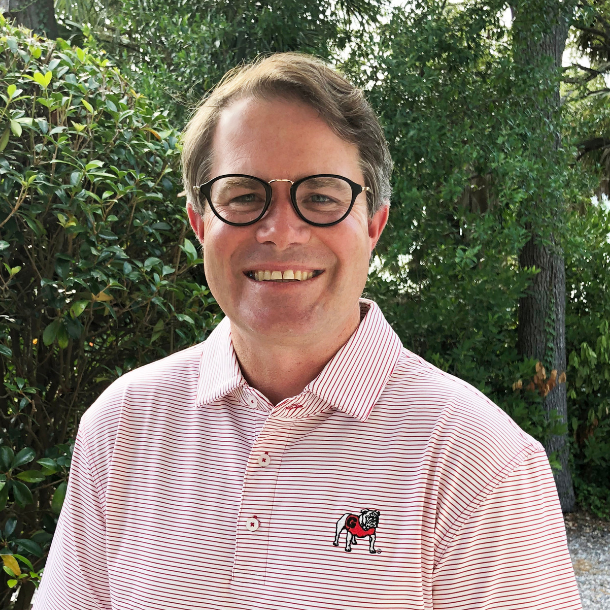 It's been just over a fortnight since our Georgia Bulldogs football team completed their perfect 15-0 season to become the 2022 National Champions. Of course, Georgia football also ended the 2021 season with the same moniker.
Back-to-Back National Champions … damn impressive Dawgs!
However, the jubilation at the National Championship parade and celebration on Saturday, January 14, turned to shock and despair in the early hours of the next day. Our beloved football program had lost two of their own with the passing of offensive lineman Devin Willock and recruiting staff member Chandler LeCroy.
That day, I was following up a text to Kirby's brother, Karl, for names from a photo I had taken at the celebration. Hurting for all involved, I sent this, "thoughts and prayers to your brother and the team as they process the devastating passing of a teammate and program staffer. Life is so epic and brutal all in one."
My emotions today are virtually the same even though a few weeks have passed. Everyone at Bulldawg lllustrated sends our love to the families of Devin and Chandler. And the same to the McClendon and Bowles families as they help survivors Warren and Tory guide their futures, while missing their beloved friends.
As our cover reflects, this 2022 National Champions Edition is In Memoriam to Devin Willock and Chandler LeCroy. The 132-page edition is a celebration of the championship team they were a part of. And just like Devin and Chandler, everyone involved with the 2022 Georgia football program is so special.
Thank you, thank you, thank you for a magical season. My hope is that this commemorative edition matches everything this team accomplished.
This edition closes out our 20th year of publishing. Back-to-back titles to wrap two decades in business … pinch me, is this real?
---
---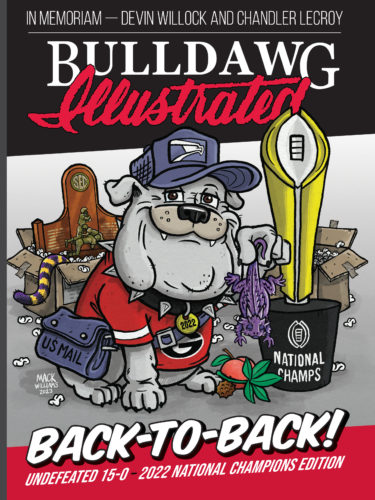 Purchase your print copy of our 2022 Bulldawg Illustrated National Champions Edition now. Or get a back-to-back set, which includes both the 2021 and 2022 Bulldawg Illustrated National Champions Editions.
The mega-editions includes game, scene, fan, and final perspective content, plus over 150 fan photos from the games and the epic National Title campus celebrations in Athens.
Available in singles and 5-packs. All orders include sales tax and shipping.
Order 5 copies of 2022 National Champions Edition $70.00 – Click HERE
Order a single copy 2022 National Champions Edition $28.00 – Click HERE
Order 5 sets of both the 2021 and 2022 Nat. Champions Editions $99 – Click HERE
Order one set of both the 2021 and 2022 Nat. Champions Editions $50 – Click HERE
---
---
On page 12, Jeff Dantzler leads his column saying, "It (the 2022 season) was the most enjoyable Georgia football season of my life." How's that for a tease for another classic JD column?
Like last year, I've broken this mega-edition into four sections … THE GAME, THE SCENE, THE FANS and THE FINAL PERSPECTIVE.
Throughout the edition, please take notice of the awesome photography by BI's Greg Poole and Rob Saye. Working a football game on the sidelines is a tremendous commitment and these two guys always perform superbly.
This edition is too large for me to discuss every page, so I'm going with a few favorites.
First up, please take the time to read Clay Watkins' story (page 36) and Hamilton Culpepper's column (page 122). Both Clay and Hamilton are students at Georgia, so their perspective on the passing of Devin and Chandler is so poignant. They do an excellent job and I sure do appreciate their professionalism and care with their words.
All our features (where Clay's story is) in THE SCENE section (beginning on page 26) should be a score. Once again, I brought Murray Poole out of retirement for the Toughness and Connection stories. From discussing the 2022 team with Matt Stinchcomb to talking to three different fan groups about their travel to LA for the Natty, Murray's mastery on the keyboard never ceases to amaze me. Also, don't miss our recap of the Athens Goes West concert held at the Troubadour in West Hollywood the Sunday before the game. What an incredible night of music and Bulldog revelry it was!
Our THE FANS section (beginning on page 41) is loaded with fan photos from the National Championship game and the parade and celebration in Athens. Needless to say, you will see lots of people smiling with their No. 1 fingers flying high. Victory x 2 is oh so sweet!
In both THE GAME (beginning page 16) and FINAL PERSPECTIVE (beginning page 84) sections, you will find the nitty-gritty of this magical 2022 season. From Kevin Butler's players of the game to Jeff Dantzler's Final Top 15, the content is No. 1 like our Dawgs. Also in the FINAL PERSPECTIVE, you will find all 18 covers that we produced this season, paired with JD's takes on each game/issue. Enjoy. I know I sure did when remembering (through JD's words) this team's excellence throughout the stellar campaign. Also, Loran Smith opines about the team's Rembrandt performance against TCU. And Murray Poole gives a nod to the 912 area code's contributions to the back-to-back national championship seasons. Way to go 912!
Speaking of the 912, our cover art was created by one of their native sons, Mack Williams. Thanks Mack, you nailed it. And how appropriate that our final magazine of 20 years is a cartoon just like the very first one was by the legendary Jack Davis.
Finally, thanks to all our advertisers over the last 20 years. You are the reason our readers can count on a fun and entertaining publication about their favorite love, Georgia football.
Speaking of favorite love, I would be remiss not to thank my partner in BI and life, Cheri. We've been to hundreds of games and proofed thousands of pages and are still having a blast. Don't miss Cheri's Championship Crushes on page 12, where you will find lots of fun goodies to celebrate another title.
Gotta go now, but we'll be back the week of the G-Day game to discuss going for 3 in 2023. Nice work Rob Saye in catching Kirby post-game. Score. Thanks again to the 2022 University of Georgia football program. You have represented our University like the champions you are … Go Back-to-Back Dawgs!!