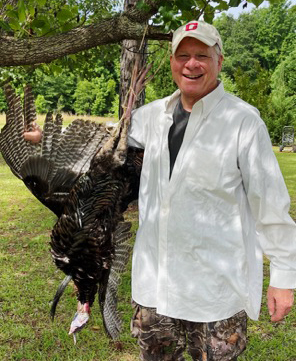 I sincerely hope everyone in the Bulldog Nation is having a great summer. How could you not, seeing as our Georgia football team is the reigning back-to-back national champions? That's not a misprint folks. This dream-like feeling is 100% real.
With that being said, in my planning for this 2023 Season Preview issue of BI, I debated how to present the fact that our Bulldogs have a chance at a three-peat. Should I go with something subtle or go all-in and take the bull by the horns? 
Thankfully, in mid-May, Georgia Supreme Court Justice John J. Ellington happened to text me this photo of a turkey he harvested on the final day of turkey season. I gave him the thumbs-up emoji and said, "Going for The Turkey in 2023!"
Boom, I had my vision for this issue.
In bowling, for those who don't know, a Turkey is when a bowler rolls three strikes in a row. That is exactly what our football team has the chance to do this 2023 season. Not surprisingly, excellent cartoonist and UGA alum Mack Williams nailed my vision for this cover. He even added a fun nod to the 1998 cult movie The Big Lebowski … "The Dudes Abide."
Let's sure hope so!
And who better to be on the cover than Georgia's human bowling ball Brock Bowers? No. 19 will certainly go down as one the Bulldogs' greatest players and Jeff Dantzler's brilliant column (page 12) certainly hammers down all the evidence needed to make such a statement. But what I liked best about JD's column is how he put Bowers' humility as one of his greatest characteristics.
So here we go … let the second half of the summer countdown commence in anticipation of toe meeting leather on September 2 in Sanford Stadium. This 2023 Season Preview issue should certainly amp you up for the season to begin.
The issue is loaded with a plethora of sports articles.
On pages 15-18, Clay Watkins and I had some fun putting Georgia players in groups of three (Going for the Turkey). To qualify for the groupings, all players had to be on the Georgia roster when the first national title was won in 2021. We couldn't include everyone, but I know you will enjoy the clever way we made this fun feature come together. And Greg Poole's "Eat off the Floor" (page 20) and "Immediate Impact" (page 22) teams are both entertaining and important to our Dawgs getting "The Turkey" in 2023.  Great stuff guys, thanks.
In the back of this issue (More Sports section), Jeff Dantzler has his annual Game By Game and Position By Position beasts as we liked to call them. Be prepared for a popcorn or cocktail intermission, you are going to need something.
And looking ahead (2024), Hamilton Culpepper and Coby Serina uniquely close out our sports coverage. Hammy (page 54) takes a creative stab at where the games may fall for the 2024 juggernaut schedule. As the page displays, THE DATES ARE NOT THE ACTUAL ones.  The SEC typically releases those in September. Then Coby (Page 62) gives a quick recruiting update on the 2024 class. Can you say best class in the country so far … Woof, Woof, Woof!
Finally, don't miss all our exciting social coverage in this issue, which of course includes tons of fan photos. Also, we introduce a new feature called MixTape (page 32), where Cheri will introduce our readers to a UGA Alum including his or her play list. Valdosta and Athens businessman, Tom Call certainly has some classic tunes for those of us that grew up in the 80s and 90s. And our Georgia Girls (pages 30 and 31) and Proust Q&A (page 46) features DGDs Wells Maley McConnell and Bryan Johnson.
Alright, that's going to do it for now, Dawg fans. My final thought is simple. Enjoy the heck out of the remaining weeks of the summer, while also focusing deeply on the task at hand for the 2023 season. Let's go get "The Turkey," which starts Labor Day weekend in Athens and ends on January 8, 2024 in Houston.  Go Dawgs!!