"Chippy" is not a strong enough word to describe the action on Grant Field Saturday afternoon. Both teams came into the game with an edge, and extracurricular activities went on throughout the day (both verbal and physical). One battle that raged all game occurred on special teams.


I have been following (via telephoto lens) Georgia freshman linebacker Nate McBride as he raced downfield on kickoffs for several games, after having noticed that McBride is very likely to deliver a big hit to a blocker or the ball carrier at every opportunity. Evidently, Tech's special teams coaches also noticed McBride while scouting Georgia. On the opening kickoff as Nate sped downfield (he was a track star in high school) a Tech player came after McBride and delivered a blow that knocked the young Bulldog off his feet. The battle was on for the rest of the day, and, thankfully, the combatants had plenty of opportunities to renew their personal rivalry after each UGA touchdown. Even with the game decided the two continued their game within the game. My last memory was pressing the shutter as the two stood toe-to-toe, facemask-to-facemask – no doubt congratulating each other on a well-played game (NOT!). And the winner by unanimous decision – Nate McBride!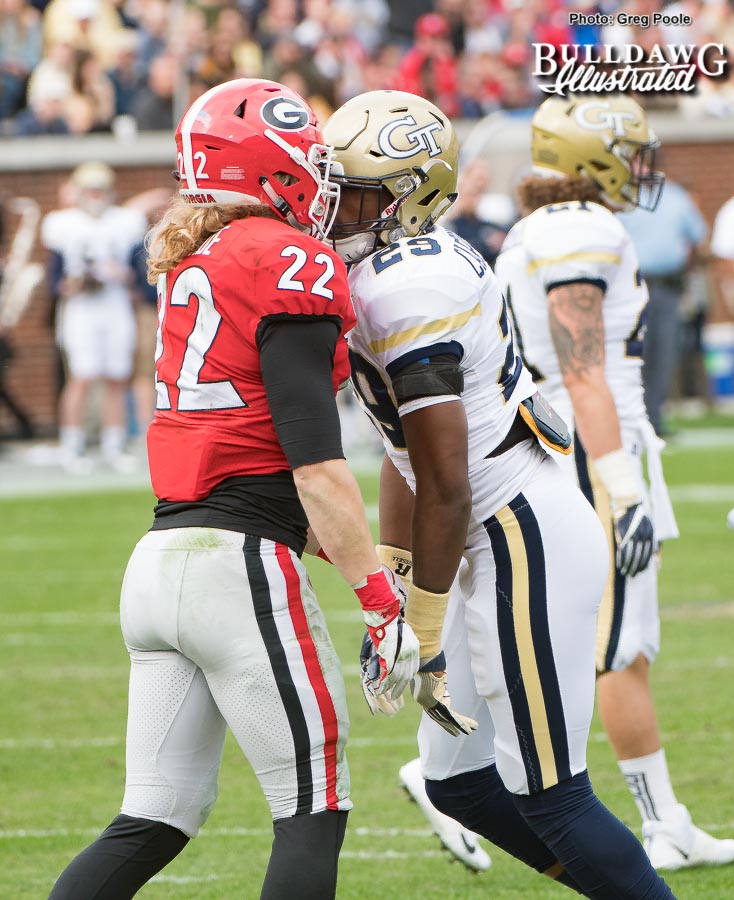 Did you like Georgia's offense Saturday? I hope so, because that kind of run-first, wear-down-the-defense-while-maintaining-possession-and-driving is what you are likely to see going forward from Kirby's Dawgs. All indications are that Kirby Smart is recruiting to and installing a similar offense to the one that has carried Alabama to national prominence under Nick Saban. That is not to say that Kirby is determined to copy his mentor in every detail, but their overriding offensive philosophies seem to be the same. One marked difference can be seen in quarterbacks. When Justin Fields appears on campus UGA will have three quarterbacks who are, arguably, more talented than any of Bama's national title signal callers. Kirby is not a slave to a ground-pounding offense, but you can bet that the soul of the attack will be to run it down the throat of the defense.


Now come the SEC Championship Game and the rematch with Auburn. How do Kirby and Chaney gameplan for Auburn for game two? I have no idea, but as I suggested in the previous paragraph, the system dictates that the run game must be established despite Georgia's failure to mount a ground attack in the first meeting. Georgia will Run.The.Damn.Ball. It is who they are.




The is one aspect of this Kirby Smart coached team that has been on point all year (except for one Saturday on the Plains). Focus is the key as Georgia transitions to unfamiliar territory – the SEC Championship Game. No current Bulldog has played in the Championship Game, but every one of them has seen what happens without focus when the team meets a talented rival. Having been to practice every week this year, I saw no difference leading up to the Auburn game, but the final score told a different story. The SECCG will be a coaching battle, a battle of preparation. The Championship will belong to the team whose staff best gets its player past their victory over a hated rival and laser-focused on championship football. Auburn is coming off of a huge win over their Alabama. They just beat up their big brother, but it was a fight that has left them with a few injuries and an emotional issue. Will the Tigers be able to leave the (infrequent) triumph over Bama behind and get jacked-up for UGA a second time? Can the Dawgs put their lone defeat behind them and focus on the prize? The pressure is on Auburn; my money is on the Dawgs.
---
Recent Articles by Greg Poole


[pt_view id="cfef513t3d"]