When quarterback Jake Fromm (11) was asked about his performance back in 2017 his face lit up with a grin.
"I didn't think I played my best game at all," said Fromm. "I just put it on Nick and Sony's backs and said, 'Hey guys you gotta help me out here.'"
When Georgia played Notre Dame in 2017 Fromm was a true freshman, and it was his first start when the Bulldogs edged the Fighting Irish 20-19 in South Bend.
This upcoming Saturday, Fromm will be leading the No.3-ranked Bulldogs into a primetime showdown against Notre Dame at 8 p.m. in Sanford Stadium.
"There's a world of difference in Jake from then to now," Georgia head coach Kirby Smart said. "He was a young, nervous, composed freshman, and now he's a confident, experienced junior, and he continues to get better, he makes good decisions."
Watch a fullscreen slideshow (opens in new tab)
HERE
.
These photos can be viewed, downloaded
HERE
.
Fromm's 2019 numbers don't disappoint so far. He has the second-highest pass efficiency rating of returning quarterbacks, and as of right now, he ranks 8th in the nation with 5 TD passes. This season Fromm has yet to throw an interception and has a 194.60 quarterback rating.
Fighting Irish coach Brian Kelly isn't too surprised and knew about Fromm's gamer mentality when he coached against him two years ago.
"I thought he was extremely efficient, he took care of the football," Kelly said on his Sunday radio show. "You get a glimpse at somebody when they are freshman, and when they exhibit those sort of traits, you know you're gonna have somebody that's going to be a special player."
Kelly went on to add that Fromm played with such poise during that 2017 matchup, and also added that he saw a lot of confidence in him as a true freshman.
"He wasn't afraid of the moment," said Kelly. "He stepped up big. So it doesn't surprise me he's playing at the level he's playing at."
During that game, Smart and the Bulldogs relied heavy on former Georgia running backs Nick Chubb and Sony Michel. Those two combined for 136 rushing yards on 26 attempts.
In that game, Fromm was 16-of-29 for 141 yards and an interception, but with a TD pass hauled in by Terry Godwin.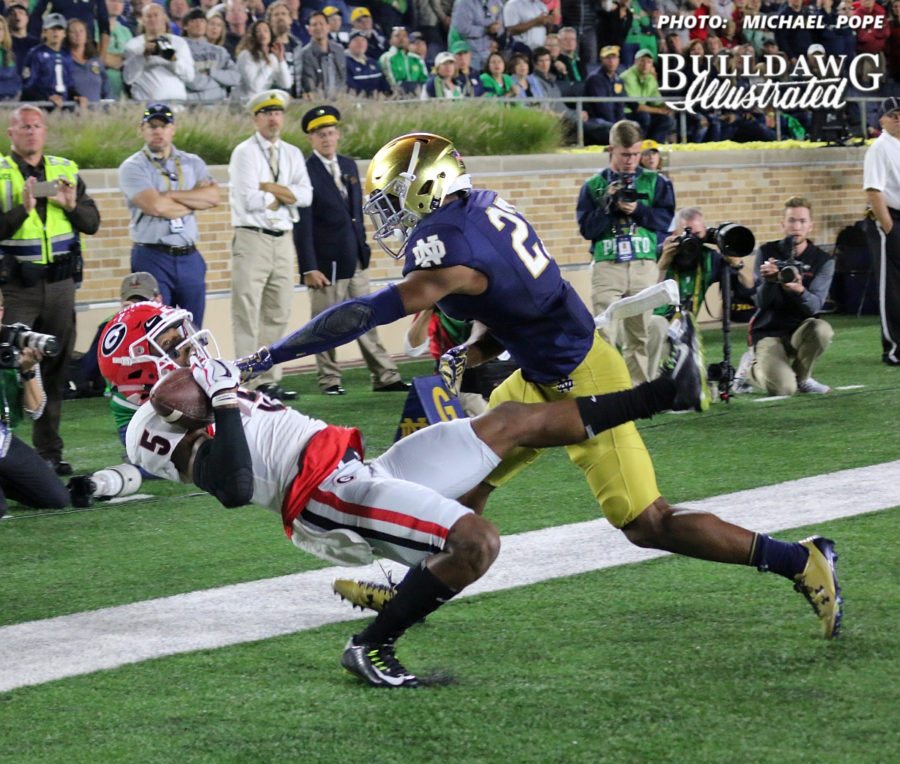 In the final minutes of the game, Fromm led the Bulldogs down the field setting up for a Rodrigo Blankenship (98) game-winning field goal. On that final offensive drive, Fromm went 3 of 4 for 45 yards as Blankenship hit the field goal with 3:34 left on the clock.
The Georgia defense came up big as Davin Bellamy forced a fumble on the next drive, and Lorenzo Carter recovered the ball on the Notre Dame 25 yard line.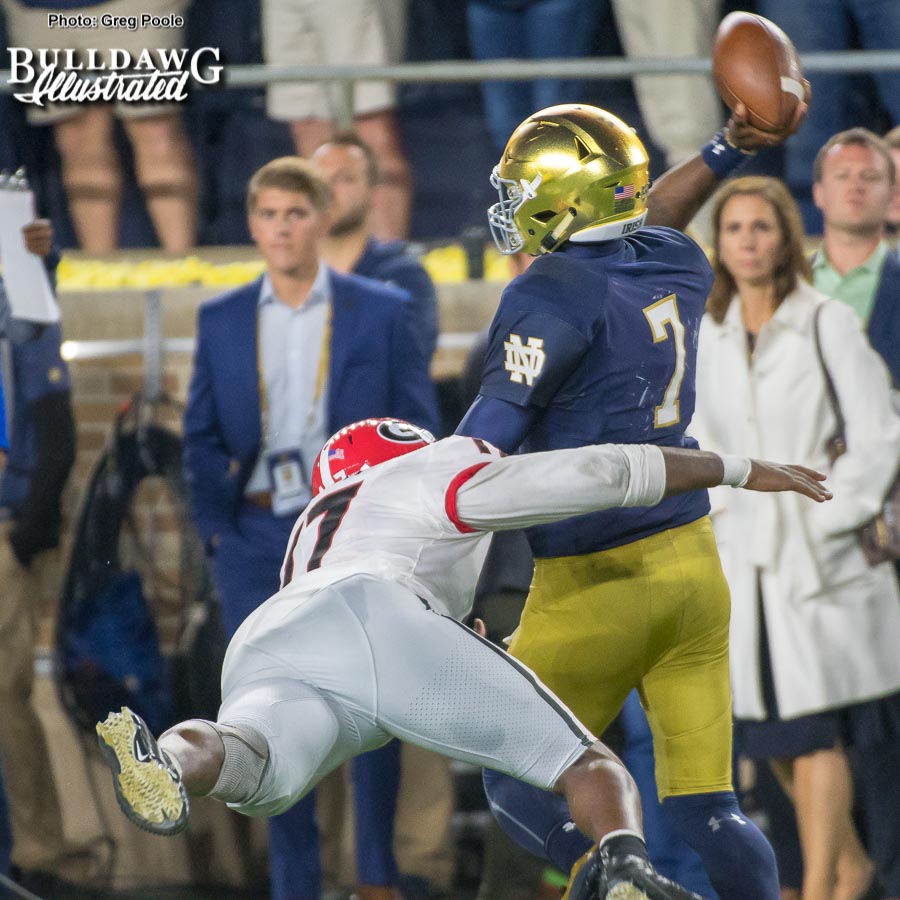 "The defense played great that night, and it was just unbelievable," Fromm said. "Now they come here and we'll be ready to play, got to go to work this week."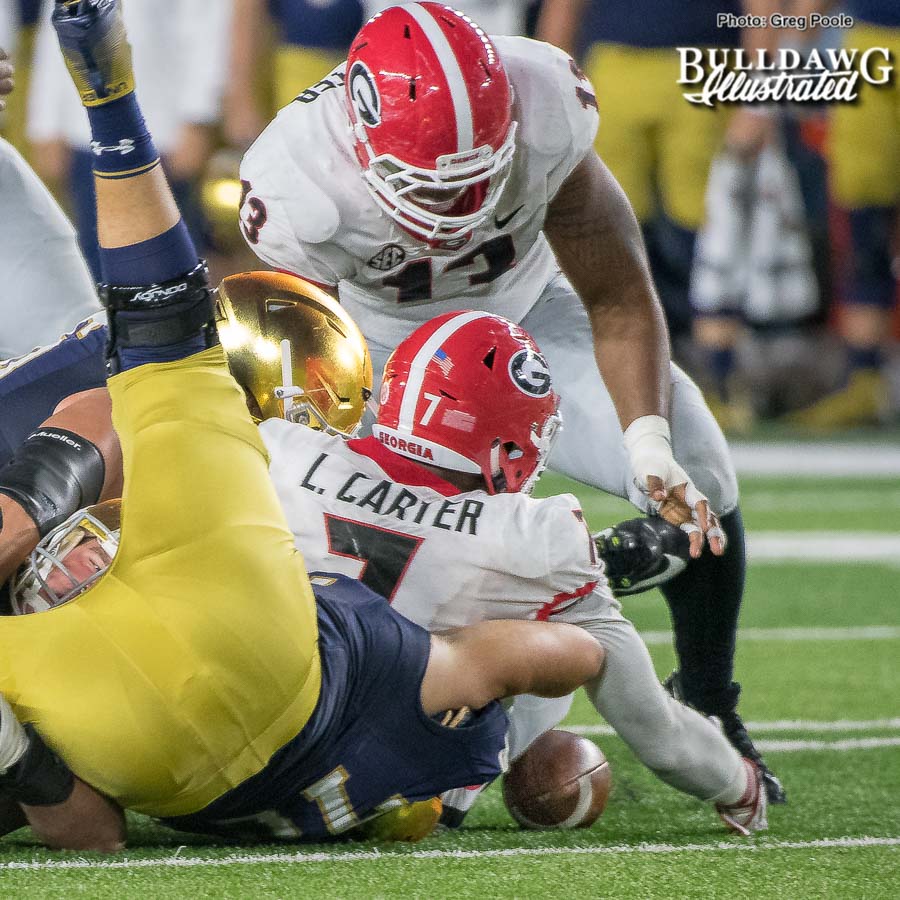 Neither other players nor Fromm are caught up in the hype of playing against a historic college football powerhouse like Notre Dame.
"It's just a game," said senior safety J.R. Reed (20). "We are going to out there and play our best, and I don't think anyone on the team is overhyped about it. But I am glad it gives our fans something to cheer about."
Fromm was asked during SEC Media Days if he was excited for the chance to get to beat the Fighting Irish again.
"It's just a football game, I've been playing football since I was 7 years old, you can make it as big as you want to make it," Fromm said. "I had great teammates around me so I just followed them."
His perspective towards this game hasn't changed now that game week is here.
"You really don't worry about the atmosphere, what it's going to be like," Fromm said. "You know it's going to be one of the biggest games ever, but you just don't think about it that way, just come in and go to work."