[su_spacer size="20″]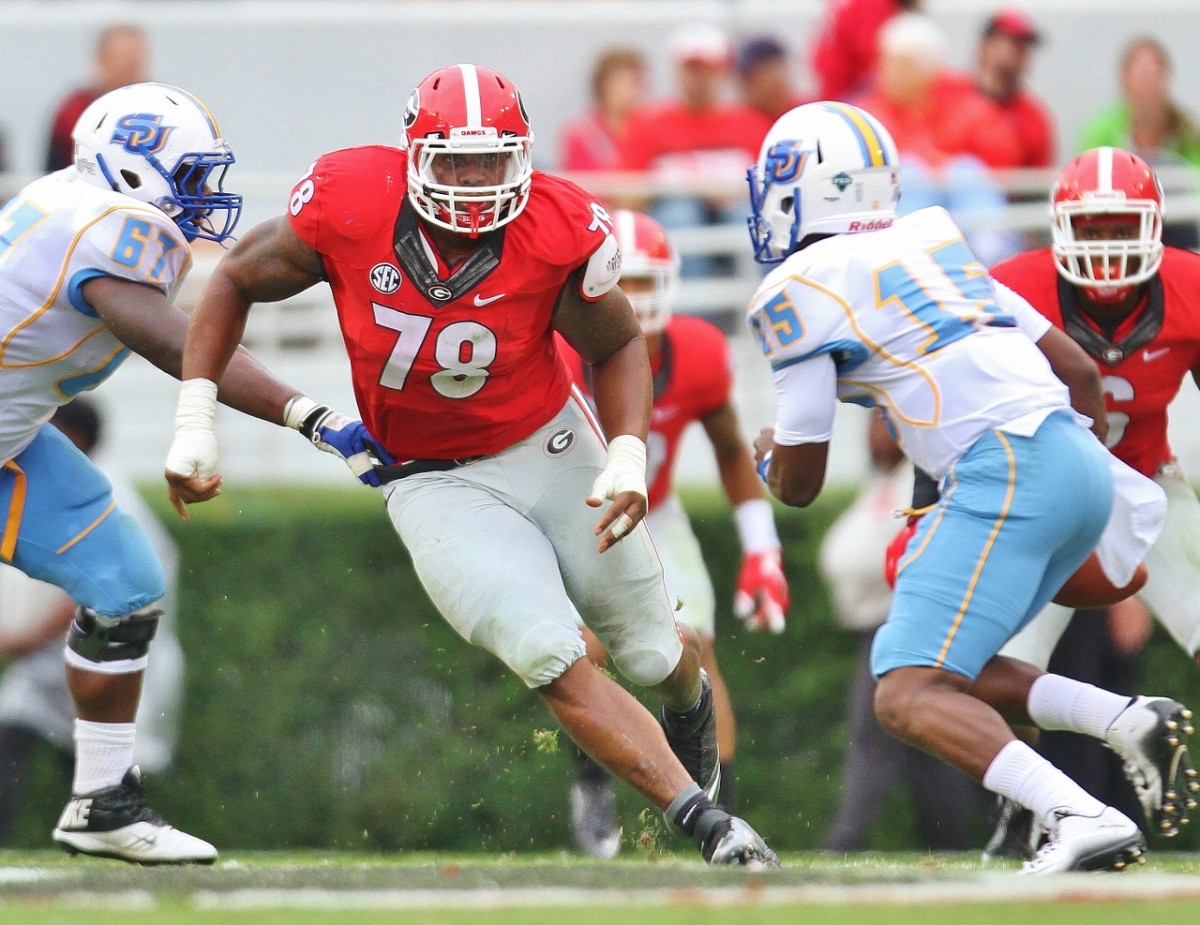 [su_spacer size="20″] As kickoff approached, the most interesting thing about the Southern University game was going to be just how focused the Bulldogs could be with Alabama looming one week away. In my mind, Georgia's focus and discipline were quite good. For all of their practice time and concentration on the sport, these players are not professionals. In fact, many of the Dawgs participating Saturday were just a couple of months removed from high school. Keeping them focused against an FCS opponent is a major coaching challenge.
[su_spacer size="20″]
Coach Richt, in his postgame press conference, said that both the offensive and defensive lines started the game without the kind of focus and intensity necessary, but came out of the halftime break and dominated both sides of the line of scrimmage. The 3rd quarter was all Georgia.
[su_spacer size="40″] – The Southern University players and fans that I encountered were among the best guests ever to set foot in Sanford Stadium … and that band is incredible. What a show! Perhaps the highest compliment was the Redcoats lining up to high-five the Human Jukebox as it left the field.
[su_spacer size="40″] – Georgia continues to play its true freshmen. This freshman class is loaded with talent and the coaches are making sure that most get game experience early in the season, and the young pups are responding. In fact, the only UGA sack of the game was credited to freshmen Rashad Roundtree and D'Andre Walker. If no other freshmen play this year, Georgia will have played 80% of this year's recruiting class. Coach Richt explained last week that he has changed his mind about redshirting and one of defensive coordinator Jeremy Pruitt's watchwords is, "you recruit them to play them." Look for skill position recruits to see the field as freshmen and for UGA to use early playing time as a primary recruiting tool.
[su_spacer size="40″] – When Southern University player Devon Gales was seriously injured, UGA Director of Sports Medicine, Ron Courson took charge of preparing the young to be transported to a local hospital.
[su_spacer size="40″] – Greyson Lambert had another outstanding day (9 of 10 for 146 yard and 2 TDs). One of the things that I have noticed about Lambert is the amount of time he spends with the offensive line between series. He seems to be with the big uglies whenever I check out Coach Sale's group. O-linemen are often unappreciated but Georgia's line has a couple of big fans in Greyson Lambert and Nick Chubb.
[su_spacer size="40″] – Lambert will save some money this week. He offered during fall camp to treat the line to ice cream after each no-sack game, but the Jags got a 3 yard sack and put a serious dent in Ben and Jerry's Sunday sales.
[su_spacer size="40″] – Did I mention the Southern band?
[su_spacer size="40″] – Malkom and Malcolm put on a show against Southern. Malkom Parrish blocked a punt (the first of his career). Coach Richt made a point of mentioning Parrish after the game for 96 yards and a TD. He also had a beautiful catch in the endzone nullified by a penalty (preventing his 2nd straight 100 yard game_.
[su_spacer size="40″] – BOLO ALERT … Be on the lookout for true freshman Trent Thompson. Do not be surprised if you see him as a backup next week against Alabama. Thompson's playing time is increasing each weeks and he is producing (5 tackles yesterday tying Tim Kimbrough for the team lead).
[su_spacer size="40″]
---
[su_spacer size="40″] Make sure to check out
Bulldawg Illustrated's
latest print edition:
Saban vs Richt – Only one man will be smiling after this one
, digital issue available for free online click
HERE
.
[su_spacer size="80″]