[su_spacer size="20″]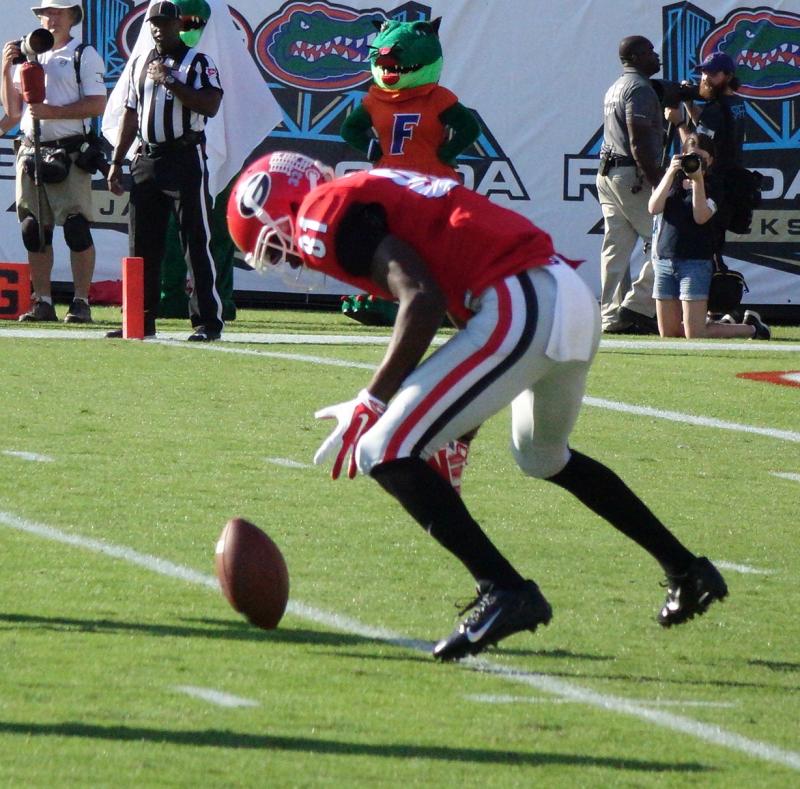 [su_spacer size="40″]
I do not know what to say about that performance in Jacksonville, but I know where to start looking for problems. UGA's offense is not good. Two games without a TD would have been bad 50 years ago, but in today's game that is amazing.
[su_spacer size="20″]
What has changed to make the offense go belly-up? Of course, the injury to Nick Chubb took a Heisman candidate out of the line-up. However, one player, even a great player, does not entirely account for Georgia's anemic offense. If Chubb had been hurt on the opening play of the Alabama game, the Dawgs would now have gone three of the last four games without a TD.
Here is my takeaway from Florida and the past few games – Georgia's offense is plodding, lacks imagination and, most importantly, lacks confidence. Be honest – how many times have you sat in the stands or in front of your television and correctly called the next play that Georgia will run. For example, let's say it's 2nd down and 4 yards to go if I said the next play was going to be tailback-between-the-tackles, would you bet $100 against it? That may be an exaggeration, but you feel as though you could predict the next play a fair percentage of times, right?
Georgia's offense is not fooling anyone, and the tools are not in place to out-athlete opponents. Until that is fixed, Dawg fans will have to hope that a freshman-laden defense can keep games close. Of course, to keep games close the offense will have to refrain from turning the ball over.
Bad stats:
We have learned something about Brice Ramsey this year. He is a pretty good punter.

Alarming stats time: Florida's held the football for just under 37 minutes, leaving just 23 minutes for Georgia's offense. Florida more than doubled Georgia's time of possession in the first and 4th quarters.

Here's another item that set the tone for the game. The Dawgs had 14 combined 3rd and 4th down attempts (12+2) and succeeded in getting first down yardage twice – twice.

Of course, the staff that stands out most is the four interceptions. Add a fumbled punt for a touchdown and you have the makings of a scary Halloween night.

Points off turnovers – Florida had 20. Discount the turnovers and it is a close game…Forget that, there is no magic to turn the inconsistent mistake-filled play into something hopeful.
Notes
During the lineup announcements, the PA announcer named Greyson Lambert as the starting quarterback but the Jumbotron put up Faton Bauta's photo. However, I had inside knowledge that Faton would be the starter. During the Dawg Walk, Bauta's mother was trying to persuade a police offer to allow Faton's older brother to join her in the family area. She pleaded, "My son the quarterback and his brother has never seen him play." The cop was not moved.

Georgia's young defense played well enough to win the game. Yes, there were some blown assignments by the "D' but overall they played well. Davin Bellamy's forced fumble set the offense up in an excellent position, but the opportunity resulted in a field goal.

The most glaring issue with the defense continues to be tackling. Missed tackles and poor technique show up continually. I wonder if the "thud" (not tackling to the ground) practices are not contributing to the poor tackling execution. With the new full-contact limitations, tackling is likely to continue to suffer.

Although by the fourth quarter, the Georgia faithful had seen enough and began to exit EverBank Field in droves, Georgia continues its tradition of filling its half of the stadium. Demand for tickets was way off this year, however. I had a conversation with a scalper about two hours before the game. He was still trying to get $50 per ticket at that time but was already willing to negotiate from that starting price. He had also dropped his offer to $20 for any new buys.
[su_spacer size="40″] [su_spacer size="40″]