[su_spacer size="20″]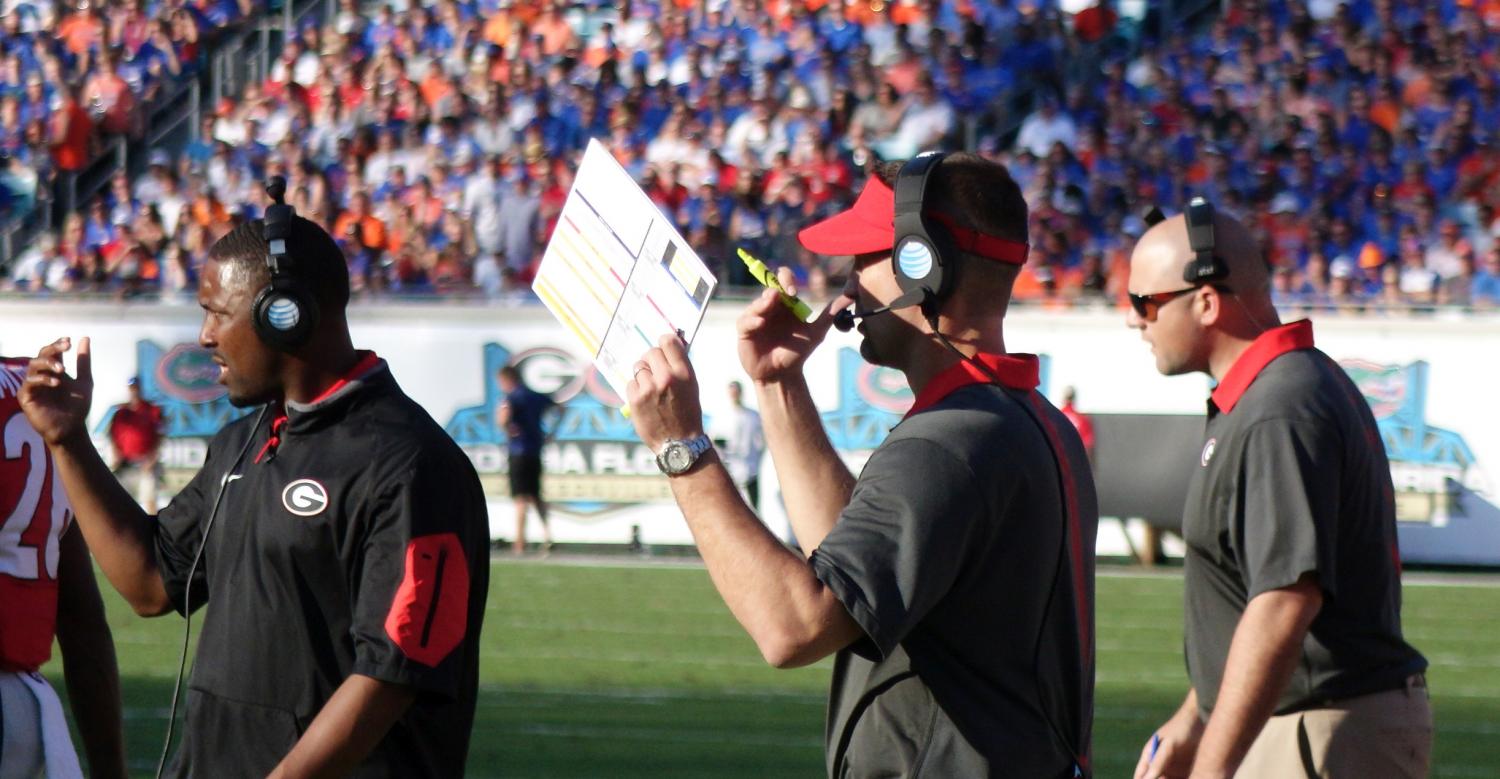 [su_spacer size="40″] Since 2008, too often Georgia has been the signature victory for opposing programs and coaches. The Bulldogs have been a mark.
[su_spacer size="40″] Saturday, Kentucky and Mark Stoops try and join the list, a painful ledger of games the Bulldogs either should have had, let get way, or just had a bad day at the wrong time.
[su_spacer size="20″]
Let's go back to when something happened between the hedges in 2008. Alabama went one way and Georgia the other. That was a breakthrough game that night for Nick Saban and the Crimson Tide. Later that season Paul Johnson and Tech broke a seven game losing streak to the Bulldogs, as Georgia blew a 28-12 lead and the chance to match the infamous drought of 1949-56.
[su_spacer size="40″] Oklahoma State and Mike Gundy had their breakthrough in downing the Bulldogs to open the 2009 season. In November, the Dogs fell to Rich Brooks and Kentucky despite holding a pair of 14 point leads. It was the Wildcats first win over Georgia between the hedges since 1977.
[su_spacer size="40″] Playing that rabbit- hole vortex of frustration game of what if? Had Georgia just beaten awful Colorado and Central Florida in the Liberty 2010, that's 8-5 instead of 6-7.
[su_spacer size="40″] In 2011, and this is something that lifelong Bulldog live-and-die with the program's fortunes and ups and downs fanatic, like your faithful columnist and historian, that makes us put our face and our hands and say this could only happen to Georgia, right?! The Dogs won 10 games in a row, sweeping Tech, Florida, Auburn and Tennessee. Phenomenal year, right? Wrong. Georgia lost four times. An excellent Boise State squad and Chris Peterson got a national breakthrough win and beat the Bulldogs in the Georgia Dome, a stadium that has caused more red and black sorrow than any other sans the old Gator Bowl in the 21st century, to open the season. Then the Dogs gift- wrapped four touchdowns to South Carolina in a 45-42 loss. That season, following an SEC Championship Game loss to powerful LSU, the Bulldogs blew a 16-0 lead, a seven-point lead late in the fourth quarter with the ball, and a missed opportunity by Michigan State on the first possession of overtime — all three of those things — to fall to Mark Dantonio and Michigan State.
[su_spacer size="40″] Had the Bulldogs not blown a 27-14 lead at Vanderbilt and lost to the Commodores, giving James Franklin his shining moment, and not given away the Gator Bowl to overmatched Nebraska in 2013, that's 10-3 instead of 8-5. Bear with me and I understand the argument that perhaps one of those regular season wins would have gotten Georgia into a different bowl, that would have been a good problem. Missouri had an excellent team in 2013 and thoroughly deserved its win 41-26 win in Athens that season. But this was the victory that really launched Mizzou and Gary Pinkel on their path to back-to-back SEC Championship Games. Another, "only Georgia thing," how do the Bulldogs beat Tech, Florida, LSU, Tennessee and South Carolina and still lose five times? I mean really. If you told any Georgia fan that in, say 2027, 2032, or 2046, that the Bulldogs would beat Tech, Florida, LSU, Tennessee and South Carolina, the champagne and Sugar Bowl tickets would be on ice.
[su_spacer size="40″] Then there was the Tech game last year, a wound that carries a lifelong scar. Beyond the ramifications of the Tech game, Georgia would have been 10-2, stewing over a pair of very different, but equally baffling Southeastern Conference losses, heading to a major bowl, not the Belk — which auto-corrected to Bleak — Bowl.
[su_spacer size="40″] Earlier this year, the Bulldogs had a 24-3 lead at Tennessee. But Butch Jones and the Volunteers, who had suffered heart-breaking losses to Oklahoma, at Florida and to Arkansas and subsequently at Alabama, got their signature victory over Georgia. It was the second biggest blown lead in a loss in Bulldog annals.
[su_spacer size="40″] This past Saturday's game vs. Florida, in which Jim McElwain got his first victory in his first game as a head coach in Jacksonville, marked the first time since "The Prayer at Jordan-Hare" loss to Auburn (Have they edited a certain safety out of the pregame highlight vide or?) in 2013 that the Bulldogs were an underdog. In between, as the favorite in every game, Georgia lost six times.
[su_spacer size="40″] There's one way to get over this, start winning the games the Bulldogs are supposed to win.
[su_spacer size="40″] Clemson was known for 'Clemsoning," as in having a potentially strong season going, and then losing a game they weren't supposed to. They got over it. How? By winning those games, and then took the next step. Since 2012, the tigers have beaten Auburn, Georgia, and finally South Carolina in the regular season. At the end of those three seasons, Clemson has reeled off a bowl hit list of LSU, Ohio State and Oklahoma. Say those three schools slowly again.
[su_spacer size="40″] But before winning all of those, the Tigers had to get over falling to N.C. State, Maryland, or Wake Forest.
[su_spacer size="40″] There are high, high hopes for next season in Athens, but to realistically arrive at the lofty rung atop the college football ladder, Georgia must win all of the ones the Bulldogs should. Especially in Sanford Stadium.
[su_spacer size="40″] If Georgia beats Kentucky and Auburn, then wins the state championship, that is an excellent November and the Bulldogs will head to the bowl game with a chance to close out a disappointing year in strong fashion, while heaping even more coal into the engine of the expectations for 2016.
[su_spacer size="40″] Championship teams win the games they are supposed to, and strike fear into lesser opponents. The fear that they could be embarrassed.
[su_spacer size="40″] Right now the Bulldogs are striking fear into no one. Georgia scored three offensive touchdowns in four October games.
[su_spacer size="40″] The Dogs need to get right. And quick.
Is Georgia of 2016, 2017, 2018 and beyond going to be the team that is closer to beating Tech, Florida, Auburn and Tennessee … and then LSU or Alabama to live the dream … or the team that is closer to losing to Vanderbilt and Kentucky.
[su_spacer size="40″] With numerous upgrades on the coaching staff and vastly improved recruiting the past two years, the former is the feeling amongst the optimistic red and black faithful.
[su_spacer size="40″] The Bulldogs can take a major step in the right direction Saturday against the Wildcats. Stoops and a talented Kentucky team that came up just short to Florida and Auburn have the Bulldogs in their sights.
[su_spacer size="40″] How Georgia responds will offer a glimpse into the pro-gram's immediate future.
[su_spacer size="40″] [su_spacer size="40″]