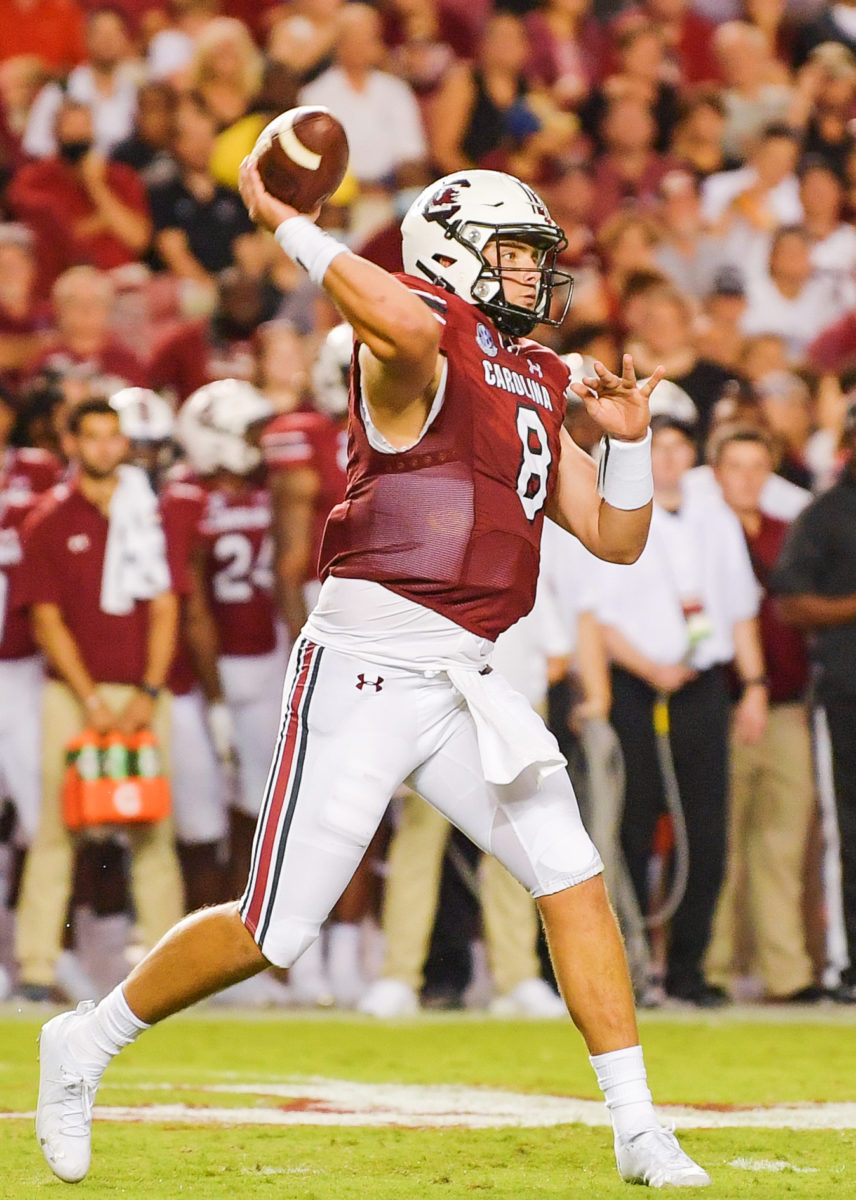 HEAD COACH SHANE BEAMER – Beamer has South Carolina out to a 2-0 start in his first season as the head coach of the Gamecocks. However, those wins have come against Eastern Illinois and East Carolina. Saturday will be Beamer's first real test and it will be a difficult one. Beamer is a great offensive mind though as he previously has coached on the offensive coaching staffs at Oklahoma, Georgia and Mississippi State. South Carolina has struggled during the post-Steve Spurrier era, but Beamer could be the guy to get them on track.
ZEB NOLAND (QB #8) – Noland is from Watkinsville, Georgia and attended Oconee County High School so the matchup with UGA will be a bit of a homecoming for him. Originally, he joined the Gamecocks as an offensive graduate assistant but ended being added to the roster because of a plethora of injuries. Now in his sixth year of eligibility, Noland will face a Georgia defense that seemingly can do no wrong. It will likely be the toughest matchup of his collegiate career. He previously played at Iowa State and North Dakota State.
ZAQUANDRE WHITE (RB #11) – As a redshirt senior, White brings experience into this matchup. He shined in South Carolina's first matchup with Eastern Illinois totaling 128 rushing yards and a touchdown. It was a difficult performance against East Carolina for White, though. South Carolina went with other running backs who seemed to have the hot hand with White only carrying the ball five times for eight yards.
CAM SMITH (DB #9) – Smith has huge shoes to fill this year at South Carolina. With Jaycee Horn getting drafted eighth-overall to the Carolina Panthers, Smith has stepped into the top cornerback role with the Gamecocks. He has 10 tackles this season already and has a high ceiling. Jermaine Burton versus Cam Smith should be a very interesting and entertaining matchup on Saturday.
DAMANI STALEY (LB #30) – Staley enters his fifth year of play after being the Gamecocks' third leading tackler in 2020. South Carolina could lean on his experience to help them out when going up against a very talented and explosive Georgia offense. Staley is a fast linebacker too, who could help stop the run.
JUJU MCDOWELL (RB #21) – McDowell will not physically scare Georgia's defense at 5-foot-9, 177 pounds. He did however help lead South Carolina to its win over East Carolina as the team's leading rusher. The freshman from Leesburg, Georgia rushed for 71 yards and made some big plays as a kick returner as well.