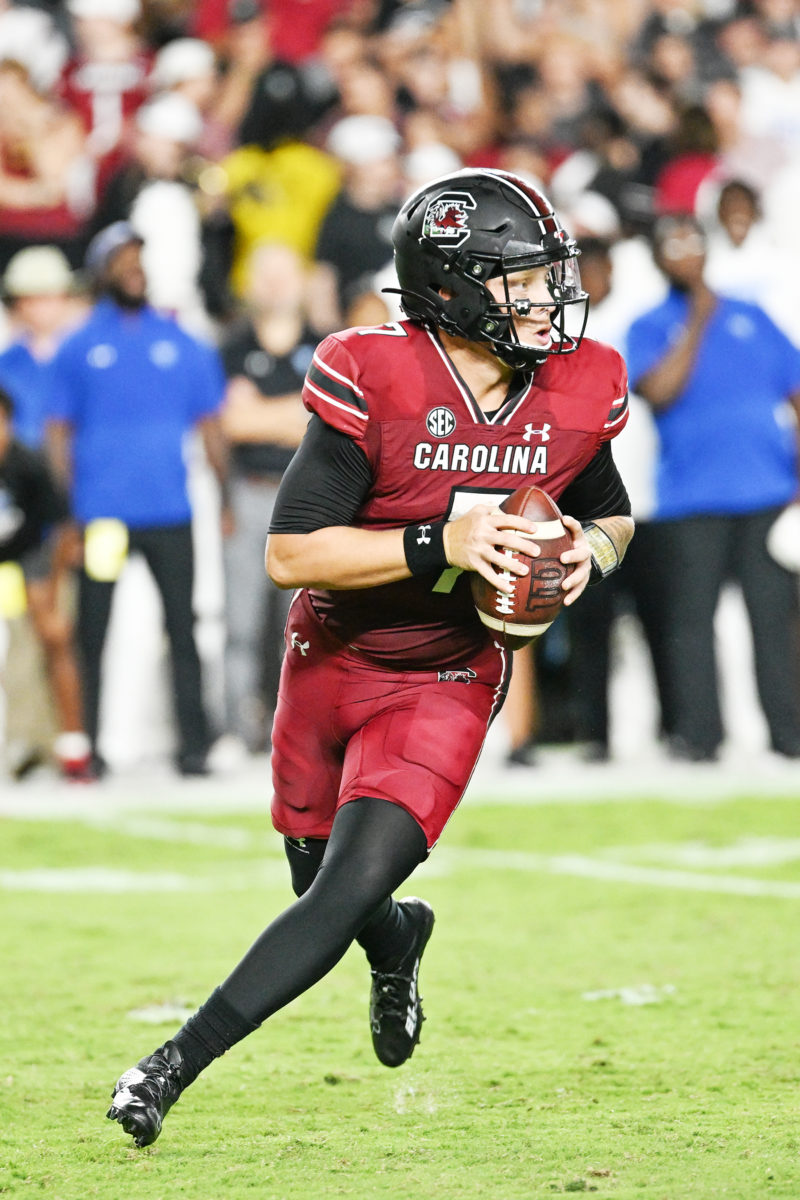 SPENCER RATTLER (QB #7) – The former 5-star quarterback made a splash when electing to leave Oklahoma for South Carolina. The Oklahoma transfer, who's known for his phenomenal arm strength and athletic ability at the quarterback position, is looking to rejuvenate his career as a Gamecock after a disappointing 2021 season. Rattler was the Heisman favorite heading into last season; however, he was beaten out by current USC quarterback and former Oklahoma quarterback, Caleb Williams. Regardless, Rattler possesses major arm talent, and the Bulldogs' hope to limit his success vs our young, but talented defense.
JAHEIM BELL (TE #0) – The talented Junior tight end is looking to make a splash this season after an extremely impressive sophomore campaign. The athletic tight end is not only being utilized in the passing game, but has received multiple carries in the backfield, as well. Bell, who is from Lake City, Florida, scored a rushing touchdown versus Arkansas this past weekend and will be utilized heavily this upcoming week in the Gamecocks' effort to upset the Dawgs.
MARSHAWN LLOYD (#RB #1) – The Georgia native elected to play for the Gamecocks over the Bulldogs only a few short years ago. The running back is extremely powerful, and despite his height, runs extremely physically. He scored a touchdown against the Razorbacks and had seven carries for 23 yards.
DEVONNI REED (DB #3) – The Senior corner from Detroit is one of the Gamecocks' best corners. Reed has five tackles this season and is coming off a phenomenal 2021 season where he racked up 72 total tackles and two interceptions. At 5-11, 200-pound, Reed is a transfer from Central Michigan that's an impressive athlete and someone the Bulldogs will be well aware of on Saturday.
JORDAN BURCH (LB #5) – This highly rated prospect, a Columbia native, is coming off a phenomenal performance against Arkansas. He racked up 10 tackles and a sack against an impressive offensive line. The talented linebacker is physically imposing, standing at 6-6, 275 pound, and moves incredibly well with elite quickness. He's not an elite pass rusher, but is certainly a huge talent for whom the Dawgs must gameplan.
BRAD JOHNSON (LB #19) – South Carolina's senior linebacker from Pendleton, South Carolina is coming off a strong 2021 season and is a senior leader in the heart of the Carolina defense. Johnson is an intelligent player who understands the Gamecock defense extremely well. Johnson, who spoke about the Gamecock's pride in stopping the run prior to their game against Arkansas, will have a difficult task stopping the Dawgs' talented running backs who look to generate yards rushing and receiving.