Georgia practiced outside in shorts and pads on Monday as the team begins preparations for Kentucky. Despite the loss to Auburn, the team's morale seemed to be up. They carried the usual intensity during the seven minutes the media was out there. Here are the two takeaways from Monday's practice.

Offensive Line Works on Mistakes: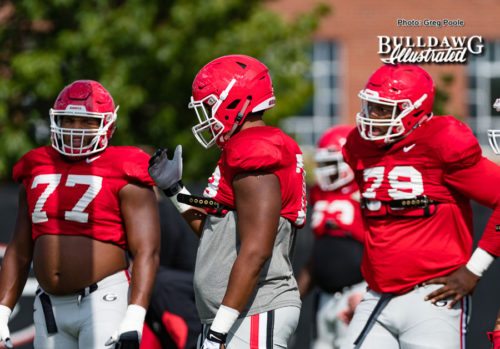 During the quick time, the media was outside, Sam Pittman had the unit work with the chute as usual. However, when they exploded from the chute, they forcefully pushed the linemen in front of them. Pittman seemed to have them working on every fundamental drill he could get them to do. After a lackluster performance by the unit last week, Pittman pushed them and worked on correcting the mistakes they made.
On another note, I saw Isaiah Wilson during practice and wow he looks like a different lineman. He's lost a lot of weight and slimmed up to look like a nice tackle. Wilson hasn't played this season, but Pittman keeps a close eye on him and makes sure to teach him the fundamentals.

Rest of Offense works on Fundamentals:
The rest of the offense worked on fundamentals while the media observed. Jake Fromm and Jacob Eason warmed up by throwing to each other. The other quarterbacks threw back and forth to each other as well. Georgia's running backs worked with assistant coach Aaron Feld who wore two boxing gloves. The drill tested their agility and ability to break through the tough Feld arm tackle.
Georgia's wideouts and tight ends worked on a snatch drill where they jump up and grab the ball over the defender. Prior to that, James Coley had them work with defenders on ball security. He yelled at everyone, "Squeeze the ball!!" The drill had two defenders on one offensive player that held two balls. Defenders would try and strip the ball and the team seems to make it a game of sort. Other than that it was business as usual and the team looks ready to focus on Kentucky.

Bits and Pieces:

Georgia put aside the tough Auburn loss and began prep for Kentucky. The offense maintained its high energy and focused on correcting its mistakes. There was a scout from the Indianapolis Colts out there observing both sides of the ball and seem to focus on the offensive line while I watched him. The Bulldogs started Kentucky week like every other week, high intensity, and fundamentals. It was business as usual.
Recent Articles by Savannah Leigh Richardson


[pt_view id="8722077nva"]