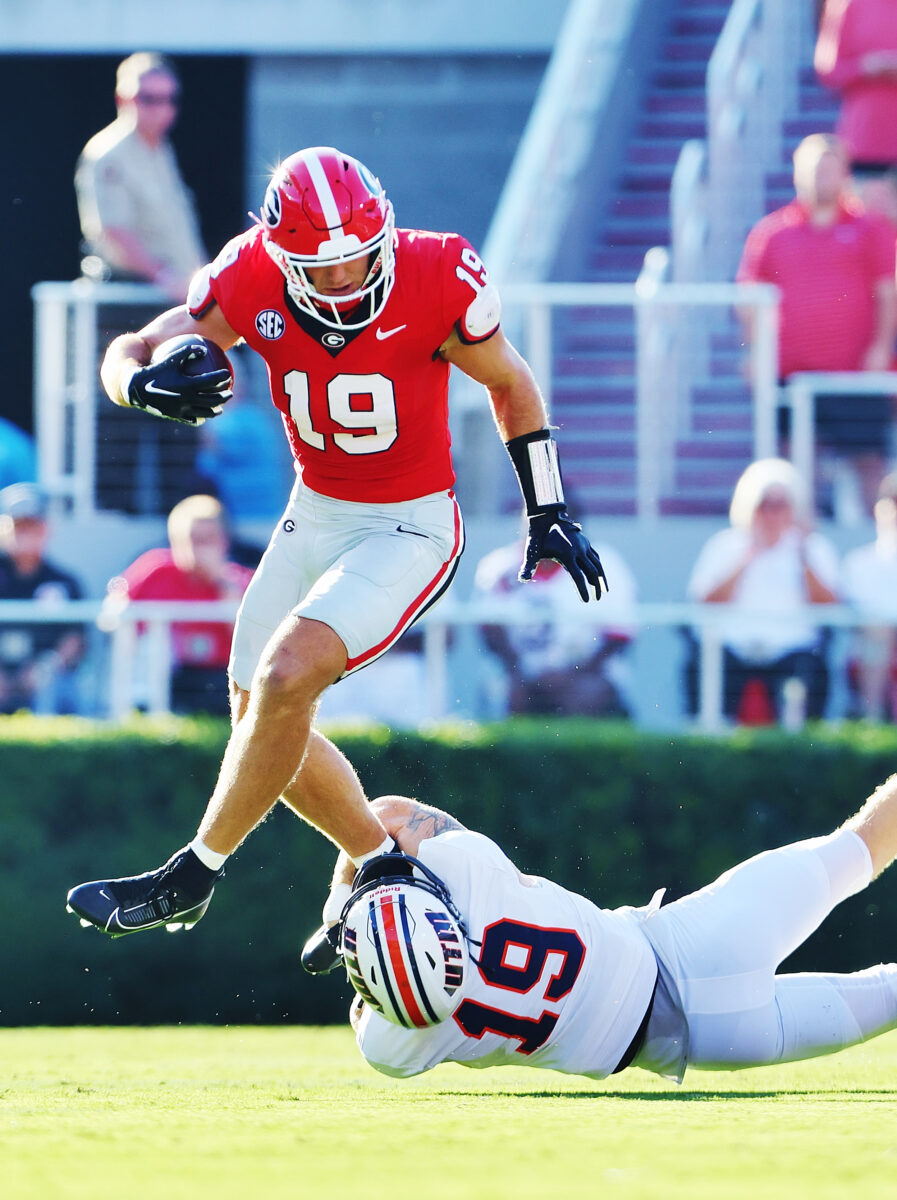 Riding a new school record 18-game winning streak, the two-time defending national champion Georgia Bulldogs host the Ball State Cardinals from the Mid American Conference on Dooley Field at Sanford Stadium.
Georgia comes in with a record of 1-0, beating the UT Martin Skyhawks 48-7 this past Saturday evening in Athens. Ball State is facing a second straight Southeastern Conference foe. The Cardinals fell to Kentucky 44-14 in Lexington last weekend.
This will be the first ever meeting between the two schools. Georgia hosted Kent State out of the MAC last season and beat the Golden Flashes 39-22 to make it 4-0 on the perfect 15-0 campaign.
Ball State got off to a good start in the Commonwealth, taking a 7-3 lead late in the first quarter on a Layne Hatcher touchdown run. But Kentucky took control in the second period and built a 23-7 halftime edge.
The Bulldogs were a bit disjointed offensively in the first half against UT Martin. Georgia led 17-0 at the half, and then steadily built the advantage over the tough Skyhawks, who are the two time defending Ohio Valley Conference champs.
This will be the second start at quarterback for fourth-year junior Carson Beck, who was 21 of 31 through the air for 294 yards and a touchdown through the air, while running for a TD that gave the Bulldogs a 14-0 lead in the second quarter. Brock Vandagriff and Gunner Stockton also played well at quarterback, with both leading the Bulldogs on scoring drives, including a field goal from Peyton Woodring. The freshman was two-for-two and perfect on extra points in his Georgia debut.
Brock Bowers was sensational yet again, the two-time All-American sparked Georgia with five catches for 77 yards and a three yard rushing touchdown that got the Bulldogs on the board.
Georgia is hopeful of getting back several offensive standouts who missed the opener, including All-SEC wide receiver Ladd McConkey, running back Daijun Edwards and receiver Marcus Rosemy-Jacksaint.
Ball State was 5-7 a year ago, with four of those losses coming by seven or fewer points. The Cardinals are confident they can contend for a spot in the MAC Championship Game. A second straight game against an SEC opponent will have Ball State battle tested when it opens MAC-action in week five at Western Michigan following home dates with Indiana State and Georgia Southern.
Kirby Smart's Bulldogs open SEC play next week against South Carolina in Athens. The record 18-game winning streak Georgia is seeking to extend is yet another tremendous accomplishment for the Bulldogs under his watch, highlighted by six straight top ten finishes and the back to back national titles. Georgia has won 34 of its last 35 games dating back to the 34-11 Orange Ball victory over Michigan in the 2021 College Football Playoff.