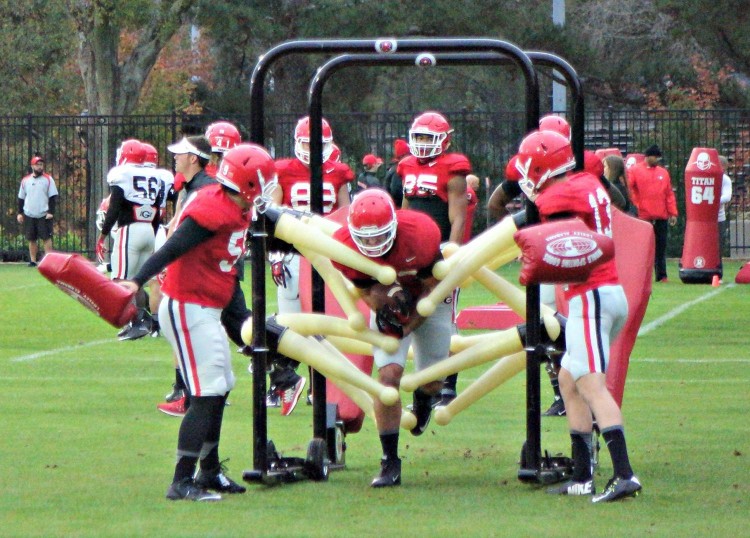 [su_spacer size="20″] The Georgia Bulldogs worked out for over two hours Tuesday afternoon in preparation for their non-conference matchup this Saturday against Georgia Southern.
[su_spacer size="40″] Georgia will play host to Georgia Southern for the sixth time in a series that started in 1992.  The Bulldogs have won all five previous meetings by multiple scores, but the matchup on Saturday could produce a different scenario.  Georgia Southern will bring to Athens a 7-2 overall record, as well as the nation's top rushing attack on offense.  Those facts are enough to ensure that Georgia will treat this contest just as it would any SEC game.
[su_spacer size="40″] [foogallery id="71101″] [su_spacer size="40″] "They're very dangerous, period," said Georgia head coach Mark Richt of the Eagles. "They're not a good football team but a great football team. Teams that are used to winning are very difficult to beat.  They win because they do things right.  You watch their special teams, they fly down and cover kicks. They protect well. They place the ball where it belongs. Defensively, they're always hustling to the ball. Offensively they're just a dynamic rushing football team.  Overall, teams that know how to win are hard to beat, period, and we're playing a great team in that regard."
[su_spacer size="40″] The challenge that Georgia Southern poses is certainly not lost on Georgia players.  That's especially true for native Georgians such as tight end Jay Rome, who can claim connections to a number of GSU players.  "They would love to knock us off," he said.  "Like I say all the time 'it's a game and every game is an important game.'  Georgia Southern is definitely a really, really good football team, whether people know it or not. They are going to come in here not scared and going to come in here and play really well. We just have to be prepared for them."
[su_spacer size="40″] Saturday's game will also be the final home game for Georgia's senior class.  This group, along with their family members, will be honored at the program's annual on-field recognition before the two teams do battle.  The group will also include tailback Keith Marshall, whom Richt announced today will be completing his Georgia career this season.
[su_spacer size="40″] "Keith came to me a few weeks back and mentioned that he's going to be graduating," Richt said.  "He thought that he'd like to declare this as his senior season, to which I said that's fine.  He just wants to go ahead, move on and take his shot at the NFL when the season is over.  He wants to finish strong like the rest of the seniors."
[su_spacer size="40″] Kickoff on Saturday is at 7:00 p.m. (EST), with Clay Matvick and John Congemi broadcasting the game on ESPNU.
[su_spacer size="40″]
[su_spacer size="60″]