Watch a fullscreen slideshow (opens in new tab)
HERE
.
These photos can be viewed, downloaded
HERE
.
Georgia inside linebacker and special teamer Nate McBride is known for his speed. He ran a 10.3-second and 10.5-second 100-meter in high school and has been timed at 4.43-seconds in the forty. That speed is something fans and players have seen first hand as McBride flies down the field like a laser beam on kickoffs. And when it comes to speed, the junior from Vidalia, GA has seen some fast tailbacks during his time at UGA. McBride spoke about one particular Bulldog ball carrier, sophomore James Cook, during his Monday interview as Georgia prepares to face Arkansas State this Saturday.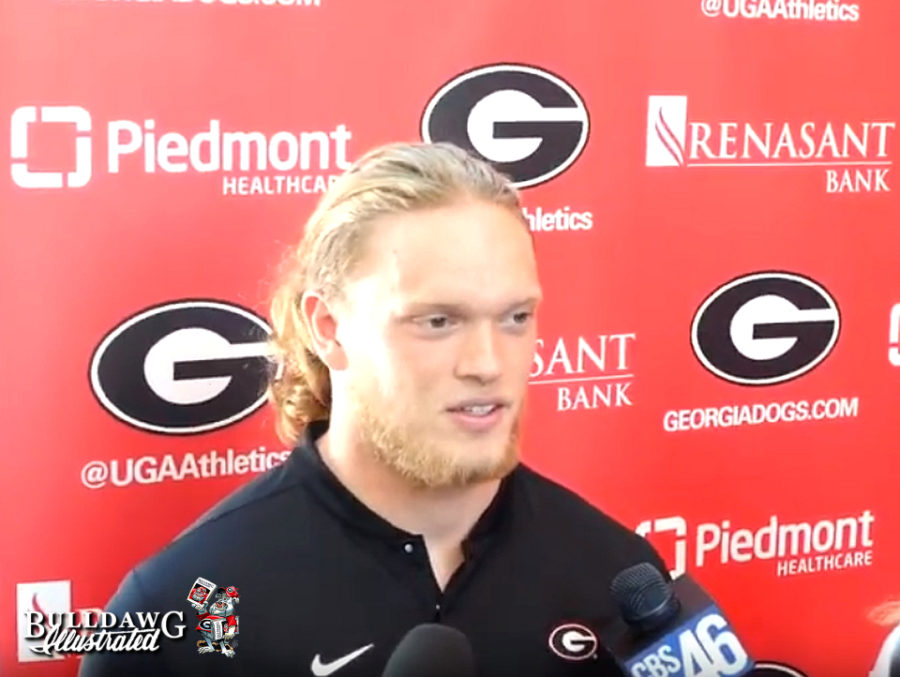 "Yeah. He's shifty. You see the speed and you think it might be hard for him to cut," said McBride. "I'm telling you he's running this way one second and the next second he's running the other way. It's just hard to get a read on him, especially at practice; so, I know for other teams it's hard to tackle him."
Cook's ability to run full speed when making cuts seems to defy the laws of physics and gravity.
"He's so balanced. He'll be sideways and still be running," said McBride. "I don't understand it.
Watch a fullscreen slideshow (opens in new tab)
HERE
.
These photos can be viewed, downloaded
HERE
.
You can watch Nate McBride's interview from Monday by clicking on the video below.