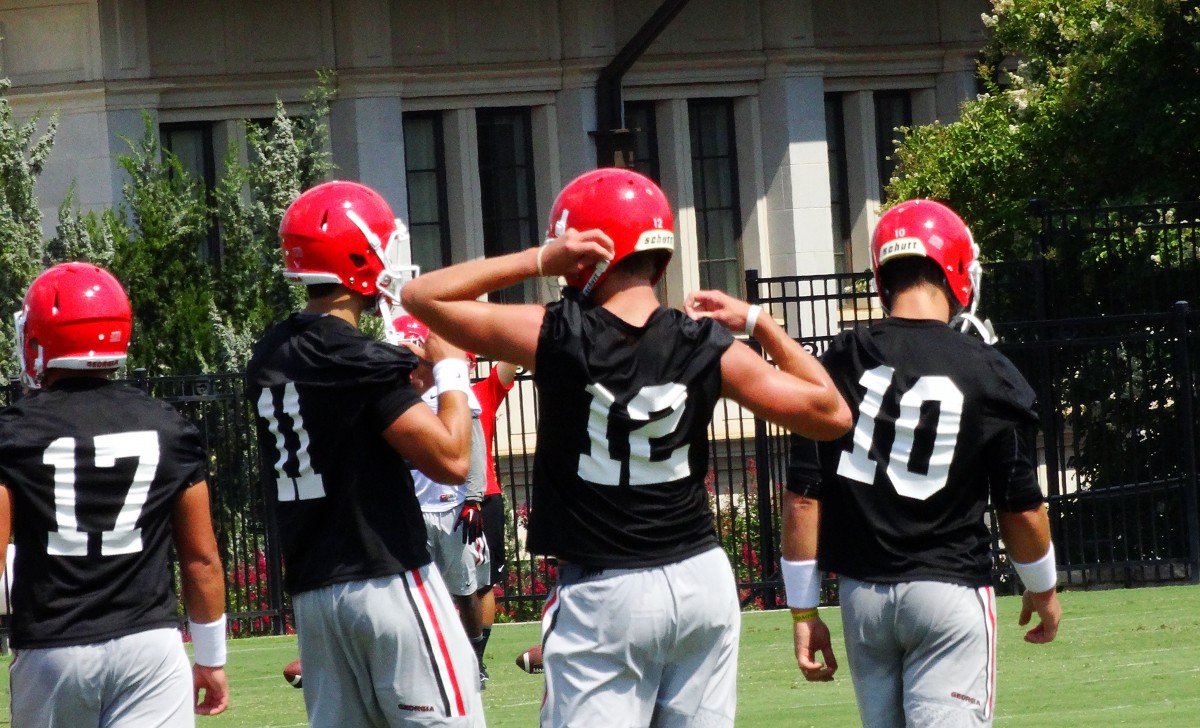 [su_spacer size="20″] How did the quarterbacks fare in UGA's first scrimmage of Fall Camp? That is a question most every Georgia fan has had on their minds, and Mark Richt talks about his quarterbacks did.
[su_spacer size="20″]
[su_spacer size="40″]
… I think all of them had bright moments. We probably threw the deep better today than we have all camp. They all, I think everyone of them, had a deep ball throw that was on the money that either scored or got a long gain.
[su_spacer size="40″]
The short to intermediate passing and catching has just still not been up to the standard it needs to be for us to move the ball on a consistent basis.
[su_spacer size="40″]
There's a couple of calls that weren't great as far as changing protection, a couple of times, that probably caused a sack rather than getting the people in the right spot protection wise.
[su_spacer size="40″] Mark Richt expounds on why he isn't giving any specific details or names of the quarterbacks who made mistakes or did better in Friday afternoon's scrimmage:
[su_spacer size="40″]
I think it is important that we're the ones that watch the film; we're the ones that decide who the guy is. We don't need anyone in the media telling us who should be the starter and that kind of thing. Right now, it's been very equal as far as reps. There has not been a huge landslide of one guy just running away with it. There's been moments on any given day, where, like, if you had rounds of boxing, you might say that guy won that round or that guy won that round. I will say it is still a very tight race, and I don't believe we have any separation at this point.
[su_spacer size="40″] Mark Richt was asked if the deep ball throwing was something the coaches were concerned about in regards to the quarterbacks coming into camp:
[su_spacer size="40″]
We didn't throw and catch the deep ball very good up until today. I thought we did a much better job of that. I think the receivers did a better job of creating space for the quarterback, whether it was beating somebody deep or at least giving them enough of a sideline for them to throw that back shoulder throw that Murray used to throw forever. The DBs had been just running them into the sideline and forcing just very, very tough throws.
[su_spacer size="40″] Mark Richt goes over turnovers in the scrimmage:
[su_spacer size="40″]
I don't think there was an interception. We had a couple of fumbled snaps. We had one shotgun snap that got away. Those all happened relatively early. There might have been a third fumbled snap that got picked up and actually got thrown for a completion. It didn't kill us, but anytime you fumble a snap you can lose the game because of it; so, we got to clean that up.
[su_spacer size="40″] Coach Richt was asked if he thinks if they will have narrowed down the quarterback competition to 2 guys before the next scrimmage:
[su_spacer size="40″]
I would say probably not. Maybe by the third scrimmage, but I don't think so for the second one.
[su_spacer size="40″]
what can you tell us about the quarterbacks in the first scrimmage, Coach Richt?
[su_spacer size="40″] It appears that none of the three scholarship quarterbacks, Bauta, Lambert, or Ramsey, have separated themselves from the pack after 11 days of Fall Camp based on Coach Richt's statements, but it also seems like he is confident that by the third scrimmage, there should be two QBs that will do so. Of course, that will not help sway Georgia fans from worrying about the quarterback position with only 3 weeks left to go before the Dawgs kickoff their 2015 college football season on September 5th.
[su_spacer size="40″]