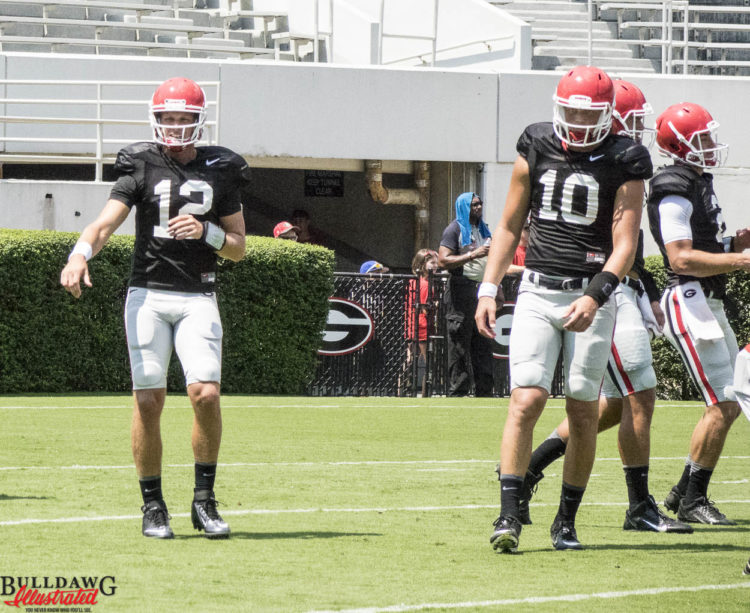 We are now one week into fall camp and I have a few opinions on where thing stand with the QB Battle between Ramsey, Eason and Lambert:
First and foremost, I think the staff is comfortable with Greyson Lambert.  Lambert is one of those guys who is who he is.  He is going to protect the football at all costs and get the offense properly lined up in the right play.  In other words, he is a safe bet to do the right thing.
As far as Ramsey is concerned, I believe he is intriguing because of the raw tools he possesses, but now entering his fourth season on campus those tools should be much more polished.  After a number of reps on Saturday, it is maddening to see how good he can be and then how bad he can be all in a matter of 60 seconds.  In my opinion, his chance to win the QB battle this fall depends completely upon how he protects the football over the next two scrimmages.
With Eason, we all know that he is incredibly talented.  At times on Saturday he held onto the ball too long and was also erratic at times.  At the same time, he made some WOW throws that nobody else on the roster can make.  At this point in time, it is going to come down to the little things for Eason (making the right audibles, recognizing the blitz, etc.) to decide whether or not he is going to win the job.
That leads to the question of where does the race stand for who lines up as starting QB in the Georgia Dome in only 26 days?  I am starting to lean more towards Lambert getting the start with Jacob Eason getting a couple series early in the game and then Chaney sticking with Eason if he shows he is ready for the big stage.  If Eason were to come in and play well, the team is his and he will be the unquestioned starter for the rest of the season.  If Eason struggles in his first couple series then I would expect him to get a couple more series in the second half and then get a vast majority of snaps against Nichols State in Week 2 and a number of series early and often against Missouri to try to have him ready to be the starter when the Bulldogs travel to Ole Miss.
As far as Ramsey is concerned, I believe he is on the outside looking in.  I have not seen or heard anything to make me think that with him lining up under center there is any upside over having Eason back there.  One is a true freshmen and the future of the QB position, while the other is a fourth-year junior and I believe the true freshmen wins out every time in that scenario.
Just one mans opinion.  Now let me hear yours!  Where do you think the QB battle stands after Saturday?