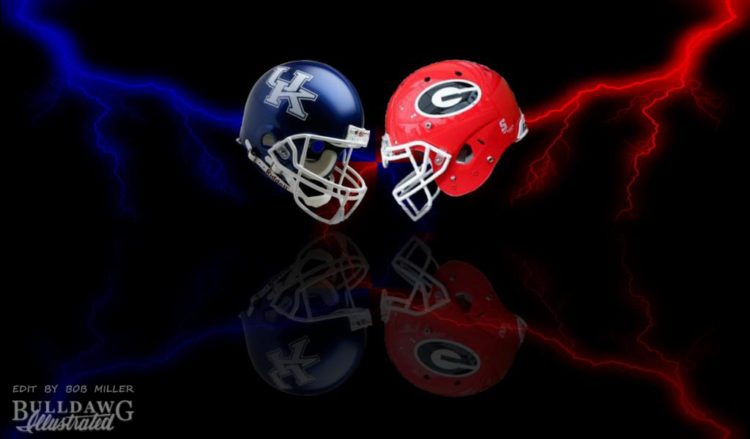 The 2016 season was a breakthrough for Mark Stoops and the Kentucky Wildcats. In his fourth season as head coach, the Wildcats reached a bowl game for the first time in his tenure. That is a major accomplishment in Lexington and nothing less than a winning season and a return trip to a bowl game will be acceptable in 2017.


The Wildcats return 16 starters from last season and expectations are they highest they have been in 10 years. With the raised expectations surrounding their potential comes more pressure and increased scrutiny (at least until basketball season starts). The team is built around a strong running game that features a dynamic tailback and a defense with one of the better secondary groups in the SEC.


Everything starts for Kentucky with talented running back Benny Snell, Jr. Snell exploded onto the scene in 2016 as a true freshmen rushing for over 1,000 yards and 13 TD's. He accomplished that by playing as a traditional tailback and also taking direct snaps from the center in the Wildcat. In 2017, he will have the good fortune of running behind an offensive line that returns four starters. Snell proved to be a stud between the tackles and a beast in the red zone. Without his running mate Boom Williams, Snell will be asked to shoulder even more of the load and it will be intriguing to see his condition when he plays the Dawgs in the 11th week of the season with already 250+ touches under his belt.


To take pressure off of Snell and lessen his workload the Wildcats are hoping that quarterback Stephen Johnson will elevate his game. Johnson was effective as a runner but had struggles with ball security that led to 6 fumbles in 8 starts at quarterback. As a passer he padded his stats against poor opponents but against the likes of Georgia, Florida and Alabama he averaged only 80 yards per game through the air. If he can't improve as a passer the Dawgs defense will commit eight men to the box to contain Snell. For Johnson to have an opportunity to be more productive receivers Dorian Baker and Gilbert Johnson will have to greatly improve their consistency. They have the size and speed to produce in the SEC but have been plagued by drops and underperforming. If they don't elevate their game they will be looking at heralded true freshmen Lynn Bowden's taillights sooner than later.


The defensive side of the ball was a tremendous disappointment for the Wildcats in 2016 and Coach Stoops is looking for a major step forward in 2017. It all starts up front with a defensive line and linebacker corps that was absolutely shredded by opposing rushing attacks. Kentucky was a 110th in the nation in rush defense last season and if that trend continues in 2017 they won't have a chance against the Dawgs. There is optimism in Lexington that former 5-star noseguard Matt Elam is coming into his own and if that is the case the 360 pound behemoth could instantly change the landscape of this Kentucky rush defense. He will still need more help from a linebacker corps that has some talented players but constantly took poor angles and missed way too many tackles in 2016.


The secondary is a completely different story for the Wildcats. Cornerbacks Chris Westry and Derrick Baity are the biggest pair of corners in the SEC and both likely have NFL futures. They use their length to jam and disrupt timing at the line of scrimmage but have a tendency to get a little bit too physical and commit penalties. Pair that with an ALL-SEC caliber safety in Mike Edwards and you have a stout secondary. If this group can get a little bit of help from the defensive line being able to pressure the QB this unit could finish in the Top 20 in the country in pass defense by the time the season is over with.


This Wildcat team is no longer a pushover and one of the doormats of the SEC. Mark Stoops has increased the talent level but there are still deficiencies that will keep them from being much more than a .500 football team. With the game being in Athens a week before the big rivalry game at home against Louisville this game falls in a great place on the schedule for the Dawgs. Also, Georgia will be angry after suffering their first loss of the season to Auburn.

KEY PLAYERS – OFFENSE:

Benny Snell, Jr. – RB – 5'11 223 – Snell was a revelation for the Kentucky offense last season as a true freshman. He has outstanding vision that led him to 1,091 yards and 13 TDs. He was tremendous between the tackles and his ability to run from the wildcat formation was a tremendous weapon in the redzone. With Boom Williams departure to the NFL, Snell is Kentucky's workhorse.


Bunchy Stallings – C – 6'3 315 – Stallings is the leader of an offensive line that needs to take the next step if Kentucky wants to have back-to-back winning seasons for the first time since 2008-2009.


Dorian Baker – WR – 6'3 211 – Every defense that plays Kentucky will have one primary goal – contain Benny Snell. There will consistently be eight men in the box and someone on the perimeter will have to take advantage to make opponents think twice about committing too many defenders to the run.

KEY PLAYERS – DEFENSE:

Matt Elam – NG – 6'7 360 – The game of college football has changed tremendously since the days at Mt. Cody at Alabama. Everyone is spreading the field making a 360+ pound nose guard a liability but playing Georgia is a rare chance for him to make a serious impact. Elam has enough athleticism where he should be a dominant force on first and second down commanding double teams and clogging the middle.


Chris Westry – CB – 6'4 195 – Westry is one of the biggest, most physical defensive backs on the Bulldogs schedule this season. It is rare that you see a 6'4 cornerback with that has elite short area burst and the ability to flip their hips and run in coverage like Westry. Combine that with his length and you have a cornerback who can shut down his side of the field.


Mike Edwards – SS – 6'0 200 – Edwards is the best player on the Kentucky defense. A well rounded safety that is a sure tackler as evidence by his 100 tackles in 2016. He also excelled in pass coverage leading the Wildcats in pass breakups and interceptions. He will be the last line of defense against Georgia's explosive running backs and will often matchup one-on-one with the Dawgs talented tight ends.

WAY-TO-EARLY PREDICTION

UGA 42 – Kentucky 14.



---
Recent Articles by I'mYourHuckleberry

[pt_view id="d18572ftik"]