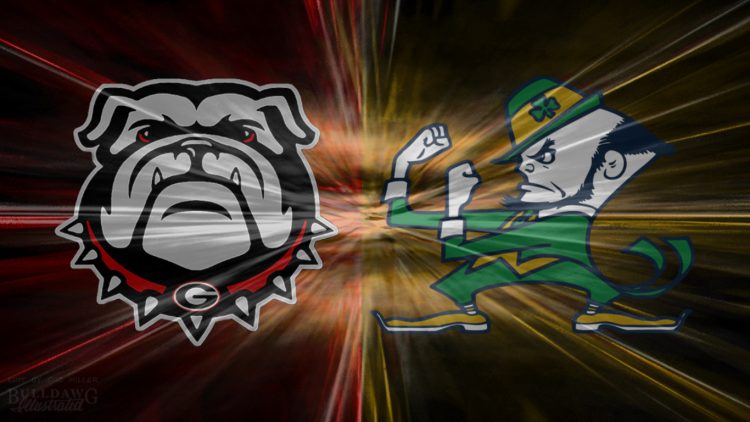 In the second game of the 2017 season, the Dawgs travel to visit Touchdown Jesus and play in the cathedral of college football. Brian Kelly and the Irish are facing a great deal of pressure after one of the most disappointing seasons in program history after finishing the 2016 season with a 4-8 record. A season opening loss in a shootout against the Texas Longhorns last season was a harbinger of things to come. The offense was inconsistent and the defense couldn't stop a nosebleed. Coach Brian Kelly is going to be putting all of his cards on the table in this game. A win and Kelly is on track to keep his job. A loss and Kelly might as well start packing his bags because the schedule does not let up for the Irish after the Dawgs come calling.

The 2017 Irish are going to be a different football team than the 2016 Irish. Offensive coordinator Mike Sanford has been replaced by Memphis offensive coordinator Chip Long. On the defensive side of the ball gone is former UGA defensive coordinator Brian Van Gorder and in comes Mike Elko from Wake Forest. The offensive scheme likely won't deviate tremendously but Elko is hoping to usher in a tremendous change on defense.


Despite the addition of a new offensive coordinator, the Notre Dame offense is still Brian Kelly's baby. A majority of the Notre Dame offense is run out of the shotgun formation with a great deal of shifting to attempt to get the defense to show their hand prior to the snap. If the run game does not work early, Kelly has shown a predilection to abandon it and get pass happy. The one new wrinkle that Chip Long will likely bring from Memphis is the RPO (run pass option). With gifted running back Josh Adams hopefully healthy, talented runner Brandon Wimbush at quarterback and superstar Equanimeous St. Brown at receiver the RPO could prove to be deadly.


The Fighting Irish employ a typical zone read rushing attack. Quarterback Brandon Wimbush will read Georgia's outside linebackers and make a decision on whether to hand the ball to the tailback or keep it for himself. The Dawgs should expect the Irish to be a left-handed running team running behind massive All-American left tackle Mike McGlinchey and All-American left guard Quenton Nelson. Also, if the Dawgs cornerbacks are playing soft coverage he may snap the ball outside to his receiver giving them an opportunity to make a play. If the Irish can get the zone read going it could be a long day for the Bulldog defense.


Contrary to the vanilla Appalachian State passing attack the Dawgs faced in Week 1, the Irish may employ the most complex passing attack the Dawgs will face all season. Brian Kelly is very highly thought of when it comes to scheming to take advantage of personnel mismatches. Kelly loves to stretch the field vertically and is a master of design when it comes to combination routes and pick routes. His passing game uses every trick in the book to create space for playmakers to get the ball in their hands.


On the defensive side of the ball is where the biggest question marks come for the Irish. New defensive coordinator Mike Elko built terrific defensive units at Wake Forest. Often, Wake Forest did not have near the amount of talent as their opponents but played outstanding, fundamentally sound defense. Notre Dame is hopeful that Elko will be able to pull off the same tricks with a defense that is lacking dynamic playmakers.


In 2016, the Irish defense struggled to get after the opposing quarterback, often allowing them sit in the pocket and pick apart a secondary that lacks talent. The Irish interior defensive line also does not command double teams which allowed opposing offensive lines to get to the second level in the running game and gash the Irish defense for big yardage. Elko will likely employ a great deal of slants and stunts similar to what the Dawgs saw against Appalachian State in an attempt to nullify a major weakness.
The Dawgs are going to be walking into a firestorm when they arrive in South Bend. All the eggs are in one basket for Brian Kelly and the Irish regardless of what they say heading into this game – it is a must win and the environment will reflect that.

KEY PLAYERS – OFFENSE:

Brandon Wimbush – QB – 6'1 225 – NO STATS – At this point in time Wimbush is regarded as a better runner than he is a passer. He is a strong runner capable of breaking tackles as a runner and as a passer reportedly throws a very catchable deep ball. Brian Kelly's offense goes as far as the QB can take them and Wimbush is the player carrying that burden.


Equanimeous St. Brown – WR – 6'5 205 – 58 Receptions – 961 Yards – 9 TD's – St. Brown is a freak of nature and a big play waiting to happen on the perimeter. He has excellent long speed and there is no such thing as a 50/50 ball with St. Brown – it's more like 90% Brown/10% defensive back. Georgia will have to roll coverage his direction all day.


Mike McGlinchey – LT – 6'8 315 – 26 Starts – With an inexperienced QB nothing is more important than being able to protect him. McGlinchey is a future 1st round NFL Draft pick and he will have the responsibility of blocking Carter, Bellamy, Manac and Walker all day. If he can contain them it gives the Irish a good chance to have offensive success.

KEY PLAYERS – DEFENSE:

Nyles Morgan – ILB – 6'1 235 – 88 Tackles – 6 TFL – 4 Sacks – Morgan has dropped 10-15 pounds with the hope of becoming more explosive and capable of running sideline-to-sideline. The senior is the unquestioned leader of the Notre Dame defense and the vocal leader. He was the lone bright spot on an abysmal defense for the Irish last season.


Drue Tranquil – FS – 6'2 225 – 79 Tackles – 2.0 TFL – 1 INT – Tranquil is as big and physical of a safety as you will find. Expect to see him spend a lot of time in the box trying to help the Irish help to contain Nick Chubb and Sony Michel. He will also likely find himself matched up 1-on-1 against Georgia's talented group of TE's and he must hold his own.


Jerry Tillery – DT – 6'6 310 – 37 Tackles – 3.5 TFL – Last season the Irish did not have anyone who could get a push up the middle or command a double team last season. Tillery presents the best chance for the Irish to be able to do so in 2017. To slow down Chubb and Michel you must get penetration and that is what Tillery will be trying to do when lined up on Lamont Galliard's shoulder.

WAY-TO-EARLY PREDICTION

UGA 31 – Notre Dame 24


---
Recent Articles by I'mYourHuckleberry

[pt_view id="d18572ftik"]