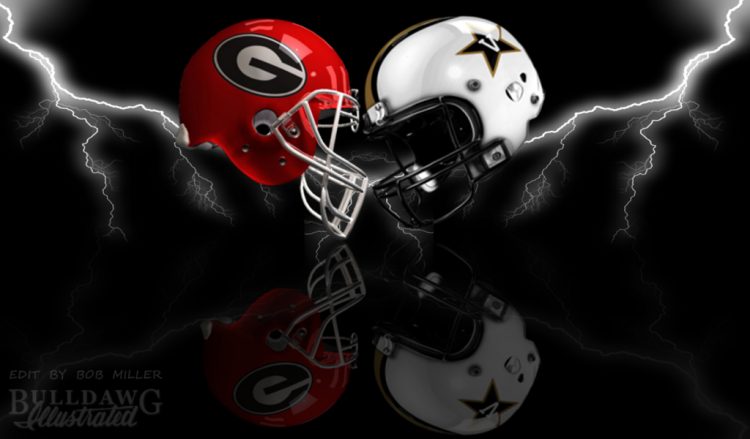 The 2017 season is a big year for the Vanderbilt Commodores. Since Derek Mason arrived, the Commodores have slowly been on the rise going from 3 wins in 2014, to 4 in 2015 and 6 in 2016. They improved each season and hope to return to bowl eligibility for a second consecutive season since James Franklin patrolled the sidelines in Nashville. Mason's team gets a boost from the return of star tailback Ralph Webb but have a huge hole to fill on defense with the departure of superstar linebacker Zach Cunningham. The key to Vanderbilt's season comes in a three-game stretch from Week 4 through Week 6 when Alabama comes to Nashville then they head to Gainesville to face the Gators and end the stretch with the Dawgs arriving in Nashville.


This edition of the Commodores hopes to take a big step forward on offense. All things begin and end on the offensive side of the ball with tailback Ralph Webb. In three years he is already the all-time leading rusher for Vanderbilt and is on pace to put that record a long way out of reach during the 2017 season. Despite an offensive line that is typically not up to SEC caliber they always run the ball well. Derek Mason's teams always play physical at the line of scrimmage and if they create a crease that is all Ralph Webb needs to pick up a big chunk of yardage.


Vanderbilt runs the ball to set up the pass. Derek Mason wants opponents to commit an eighth defender in the box and get his receivers and tight ends in one-on-one situations. Kyle Shurmur struggled to take advantage of these opportunities early in the season but the final two weeks of the season he found his groove with 689 yards and 4 TD's in games against Ole Miss and Tennessee. Shurmur won't overwhelm anyone with his arm strength and Vanderbilt is never going to have the most complex passing attack. However, it can be very effective if you are unable to contain their rushing attack.


Under Derek Mason, Vanderbilt is going to hang their hat on defense. Much like the offensive side of the ball, Vanderbilt's defense prides themselves on being physical. They are going to attack the line of scrimmage with a variety of slants, stunts and run blitzes on early downs. It is something teams don't see very often and Vanderbilt executes their scheme incredibly well as evidenced by Georgia only rushing for 75 yards on 35 carries last season. Their pass defense is where they have issues because of their lack of pass rushing ability. Too often opposing quarterbacks have been able to sit in the pocket and pick apart a secondary that has some talent but not overwhelming athleticism.


There is no question that Vanderbilt is a better football team than they were three years ago and last season they proved capable of beating almost anyone if things bounce the right direction. Still, the Commodores are the least talented team in the SEC East and Georgia has no business in losing to Vandy.

KEY PLAYERS – OFFENSE:

Ralph Webb – RB – 5'10 202 – 250 Carries – 1,283 Yards – 13 TD's – The school's all-time leading rusher and clearly the best player on the roster. Webb is a powerhouse in a small frame that can turn the corner on just about anyone. He has a knack for getting the tough yards and helps Vandy sustain long time-consuming drives.


Justin Skule – LT – 6'6 310 – For the Vanderbilt offense to attempt to elevate to another level they offensive line needs to continue to improve. Skule will be lining up at left tackle and needs to protect Shurmur's blind side and make him feel comfortable in the pocket so that he can play his best.

KEY PLAYERS – DEFENSE:

Oren Burks – ILB – 59 Tackles – 6'3 228 – 6.5 TFL – 3.5 Sacks – 1 INT – Burks will attempt to fill the enormous hole left behind by Zach Cunningham. They are moving Burks from OLB to ILB because he is the best athlete on defense and has the potential to be a tackling machine. In passing situations be on the lookout for him to move back outside.


Nifae Lealao – NG – 6'5 315 – 22 Tackles – 4 TFL – 2.5 Sacks – Lealao is a monster space eater in the middle that can demand double teams at the point of attack. He does a great job of holding his ground in the rushing game and pushing the pocket in the passing game.


Tre Herndon – CB – 6'1 188 – 41 Tackles – 2 INT's – Herndon is the Commodores best cover corner. He is fundamentally sound and rarely gets beat in coverage. He will be tasked with containing the opponent's best receiver all season long.

WAY-TO-EARLY PREDICTION

UGA 38 – Vanderbilt 10



---
Recent Articles by I'mYourHuckleberry

[pt_view id="d18572ftik"]