Georgia held its second scrimmage of fall camp on Saturday and man it was hot out there.  Despite the heat, Coach Kirby Smart pushed his team to maintain their intensity and they answered the call. The offense looked in sync and also looked improved over the first scrimmage. Jacob Eason stayed accurate and the wideouts made some nice catches. I focused on the offense for practice no. 18 and here are my three takeaways. 

Quarterbacks:


Jacob Eason seemed to fix the issues he had in the first scrimmage last weekend because his accuracy was almost perfect. While the media watched, he made a beautiful pass to Mecole Hardman, Jr. over corner Aaron Davis. The pass dropped right into Hardman Jr.'s hands where only he could catch it. Eason made a nice pass to his tight end Charlie Woerner who received praise from Smart. However, the sophomore quarterback made one mistake with an overthrown pass to an open Mark Webb, Jr. out of the end zone. It was good to see no dropped passes while out there and while Eason's accuracy was on point and firing darts.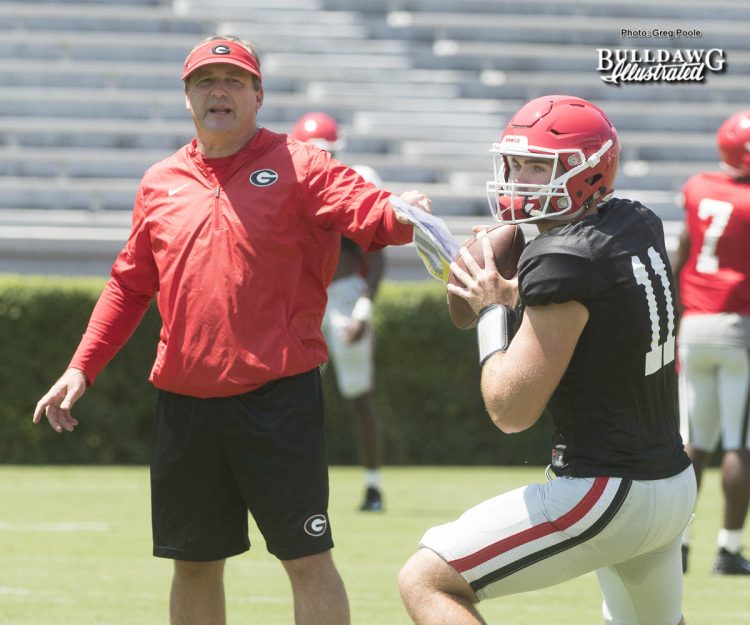 Jake Fromm took snaps at the number two spot for the Bulldogs and seemed to be clicking with fellow freshman Jeremiah Holloman. One of Fromm's passes to Holloman was a thing of beauty and the catch just as nice. The two seemed to have bonded together having come in as early enrollees back in the spring and through this fall camp, which will benefit in the long run. However, Fromm did suffer from some accuracy issues with other targets. He threw slightly behind tight end Jackson Harris and just over threw Matt Landers. The freshmen quarterback seems to be improving but still showing how young he is and has a ways to go.

Offensive Line:

An ever-looming question is how is this Bulldog offensive line coming along and who will play where. I got to briefly watch the offensive line before the media period ended. The first-team lined up with Isaiah Wynn at left tackle, Pat Allen at left guard and Lamont Gillard at center. Solomon Kindley played at right guard and freshmen Andrew Thomas at right tackle. These five seem to be a constant when it comes to the ones but as Smart has mentioned before, it could change.


The second-team offensive line was Dyshon Sims at left tackle, Isaiah Wilson left guard, Sean Fogarty center, Kendall Baker right guard, and Ben Cleveland at right tackle. Another consistent lineup when it comes to the second team and great progress by Cleveland. The two sets remained the same from the last time I watched them at practice which makes me think Coach Sam Pittman is liking what he sees.


Georgia must improve at offensive line to be successful this season and after day 18 I believe that is possible. The flexibility from the ones impressed me as  I watched them go up against the defensive line. They seem to know Pittman's system a little better and look to be playing a little more in sync with each other. Great progress in my opinion after 18 days of camp.

Running Backs/ Wide Receivers:


Finally, I finished the viewing period watching the running backs and observing the wideouts a little more.  Nick Chubb was the first string back with Sony Michel taking reps at two. However, something that stood out to me was Elijah Holyfield getting reps at the No. 3 spot. After an impressive performance at G-day, it was nice to see him compete. Chubb looked like a well-oiled machine and on one handoff juked a defender which made the player almost fall. He looked ready to run and it excites me to see him in this condition. Michel took reps out of the back field but lined up at receiver too, something we have seen he, Brian Herrien, and D'Andre Swift work at all Fall Camp. He caught a bullet and when he hit the corner, he went into another gear. Holyfield made some nice runs too, but with the seven on seven drills, the backs were limited as far as what they could do and what we could see.


The wide receivers have been one of my favorite positions to watch this fall because of all the young and new talent out there. However, it was the veterans, senior Javon Wims and junior Terry Godwin that stood out today. Wims made an impressive catch over Dominick Sanders that drew a smile from me. It seems he's finally comfortable with this offense and Eason and I look for him to be a favorite target this season. Godwin looks faster and more physical than last season. You can tell he has worked hard this off season. His route running looked sharp and the balls thrown his way he caught with ease. After having a tough sophomore campaign, I questioned whether or not he would stand out this season, and so far, he has risen to the challenge. I cannot express how happy I am for him, and I am excited to see what he does the rest of camp and this season.

Final Thoughts:

Day 18 definitely kept in line with the "attack the day" motto, and even though it was hot and humid outside, Georgia overcame adversity and dominated the day. The offense finally looks in sync with each other and I cannot wait to see it come together, offensive line and all, on gameday. Eason's proving himself to Smart and the rest of the team that he's the guy for the job and will work until he perfects his craft. Georgia's offense was a question mark this off season and after 18 days, I think they are finally getting there. Only 14 days until Georgia faces Appalachian State on September 2nd, and it excites me to see where this offense will be by then.



Recent Articles by Savannah Leigh Richardson


[pt_view id="8722077nva"]