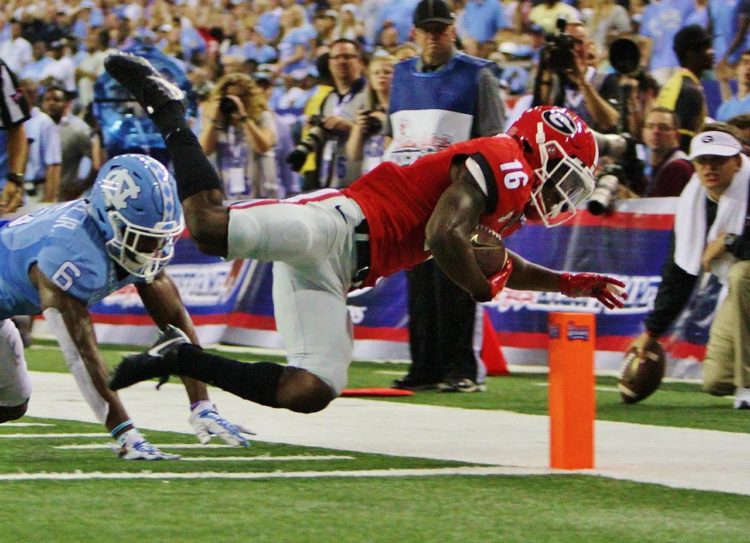 Isaiah McKenzie had a very strong opening game for the Bulldogs against the North Carolina Tar Heels and is excited about the Bulldogs home opener.
McKenzie was the Bulldogs most successful receiver in game one after totaling up 122 yards on 6 catches with a touchdown and should look to be even more effective against the Nicholls State Colonels. McKenzie was definitely a pleasant surprise for the offense, but it's not a huge surprise because of his outstanding playmaking ability.
Although McKenzie had a very successful game against the Tar Heels, he seems to hold the mindset of never being satisfied and always know there are improvements to be made. McKenzie was asked about how he felt after his week one performance and he gave this response:
I feel, I would say okay. You know there is always a way to improve and that's what I'm doing each and every day preparing for this game.


McKenzie seems to have an expanded role in the offense and there are a few more plays that are designed specifically for him. McKenzie did a great job with these little jet sweep plays and they should be seen more in future games. McKenzie was asked about how he felt about his expanded role in the offense and special teams and this is what McKenzie had to say:

I love having the ball… Every time I get the ball I try to make a big play, and if I don't have the ball I try to be productive on and off the field


McKenzie is a bigtime playmaker and brings a lot to the Bulldogs offense, but how he is used will be a point of interest. He should continue to have an expanded role and his production will be interesting to watch throughout the season.


https://soundcloud.com/user-197203470/isaiah-mckenzie-interview-september-7-2016