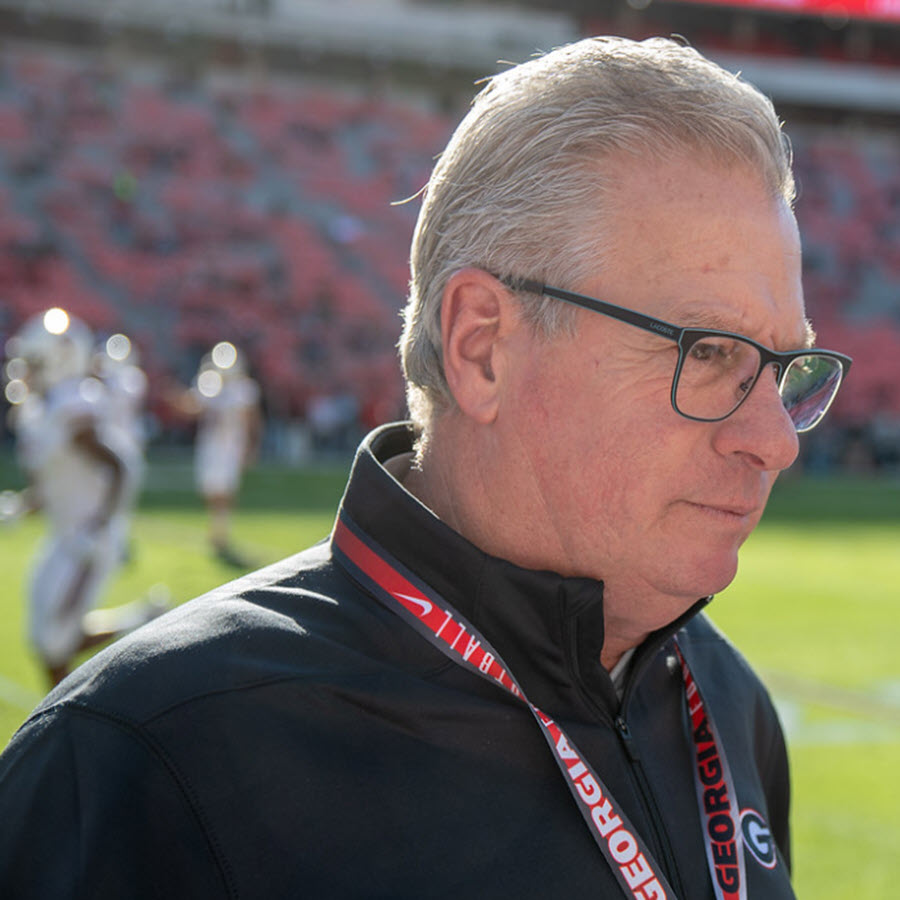 Kevin Butler, former Georgia legendary kicker and a member of the Georgia radio broadcast team, will each week during the 2019 football season select his offensive, defensive and special teams players of the week for Bulldawg Illustrated. And this season Butler has added a new category to his superlative awards, "The Kicker" (Unsung Contributor to the Game). Here are Butler's selections and reasons why for the Bulldogs' 20-17, two-overtime loss to South Carolina Saturday.
Compiled by Murray Poole
OFFENSE
Freshman wide receiver George Pickens, who led the Georgia receivers with seven catches for 98 yards, including a 33-yard reception that was the Bulldogs' lone offensive play for more than 20 yards in the game.
"The freshman was the go-to guy Saturday for Jake Fromm and George Pickens responded with 7 catches for 98 yards to lead all receivers in the double OT loss to South Carolina," said Butler. "Though this was a respectable performance my hope is this award will push George into becoming a FORCE for the Bulldogs moving forward in league play. GP has all the tools needed to be that force, but the Bulldog Nation needs George to grow at a faster rate because of the need we have at receiver. George can be our Go-To guy and we need that guy to step up weekly. I believe this performance Saturday was the start of a special run for George Pickens and the Bulldogs."
DEFENSE 
Junior linebacker Monty Rice, who along with fellow senior linebacker Tae Crowder, had 12 total tackles to lead a Georgia defense that didn't allow the Gamecocks to score in the second half until South Carolina won the game with a field goal in the second overtime period.
"The junior linebacker from Madison, Alabama, showed why he is leading the Bulldog defense in tackles midway through the 2019 season," said Butler. "Monty is smart, fast and has a nose for the ball and Saturday in the tough loss to South Carolina, Monty performed at the highest level with 12 tackles — 6 solos and 6 assists — in a gutsy fight to the end in double OT. The defense made great adjustments at halftime and Monty led the defense into a tough fight in the second half, limiting the Gamecocks to three points and 145 yards and that included two OT periods. We have a very good defense that will be called on to carry this team until the offense can work their issues out. Monty is another great leader at linebacker in a long line of great linebackers in UGA history."
SPECIAL TEAMS
Sophomore punter Jake Camarda, who bounced back from shaky punting games against Notre Dame and Tennessee to average 57.7 yards on three kicks against South Carolina, with one of his punts covering 66 yards and rolling dead at the Gamecocks' 7-yard line.
"We know Jake is a talented punter and we have been waiting for this type of game from him," said Butler. "And his best performance came in a tough overtime loss to South Carolina. When the games are tighter, field position is one of the most important stats to control. Saturday Jake controlled it like a pro. Three punts for 173 yards averaging 57.7, his 66-yard punt in the first half flipped the field on South Carolina and I consider that an unbelievable defensive play. More importantly, Jake and the punt coverage team netted over 50 yards. That is the kind of performance in which a punter can be a game changer. Confidence is the key to kicking and punting and Jake gained a lot of confidence that was much needed as we get ready for our win-or-die schedule the rest of the year. Great job Jake!"
THE KICKER 
A salute to former Georgia player Will Muschamp, now the head coach of South Carolina, who posted likely his signature victory with the Gamecocks by coming back to Dooley Field at Sanford Stadium and upsetting the team of his former teammate and fellow coach Kirby Smart.
"Anytime you have two former Bulldog players and coaches facing off between the hedges a real Dawg fan would know that anything can happen," said Butler. "The worst happened Saturday for Georgia head coach Kirby Smart. South Carolina head coach Will Muschamp enjoyed his greatest moment as head coach of South Carolina and possibly as a former Georgia football player. Muschamp has been looking for a signature win since he took over the Carolina program and it took him years to capture that win and, more importantly, he needed it to be between the hedges to accomplish anything substantial. Coach Smart has produced great results between the hedges over his last three years but he will always know the toughest fights are sometimes with yourself or another Bulldog. Let's get back to owning our hedges and keeping it an immediate family privilege."