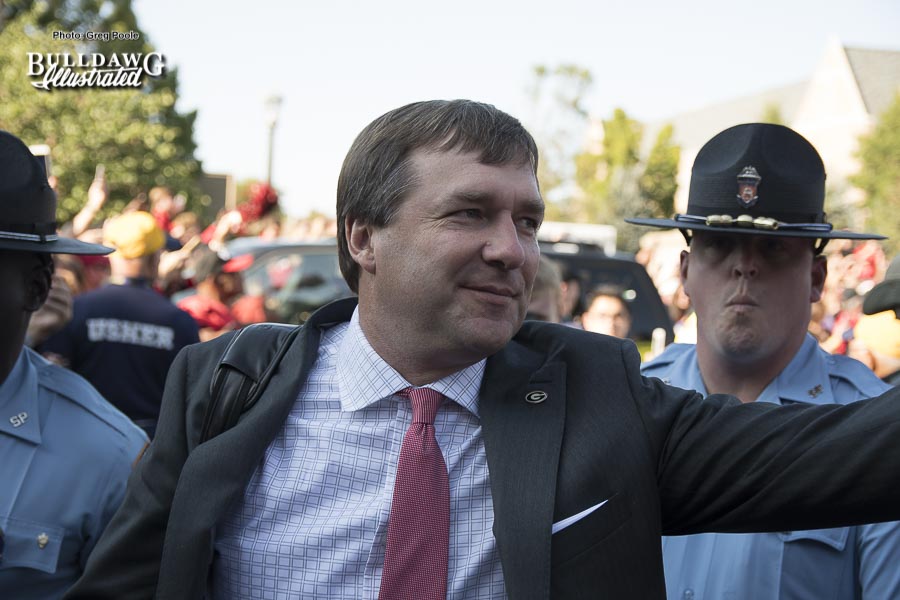 SOUTH BEND, IND. – As you would expect, when your team wins at a venue like Notre Dame, the players are happy, the coaches are happy and, certainly, the fan base is happy.

Although Georgia head coach Kirby Smart and the Bulldog players were elated to get by the Fighting Irish at Notre Dame Stadium Saturday night and take a stirring 20-19 win back to Athens, they also realized they could easily have lost this football game, because of more than 100 yards in penalties and other inconsistencies by the offense which forced the Georgia defense to bail the Bulldogs out time and time again.
Because of that defense, key plays by freshman quarterback Jake Fromm and receivers Terry Godwin and Javon Wims, the Bulldogs will carry a 2-0 season record into next weekend's home game with the Samford Bulldogs … Georgia's final non-conference outing before the Mississippi State Bulldogs venture between the hedges on Sept. 23
" It was a great atmosphere tonight," said Smart in his post-game remarks to the media. Shame either team had to lose that game, because it was really hard fought. Got a lot of respect for the program we just played and a lot of respect for the head coach. Got a lot of respect for the team," he said. "Also got to admit my respect for our team and the way they competed in the game. It was very sloppy at times, a lot of penalties and we made it as difficult as we could make it, which is frustrating because we got an opportunity to have a good football team. But we're not going to be able to beat teams that we play down the road if we play the way we played tonight.
"On defense, I can't say enough about how hard they played, the toughness, effort, relentless, all the words we talk about, they personified. They kept playing" said Smart. "We got sloppy at times on offense, quarterback got out of rhythm, got to find ways to get number 7 (freshman D'Andre Swift who had the Bulldogs' longest run of the game, a 40-yard burst that set up a 6-yard score by Sony Michel) the ball, and I'm not talking about Lorenzo Carter either. But I'm excited for our kids because they have worked really hard and this was a tough game. It was a tough football game."
Smart was pleased with his freshman quarterback's overall performance.
"I thought Fromm played with good poise," he said. "I never felt like it got too big for him. Even after the fumble — and I was frustrated, wasn't frustrated with the fumble, I was frustrated he didn't fall on the ball. You're going to have fumbles, but just get on the ball and get another opportunity. Then the decision on the comeback route to Isaac (Nauta) there, he knows better than that. But luckily that one (interception thrown by Fromm) didn't cost us. He got away with one there. And he's a competitor. I'm proud of the kid. I think this will be a great learning experience for him. You got to figure he's going to grow a lot from playing in this kind of atmosphere and environment. The guy, I mean he made some throws he's not going to get credit for one that the guy (Mecole Hardman, sure TD pass from Fromm) dropped. I talked early in the year that our wideouts have got to make plays. We had an opportunity to make two touchdowns, we ended up getting one of them, on the one handed catch (by Terry Godwin), but the other one with Mecole ….
Smart said he was happy with the huge turnout of Bulldog fans, which had to exceed 20,000 in number.
"Yeah, I'm always proud of the way they competed. I'm proud of our fans," he said. "Proud of the fact that they came out. The video shots I saw from Chicago before the game and take-over when we got here, that played a role in this game. So we never felt like it was so much of a road game. I mean, there were times our quarterback was able to go for his own cadence, which you don't usually get to do on the road. You don't get to do it on the road in the SEC, the fan base don't let you do that. We were able to go with ours and I thought a lot of it had to do with the red and black fans here."
Of his stirring one-handed touchdown catch, which enabled the Bulldogs to tie the game 10-10 at the time, Godwin said, "It was definitely a good catch but I do that every day at practice. One-handed, two-handed, I'm trying to catch the ball and I came up and made a big play for the team and it put us in a great position. I knew my feet were in bounds and like I say, I make a difficult catch every day in practice."
"It was a big away game for us and I think we came in and did our part and came out with the victory," said sophomore wide receiver Hardman. "I think Jake (Fromm) did great, first start in a tough atmosphere like this, I think he did everything you could ask him to do."
"I think those guys (outside linebackers Lorenzo Carter and Devin Bellamy who kept pressure on Notre Dame quarterback Brandon Wimbush the night long) played a huge game. That's what they came back for, to play games like this, and just having those guys by your side, it's an awesome feeling," said junior linebacker Roquan Smith, who played pretty well himself with seven tackles including a sack of Wimbush. "Overall, I think our defense played lights out," he said. "We do what we have to do, play within the system and that's what we do at Georgia."
Carter, who when he sacked Wimbush also stripped the Irish quarterback of the ball and recovered it himself, had a simple explanation for the Bulldogs' defense outstanding effort in limiting Notre Dame to just one touchdown: "We have great coaches, a great game plan and all we got to do is come out there and play fast and that's what we did!" said Carter.
---
Recent Articles by Murray Poole
[pt_view id="2fb799183g"]