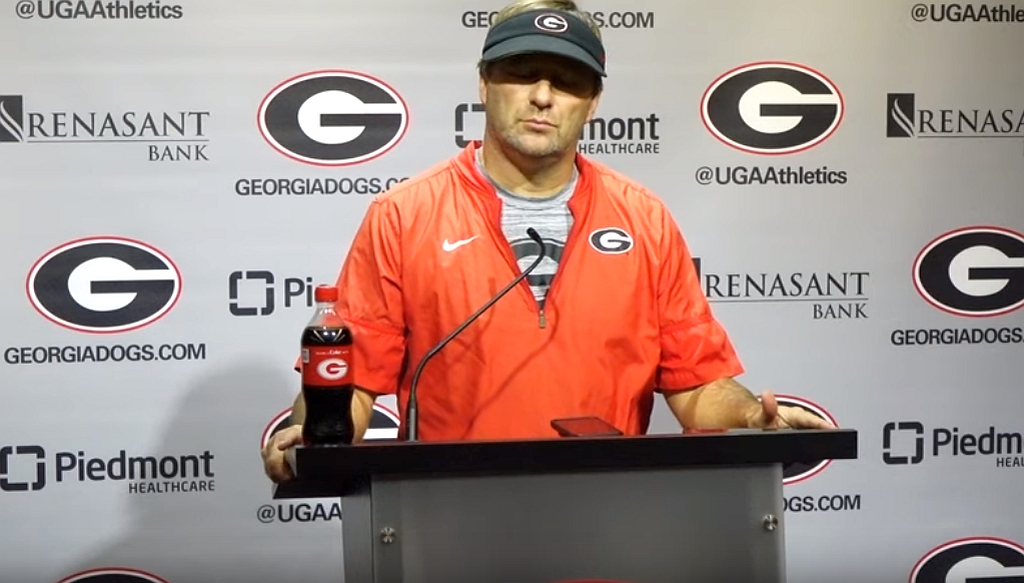 After UGA football practice on Tuesday afternoon, Head Coach Kirby Smart gave an update on the team as the Bulldogs continue to prepare to take on Missouri, including the status of a number of injured players including Michael Barnett, Tyrique McGhee, and Channing Tindall. There is a timestamped index of topics Kirby discusses in the video below. Just click on the time mark to open a new tab and the video will play at that timestamp or you can follow along as you watch the presser in its entirety by clicking on the video below to play it.
00:00 Opening Statement
"The guys have been good, good energy. I think the cool air has helped with that. We've been outside and inside and preparing well and got a big task in front of us because I got a lot of respect for this [Missouri] team and they do some different things, things you don't see every week. So we'll have to prepare for those things and get ready. Got a lot more work to do tomorrow to get where we need to be though."
00:27 Unique things worked on in bye week practices
"It probably helps the coaches more than the players because we go back and pull the tape on Sunday, and say, 'Remember we worked these guys for a period during the day,' and we watch it analyze it. A lot of players don't remember what they did about week ago to be honest with you. We will show them the tape and it triggers memories and things like that—calls you make and the rules you make. So we have to do that with these guys."
01:07 What is the difference in the UGA defensive line from last year to this year?
"Another year old, some more guys, probably a little more experienced on the edges— we were extremely thin last year on the edges and now we've got some more guys with experience—
pretty similar inside."
01:35 Defense not allowing a rushing touchdown through 8 games
"No, we haven't changed much philosophically. We've added some things to our package that have helped. We've played well in the red area—some of that's just a statistical, just draw. We've had some plays score from outside, the radio, some big passes, that maybe those drives turn into a goal on possession and they score. It's a great feat to have but I would trade some goal-line rushes for some not-made plays, you know what I mean? I'd much rather not give up long passing plays, but the guys are proud of it, and they try to own it, and we work hard to keep people out of our end zone. We've always said to get in our end zone, you have to throw it in and try to make them one dimensional. But it doesn't always happen that way."
02:40 How the defense plays opponents, is it more the front 7 or the defensive secondary?
"It's everybody. In today's world, every play has three plays, so they can throw at him, they can toss it to him, or he can keep it. It literally is you're at the point of attack at all eleven positions. So if you play good run defense, it's not that guy or that guy—it's every guy! Football has just evolved to the point where that guy's cracking that guy. So the guy over there, he's got to go make the play. You're all tied into a string. You play well, they can find holes usually when you have a lot of plays tied into one."
03:21 Malik Herring's development and progress
"Malik was a good athlete coming out and played really hard when he was young. He's gotten better. He had a really good game against Georgia Tech. I guess it was last year—it was a very different kind of game. It was right up his alley. He had played against that style of offense in high school, and it was it was unique, so that gave him confidence, but he's gotten better. He's worked hard. He's a good athlete. So he continues to develop."
03:51 Tell us about the facetime call that you and coach Coley had with Lawrence Cager during his recruitment?
04:17 Player injury update: Michael Barnett and David Marshall's status
"Mike B, he got a little nagging injury in the off week and he was not able to practice the Florida week. We thought he'd be able to go and we traveled him, thinking he'd be able to play but it bothered him some in warmups and he wasn't able to pull the pin and go. David's been pretty good. He's been beat up most of the year but there was nothing that held him out other than the style of game that it was."
04:45 Rodrigo Blankenship's ability to handle pressure
05:24 "Hot Rod's" marketing value… in regards to latest NCAA rulings on players being able to monetize their likeness
05:56 In the Florida game, what when into the decision to run on third-and-7 with 2 minutes and 47 seconds left on the clock?
"There was not a lot of contemplating—there was no time to contemplate. You've got 40 seconds, and you really got less than that, because you have to get the play down and get the call in and decisions made. I told you all every decision that we make, we try to make it before the game. You play the game well before the game, and you make those decisions well before the game. We have a Friday walkthrough that we do every Friday, and it's got about 30 to 40 items, and that was one of them. We did exactly what we did in Friday walkthrough. The kids had rehearsed and done it, and they understood the plan. The good thing is we're able to execute.
06:42 What adjustments were made on defense versus Florida in the fourth quarter versus the first three quarters?
"I don't know that it changed a lot. [Florida] probably changed more what they were doing to counter what we were doing. We changed some because we had to play six DBs instead of five because [Florida] started throwing the ball more. I would just say that [Florida] made some made more plays than we did. We had opportunity to get off the field, and we didn't."
07:22 Rodrigo Blankenship's work ethic
"Rodrigo has a great psyche. I don't compare him because I've been fortunate and haven't had a lot of kickers. Rod has been our kicker. He's got a great mental disposition. He's got a preparation mode that he goes through, and he handles the mental conditioning part really well, and he puts himself in a good place. I think he's bounced back really well."
08:31 Does Rodrigo kick too much?
09:07 Roster management
"The unique thing is that you go through that a lot in a lot of other positions. It's kind of rare that you have one kicker for this long. I guess it's rare you have any position for that long, but you get used to it as a coach. Kids move on, and they get opportunities, and you have to replace them. That's the beauty of college football, is that every team is different than the previous."
09:46 Jordan Davis' recruitment
"We were excited because we watched him do workouts, and we saw him go through bags. We saw his agility, and it just jumped off the screen. My history has been that someone that big and that athletic has been a really good player. It shocked me that he was not pursued heavier. He was in the Charlotte area and was recruited by good schools, but I think a lot of people thought he might be an offensive tackle because he played some of that in high school. He was really athletic, but we just saw natural talent and natural ability. [He's an] intelligent kid with a great mom. He's just a wonderful kid, and he still hasn't reached his full potential. That's the hardest part for him to acknowledge because he's very athletic for a large man. We've got to get the most out of him."
10:49 How has DJ Daniel come in and helped the team?
"DJ is mature. DJ has played at a high level. When you go and play the GMC schedule they play, they play some of the best teams in junior college. When you turn the tape on, he's covered them. He's fast, too, and those two combinations are pretty good. We probably didn't realize how good of a physical tackler he is— the guy isn't afraid of contact. We felt like we had a good player, and we were excited about it."
11:21 College Football Playoff rankings, do you have a better understanding of the College Football Playoff formula?
"Nah… I don't have any… I'm not even in the least bit. I'm so tied in with what we've got this week, I don't even think about that. I don't have any idea and don't care. Everyone knows it doesn't matter. What matters is how we play against Missouri. That's the only thing we can control."
11:45 Player injury update: status of Tyrique McGhee
"Tyrqiue is dealing with his foot again. His foot tweaked on him during the off week and he's had surgery done on that foot. We're having to be really careful with him. He didn't travel to Florida and it's not 100 percent."
12:04 Flipping DJ Daniel from South Carolina
"Yes. It was exactly that. He kind of committed (to South Carolina) out of the blue. We wanted him. We recruited him and then he committed. We just have to keep recruiting him, be consistent. It was never about South Carolina. It was about us and an opportunity and he's taken advantage of that."
12:35 Player injury update: status of Channing Tindall
"Yeah, he's been injured, too. He actually got hurt in the Kentucky game. He's been beat up a little but we actually think he's going to get back here soon. I don't know if it'll be this week but it should be next."
12:51 The effort Travon Walker puts in since stepping on campus
13:32 Player development
"Everybody practices, so the beauty is I get to see them on both sides… We've had a really good history here of developing players to prepare them to play the next season, or maybe even play this season, should something happen. I love watching a guy, like Kenny McIntosh, who did not have a clue how to play special teams. I'm not saying he wasn't buying into it— he just didn't know. Now, he loves it. He's fast. He embraces it, and he's taken ownership in his role. I thought Belichick said it best when he said if you want to find out if someone cares most about the team, you put them on kickoff coverage and put them on kickoff return. That's when you find out how much they care about the team. We have a lot of guys on board. They've done a good job."
15:04 Versatility of running backs and rotation of the backs during a game
"I think we've done a good job. We've got a good stable back, but it's a hard management because, do you not give the ball to No. 7? I want seven with the ball as much as possible. I want No. 35 with a ball, but James Cook does a good job. Zamir [White] has had flashes and done good things. It's not easy to assess how it's been done. What you can say is, we want the best players and the best opportunity to win, and I think those guys realize that and acknowledge that they all have different strengths. We try to use those strengths."
15:50 Getting more opportunities for James Cook's
"Yeah, I wish I could get everybody more opportunities in space. He's a good player. We've got to keep trying to find roles for him. He's been an impact player for us on special teams and we've got to keep doing that with him."