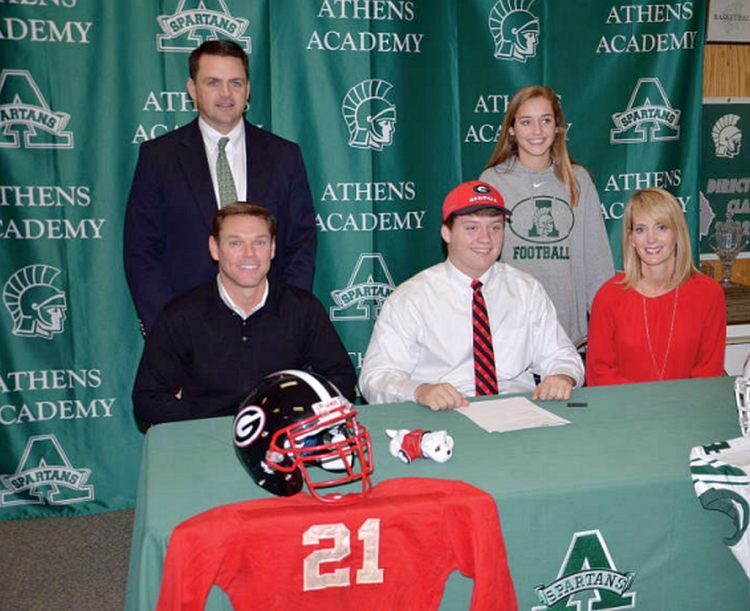 After working under Nick Saban — arguably the most successful coach in college football history — for nine years Kirby Smart returned to his Alma mater this past football season as Georgia head coach and, without question, brought the Alabama mindset along with him.


In terms of the way the Bulldogs practiced, in terms of player development and, most certainly, in the area of recruiting where Smart emulated Saban by bringing in one of the nation's top five recruiting classes.


And going further, the Georgia coach has also mirrored the Crimson Tide program when it comes to developing a strong walk-on program. In fact, Smart has placed more emphasis than ever on providing the University of Georgia with a walk-on program that takes a back seat to no other school in the country, a program that not only provides top- notch competition for the Bulldog scholarshipped players in the daily practice sessions but also shapes the walk-ons into players who can help the team on Saturdays in the fAll, on special teams and even possibly on the offensive and defensive depth charts.


"I've always thought Georgia should have the best walk-on program in the country" Smart said, as quoted by Marc Weiszer of the Athens Banner-Herald. "Why not? You've got the HOPE (scholarship). You've got great high school football. Every kid in the state dreams of coming to Georgia. So why shouldn't you have the best walk-on program in the country? Because a lot of those kids develop to be special teams players, to be starters."


Smart alluded to Rashad Johnson, a walk-on running back at Alabama turned safety who is now with the NFLs Tennessee Titans. He is entering his eighth season in the NFL after seven with Arizona.


"If you develop players and you go out and spend time with these kids and you sell it to them, you get a great education, a chance to come to this university, you have a role as a player and they can give back to the university the rest of their life," Smart said. "So we made a concerted effort to target those guys. If you work hard at it, you can have a great walk-on program but what you put into it is what you get out of it."


Caleeb Roberson, an outstanding running back from Burke County who was offered preferred walk-on status by Smart at Georgia, is a good case of a player who might have been good enough to earn a scholarship at the FCS level but chose to join the Bulldogs.


"Coach (Glenn) Schumann (inside linebackers coach) at Georgia called me up a few weeks ago," Burke County coach Eric Parker told Jeff Sentell of AJC DawgNation at the time. "He introduced himself and told me what he did with the walk-on program at Alabama. They probably had one of the better walk-on programs in the country. When he came over from Alabama to coach inside linebackers, Kirby kind of told him he wanted him to keep doing what he was doing at Alabama with the walk-on program there."


Parker said Schumann broke down the Bulldogs' new walk-on philosophy to him. "I think you are going to see more stories like this coming out of Georgia because of the philosophy change there with walk-ons under Kirby" he said. "They are going to try real hard to get some of these I-AA kids or Division II kids and ask them instead of going somewhere else and paying out-of-pocket to play to instead look to walk-on at Georgia. He said if you go I-AA or Division II out- of-state you won't get to use your Hope (Scholarship) money" Parker said. "That out-of-state school will package you up some academic money, but you're going to get left paying more money than you would if you walked on at Georgia, used your Pell Grant and Hope Scholarship money. Apparently now in NCAA Division I they can pay for the walk-ons to eat. I think that's all you can do, but he can eat. So financially it made sense and then obviously him (Roberson) getting to go to a Power 5 school also made a lot of sense."


This recruiting season, Smart is bringing in a number of players who will wear the preferred walk-on tide, two of which who own last names that have long been iconic in Bulldog Nation. That would be Dallas, Texas wide receiver John Taylor (J.T.) Dooley and Athens lineman-fullback Frank Sinkwich IV.




Dooley, 6-2,180, out of Highland Park (same school Matthew Stafford played for) in Dallas, is the grandson of former Georgia legendary coach and athletic director Vince Dooley, and Sinkwich is the great-grandson of Bulldog football legend Frank Sinkwich, who won the Heisman Trophy in 1942.


Vince Dooley, of all people, knows the value of a strong walk-on program and is just thankful his grandson, the son of Vince's son, Derek, has been given the opportunity to play for Georgia.


"John Taylor loves football and is a good football player," said Dooley. "Whether he's in this league or not, you don't know but I know in the case of Derek (former Tennessee head coach who is now the wide receivers coach for the Dallas Cowboys), I wanted him to go to Princeton, play at that level. But he was determined that he wanted to play at the highest level and he walked on at Virginia and became a starter later on. So that may be percentage-wise low for J.T. but I admire what he wants to do and the main thing is he'll be part of Georgia not only for the next four years but he'll be part of Georgia for his lifetime."


"They (Highland Park) won the state championship this past year and that's the first one they've won since Matthew Stafford was there," Coach Dooley said. "He got hurt early on in his senior year and I didn't think he was going to be able to play at all. He missed the first couple of games but then they were able to strap him in with something and he played the whole season and I was surprised he did that. Then the next week after the season was over, they operated on him and got that straight I guess it was a torn labrum, kind of a dislocated shoulder. He had a good year, returned kickoffs for them also, and I think he's a good walk-on. What he'll be in the future, I don't know," he said.


"The percentages are against him… it's just how bad he wants to be there and we're happy for him coming to Georgia and, as I say, not only now and playing but the fact we'll be here and it's good to have your grandchildren dose by and well be watching him now and he'll be a Georgia Bulldog the rest of his life."


Dooley said a solid walk-on program is essential to a team's success and that he thinks Smart is doing an outstanding job in beefing up the Bulldogs in this area. "I think Kirby certainly values it," Dooley said. "I'm sure that he's got with his experience a lot of examples of the contributions that walk- ons have made. So I think he believes strongly in that as well."


"We've been fortunate, really, over a period of time of a lot of walk-ons making significant contributions, some that even became starters and earned scholarships," Dooley pointed out "But those that didn't still make a significant contribution as for as practice is concerned, being part of the team, and I always admired those who would stay out all those four years and then would letter when they did. And that's permanent for them so it's a great reward. Each year at the senior banquet I always enjoyed seeing those walk-ons were getting their plaque and getting their letter and how proud they were that they had done that; so, it's really helpful to a football team to have a strong walk-on program."


"But we had a lot of them. Richard Tardits (outside LB) is one that comes to mind. We had at least three, maybe four, starters on the (1980) national championship team… Robert Miles, the defensive end, and Mike Fisher (cornerback) was a walk-on. And Nate Taylor (ILB), the 'Tilton Termite,' all those guys played and did well. So there's been a lot of examples of that, but Tardits is probably one of the best ones."




Sinkwich IV, at 6-foot 230 pounds, was a two-year starter for Athens Academy in the offensive line but will be given a look at fullback as he enrolls at UGA. "I'll be walking on at the fullback position, I think that's what is going to happen," Sinkwich said. "My junior year, in two of our formations, 1 lined up in the backfield at fullback and would also line up as a tight end and motion across and go block from the outside. But then this past year, I mainly only played guard… some defense but mostly offense."


How did Sinkwich acquire the preferred walk-on status at Georgia?


"Coach Pittman (UGA offensive line coach Sam) had come to campus before Christmas break and I only introduced myself in passing, kind of because I had class and didn't really have a chance to sit down and talk to him," Sinkwich related. "But Coach (Josh) Alexander (Athens Academy head coach) gave me his number and told me Coach Pittman asked about me and that I should give him a call. So then I called him about two weeks later and that's when he told me he had just put me on the list for incoming walk-ons for the next year. And what Coach Schumann told me is that I am preferred in the sense that I have a guaranteed spot on the team but a lot of the other preferred walk-ons have to get in with academic help but I had already gotten in (UGA) by the time I had heard from Coach Pittman."


"I had heard from several FCS schools… Valdosta State, Elon and a few others," said Sinkwich. "And I had also heard from all the D-III's and D-ITs. But then Georgia was the only big school I had ever talked to. It's a dream come true, to be honest with you. It's something I never thought would have happened and to get this chance, it's everything I ever wanted."


Bearing the same name as his legendary great-granddad, has that heaped extra pressure on young Sinkwich during his football playing career thus for? "There's always been a little bit of pressure to achieve on the field," he said, "but, then, at the same time throughout high school I played a different position than he did so it wasn't really as much pressure because I was playing lineman instead of running back. My whole family is ecstatic, to say the least, and I am too."


And about the possibility of running out onto the same Sanford Stadium field that the original Frank Sinkwich did, Sinkwich IV could only shake his head in astonishment "My dad and I were talking and he was like, 'Frankie, I won't be surprised if you end up crying the first time you go out on that field,' and I told him I probably might, just from the sheer excitement!"




Recent Articles by Murray Poole


[pt_view id="2fb799183g"]