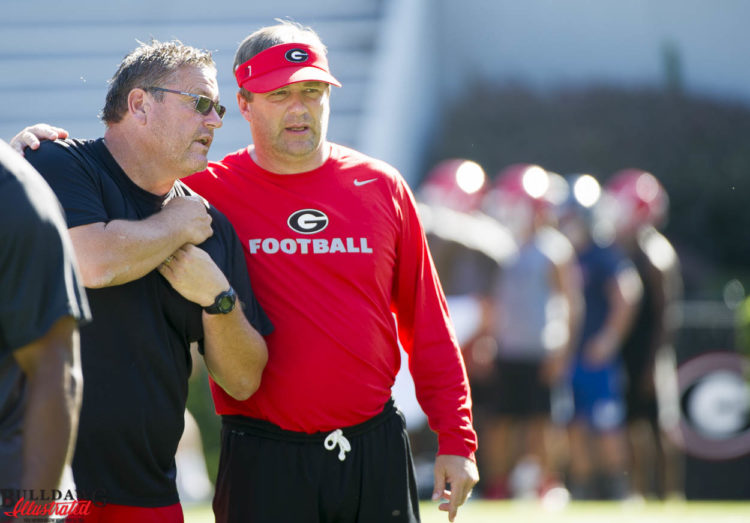 Kirby Smart has mentioned how he wants his players always to compete and practice with intensity and in the post-game press conference of the second fall practice he says seeing that quality in some freshmen because they play "with no governor."
The phrase "playing with no governor" may sound like players lack leadership or they are not responding to leadership properly. However, that is far from what Kirby is saying about freshmen who play with this mentality. When Kirby used this phrase, he was stressing that freshmen come in, and they just compete as hard as they possible can all through practices because they have this mentality of almost playing with a chip on their shoulder.
One player that stood out to Coach Smart as keeping this "no governor" mentality is inside linebacker Roquan Smith. Coach Smart lauded Roquan Smith in his post-practice press conference saying that he always plays as hard and fast as he can every play, and that will continue to build him into a greater and more successful player each and every practice if he continues to work this way. Coach Smart even highlighted that Roquan is growing into a leadership role because of the way he pushes himself in every practice.
Coach Smart also highlighted some freshmen who have stood out to him on the defensive line for showing this same quality of playing "with no governor." The three defensive lineman that Coach Smart named were incoming freshmen David Marshall, Michail Carter, and Tyler Clark who continue to impress with their high energy and effort in practice. If these players continue to play with this mindset which Coach Smart is stressing on his players, then they may find themselves in Coach Smart's praises just as Roquan Smith has impressed him thus far.