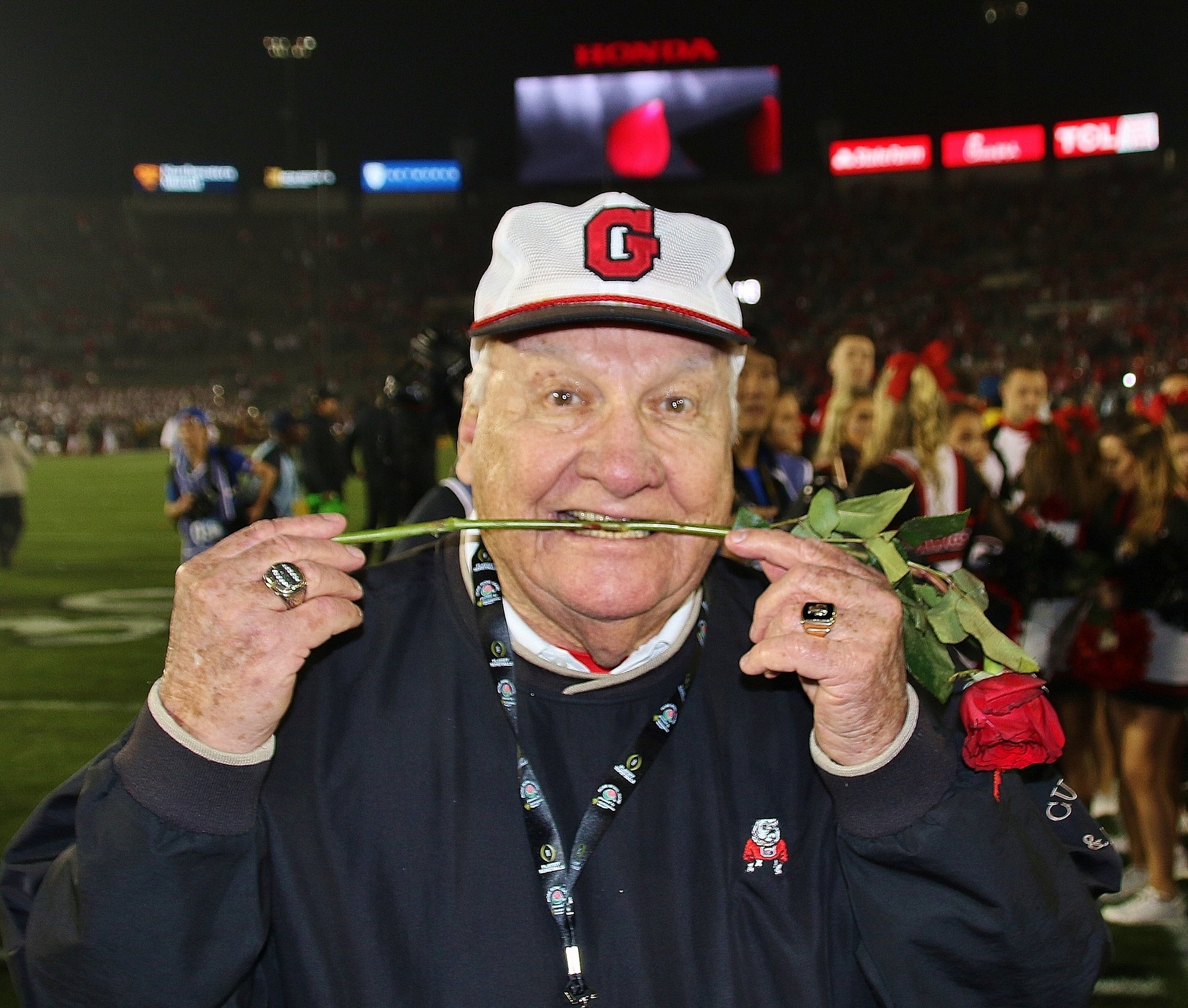 At Sonny Seiler's 90th birthday celebration back in February at the Oglethorpe Club there was the ultimate social.
His trio of doting daughters—Swann, Bess and Sarah—and brother Charles made sure that the guest list included exactly whom Sonny wanted to show up; and to remind him that even though he was getting long in the tooth, that he had a lot of good days left: another sojourn between the hedges, more opportunity to fish the intercostal waterways of Savannah, another ride over Johnny Mercer's Moon River bridge, another day at his beach house at Tybee, another night at the Uga suite at the Georgia Center, road games such as Jacksonville and God-willing, another unforgettable outing in the College Football Playoffs.
None of us would have considered that he had seen his last Georgia football game, but sadly that is what happened.
His memory banks were chockful of keepsakes that made him, along with his late wife, Cecelia, the toast of the state and the university often since a wedding gift in 1956 led to the Uga dynasty which brought such glory to old Georgia.
A certain amount of celebrity came with being the Ugas' caretaker, but it was a far greater responsibility than most fans realized. The day-to-day maintenance and chores could only be managed with much tender loving care and the Seiler's offered that in abundance.
A graduate of the UGA Law School, Sonny became the quintessential Uga historian, manager and friend with the aiding and abetting of Cecilia and the children to whom the reigning Uga was the family pet.
Sonny was an athlete who swam for the accomplished Bump Gabrielsen at UGA. (He once swam the river from Savannah to Tybee.) Before that, he played basketball at Newberry. Friends kidded him about guarding Furman's legendary Frank Selvy when Selvy scored 100 points against the Wolves in 1954. That was not exactly accurate but became great conversational fodder among his close friends.
An accomplished practical joker, Sonny was imbued quality that few of that ilk have. He could dish it out, but he could take it. If the joke was on him, he laughed the loudest and then schemed to get you back.
In the courtroom, he was as competitive as any lawyer, his big moment centered around a murder trial involving an antique dealer and a paramour which led to a book, "Midnight in the Garden of Good and Evil," which became a Clint Eastwood movie in which Sonny played the part of a judge.
If you knew him, you likely would agree that it would be difficult to determine which Sonny enjoyed or loved more—his native Savannah or Athens.
He never wanted to live anywhere but Savannah, but always gloried in any sojourn to the Classic City. For sure, he loved his hometown, and like so many Bulldog aficionados, he held equal affection for his favorite institution.
You saw that fire-engine Chevrolet station wagon parked at the Georgia Center, cruising about town and parked at places such as the bookstore and Sanford Stadium. It always attracted a crowd even in the hinterlands as the family journeyed to Athens for home game weekends. Places like Louisville, Soperton, Vidalia, Wrightsville, Tennille, Sandersville, and Sparta—depending on the route the Seilers took to Athens for home game weekends.
Kids adored Uga. They would knock on the door of the Seiler homes in Savannah and ask to take Uga for a walk. They engulfed him at the Georgia Center on the weekends and considered it the ultimate privilege to walk the grounds with Uga under the giant pecan trees which line the property.
I will always be indebted to the Seiler's for naming two of the Uga's for me and hold dear those many unforgettable times I fished with Uga on Sonny's boat, "Silver Britches." Sonny was expert at fishing and knew the rivers in the marshes around Savannah like the back of his hand.
We would catch trout and bass, bring them to the Seiler dock at their home on Dutch Island. Sonny would clean them, something at which he was skillful, and Cecelia would cook them with an expertise that would turn the heads of seasoned chefs in New Orleans.
Sonny was well read, he enjoyed playing golf at the Savannah Golf Club which he would tell you was the oldest club in the country, and never tired of hosting Uga in the St. Patrick's Day parade.
The chapel bell ringing, a Budweiser in the Uga suite with his closest friends, a hamburger at Allen's, any milestone or significant tribute that came to Savannah or UGA, gave him the greatest of highs.