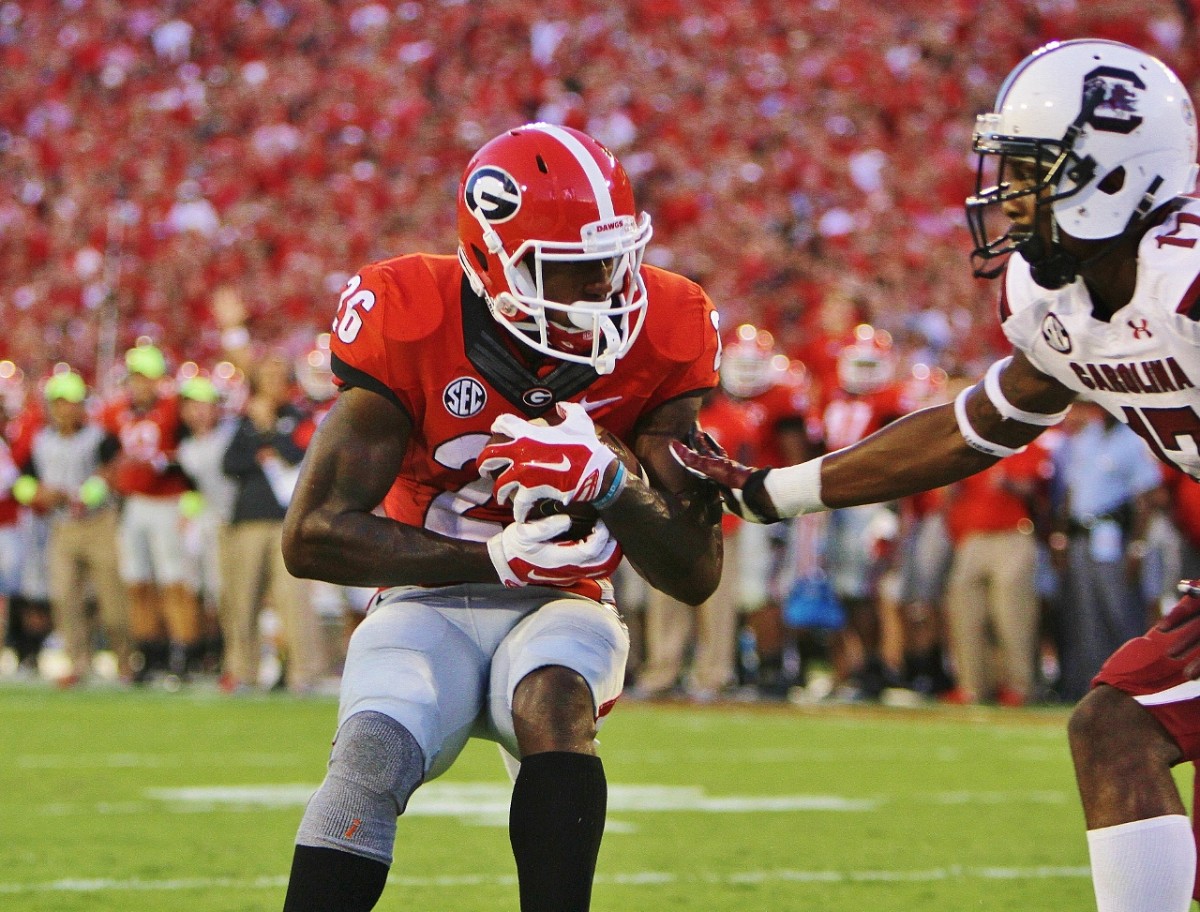 [su_spacer size="20″] Senior Bulldawg wide receiver put up an impressive 8 receptions for 122 yards and also had a receiving touchdown versus South Carolina during Georgia's 52-20 win on Saturday. It is the most receptions as well as yards receiving Money Mitch has had since his sophomore season in 2012 where he had 9 receptions for 103 yards versus Kentucky. To say he was impressive at receiver is an understatement, but it has been a long 2 years to get back the receiver Dawg Nation saw glimpse of back in 2011 and 2012 when he was a freshman and sophomore.
[su_spacer size="20″]
Back in 2013, Georgia was playing its first game of the season versus Clemson on Saturday, August 31st and running back Todd Gurley scored touchdown on a 75 yard run on the Dawgs' first play on their second offensive series. Mitchell had gone down to celebrate with his teammate, and as he came down from jumping up in excitement, something didn't feel right. On such an innocent act of celebratory exuberance, number 26 had inadvertently torn his ACL in his knee. His junior season was over before it had had a chance to begin.
[su_spacer size="40″]
mitchell
[su_spacer size="40″] Last year, right before UGA's Fall Camp for 2014, nearly a year removed from his season ending injury, Mitchell was ready to get back but suffered a setback when he had to have his knee scoped to repair some cartilage damage he sustained while running routes with teammates. He was not able to play until Georgia's fifth game of the season on October 4 versus Vanderbilt, but he did play in the Dawgs' remaining 8 games finishing with 31 receptions for 248 yards and 3 touchdowns.
[su_spacer size="40″] Mitchell has had one of his best off seasons and fall camp, and it is showing. Through 3 games, he has 15 receptions for 210 yards and also scored two touchdowns, which has him on pace for a 50 to 60 reception and over 800 yards receiving season.
[su_spacer size="40″] This is what Georgia Head Coach Mark Richt had to say about the fifth year senior at today's press conference:
[su_spacer size="40″]
I think a big reason he is having fun is I don't think he is worried too much about his wheels anymore. He's just playing again and he's producing and doing some of the things he hoped to do all along. I think you see a lot of his energy in practice. I mentioned to him before. I don't know what setting I was in talking about his work ethic, but he had a great summer, a great fall camp. He missed very little, and if he missed anything, it was just us trying to be careful with him.
[su_spacer size="40″] The media also got an opportunity to speak with Malcolm Mitchell today. One of the questions asked of Mitchell is how he felt about Georgia getting a win versus South Carolina as a senior:
[su_spacer size="40″]
It feels well. Moving on in the future, that's something I can say that I accomplished. I went out with a win against South Carolina.
[su_spacer size="40″] He was also asked how he stays focused for this Saturday's game versus Southern University with Alabama coming to town the next weekend on October 3:
[su_spacer size="40″]
This is another opportunity to go out there and get better as a player, and we better win the game or the Alabama game won't be as exciting. Me personally, I just focus on, trying to be better regardless of who we play. As a team, you want to win … Game day is game day regardless of who you play.
[su_spacer size="40″] Here is Malcolm's full interview with the media from Tuesday's press conference:
[su_spacer size="40″]
Malcolm Mitchell Interview: Southern U week
[su_spacer size="80″]