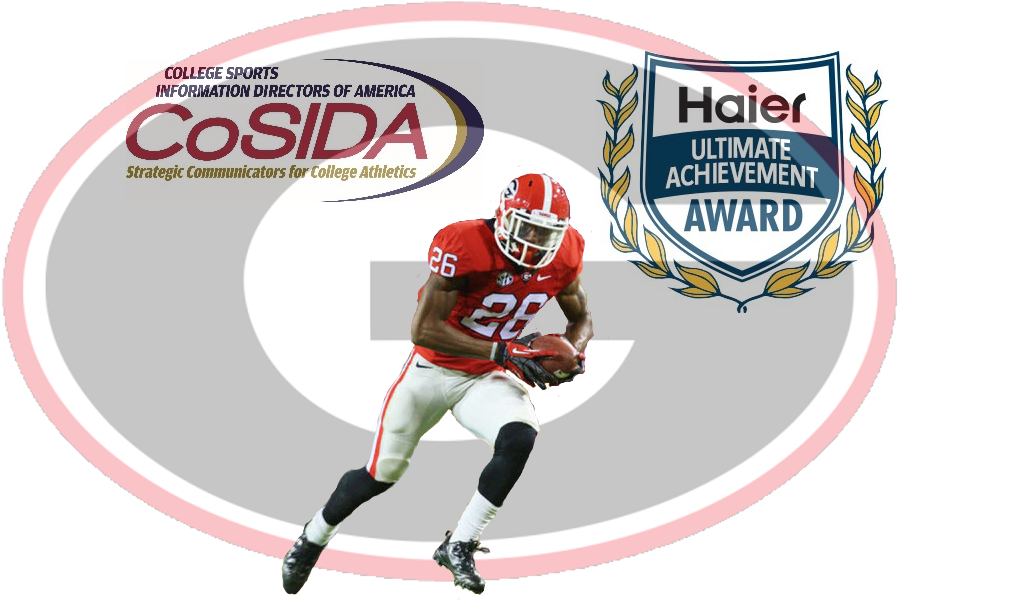 Malcolm Mitchell, a 2015 senior wide receiver for the University of Georgia football team, has been voted as the winner of the 2015-16 Haier Ultimate Achievement Award, which is presented to a student-athlete for their accomplishments beyond sports.  The announcement was made by John Homlish, senior vice president, Digital Living Business Unit for Haier America, one of the world's leading television and appliance manufacturers, and Doug Vance, Executive Director of the College Sports Information Directors of America (CoSIDA).


"The Haier Achievement Award program brings to light those student-athletes who have achieved success beyond sports," said Homlish. "Malcolm's personal transformation and commitment to promote reading among young people makes him an outstanding role model.  We hope that by honoring him, we can further motivate other young people to achieve and succeed both on and off the field."


Mitchell will be officially recognized on April 16, 2016 during the University of Georgia football G-Day Spring Game as representatives from Haier and their local retailer BrandsMart present him with a trophy, make a $5,000 donation to the University of Georgia scholarship fund and award a Haier 49-inch LED HD television to the school's athletic department.  Earlier this year, Malcolm and the other seven honorees were each recognized with a plaque at an on-campus ceremony, a $2,000 donation to their school's general scholarship fund and a Haier LED HD television to their athletic department.


Malcolm has transformed himself from someone who struggled to read during his days at Valdosta High School into a voracious reader, an active member of a local book club and a regular reader and speaker at local elementary schools. He has even written a children's book – The Magician's Hat – and started the ReadWithMalcolm.com website to encourage the community to get involved with reading.  He has supported countless community service initiatives including; Usher's New Look Foundation; Learn, Play, Excel; Camp Sunshine; Gage's Dawg Fight Against Cancer; the Boys & Girls Club of Atlanta; and many others. He has also been honored this year with the 2015 UGA Hornsby Howell Community Service Award and is a member of the 2015 Allstate AFCA National Good Works Team.


On the field, Malcolm led the Bulldogs in receptions (58), receiving yardage (865) and touchdown catches (5) last season. He also ranks third, sixth, and eleventh, respectively, on Georgia's all-time lists in those same categories. Malcolm declared for the 2016 NFL Draft and at the NFL Combine, he ran an impressive 4.45 in the 40-yard dash; finished with 15 reps at the bench; and had a 36-inch vertical jump; all in the top 15 for his position. Experts project him to be selected in the 4th round.


"I am blessed and honored to be able to represent one of the best schools in the nation that pushes its students to strive for excellence in and out of the classroom and on and off the playing field," Mitchell said. "Community service is very near and dear to my heart as it has molded me into the person I am today. I just hope that my contributions to the community can encourage everyone to get involved with reading. I want to live up to the expectations I have set for myself and can do so through being a role model in my community."


Throughout March, fans voted for the Haier Ultimate Achievement Award online (www.HaierAchievement.com) from eight student-athletes that were recognized during the year  including: Kelly Thomson (Junior, Women's Basketball, Kansas State University); Megan Fish (Senior, Women's Soccer, University of Central Florida); Emily Fogle (Senior, Woman's Swimming & Diving, Purdue University); Brittany Snow (Senior, Woman's Basketball, Stony Brook University); Jesse Gunter (Senior, Wrestling, Baldwin Wallace University); Femi Hollinger-Janzen (Senior, Men's Soccer, University of Indiana); and Imani Boyette (Senior, Woman's Basketball, University of Texas).


Additionally, 12 student-athletes were recognized as Haier Achievement Award Honorable Mention including: Kacy Swain (UCLA); Laura Hall (Guilford College); Tori Biach (Northern State Univ); Mickey Ludlow (University of Dayton); Lauren Hancher (College of Wooster); Lea Sobieraski (SUNY Geneseo); Lafayette Rutledge (Southwest Mississippi Community College); Mitch Granger (University of Illinois at Chicago); Dalton Screws (Jacksonville State Univ); Jason Vander Laan (Ferris State Univ); Dominic Moroglio (University of San Francisco); and Michael Lewis (Wayne State Univ);


ABOUT HAIER: Haier America (www.haieramerica.com) is a subsidiary of Haier Group, the world's No. 1 major appliance brand as ranked by Euromonitor International 2015, and a global leader in consumer electronics. Haier employs more than 60,000 people around the world and distributes products in more than 100 countries and regions with global revenues reaching $32.6 billion in 2015.


ABOUT CoSIDA: CoSIDA (College Sports Information Directors of America, www.cosida.com) was founded in 1957 and is a 3,000-plus member national organization comprised of sports public relations, media relations and communications/information professionals throughout all levels of collegiate athletics in the U.S. and Canada. CoSIDA has two primary missions: 1) Assist communications and public relations professionals at all collegiate levels with professional development and continuing education, 2) Play a significant leadership and resource role within the overall collegiate athletics enterprise, thus helping other management groups and their respective memberships deal with the set of communications-based issues that is the most complex and challenging in history.


---