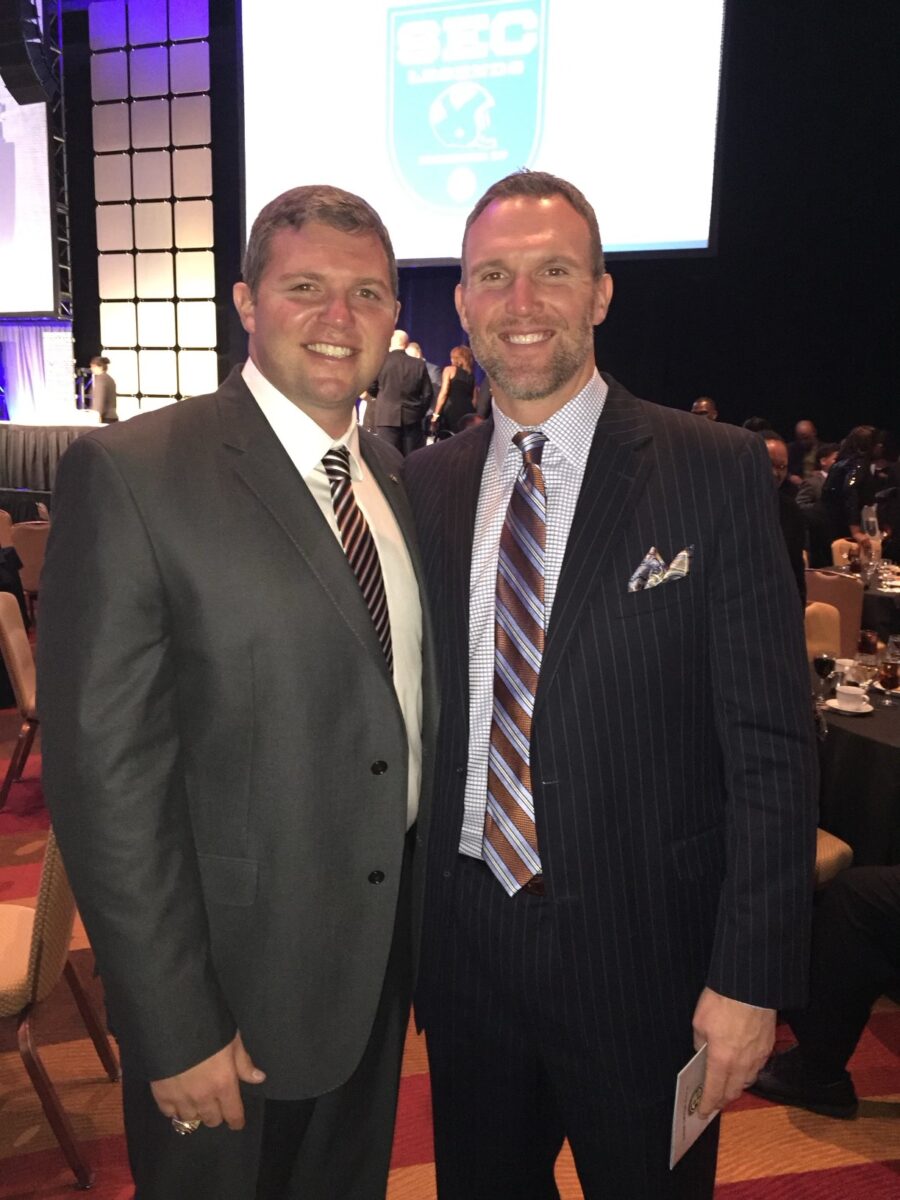 Growing up in the shadow of Stone Mountain, Matt and Jon Stinchcomb were football players born and bred. Matt, the older of the two, had God-given size, and for Jon, a little tough love from his big brother but a deep love for the game took them to extreme heights on the gridiron.
One day playing in the yard, Matt, Jon and their cousin were tossing around the ball. They threw it over the neighboring fence and for young Jon, he was the guinea pig sent over to retrieve the ball. In sandlot fashion, a monster dog waited on the other side. Jon threw the ball back, but the other two just caught it and left Jon for the sharks, or dog in this case. Running for his life, Jon somehow made it out on his own without a scratch from the dog. "To this day, I don't know how you got out of there," said Matt.
Although the two were competitors on the field, they were still brothers at heart. Their relationship wouldn't end when they stopped living under the same roof after Matt graduated from Parkview High School in 1995.
As Matt visited other schools in his recruiting process, the Classic City seemed to be the favorite. "Everywhere I went that team seemed to be playing Georgia." Despite being on the other schools' campuses, Matt said it was like taking an unofficial visit to an away Georgia game. Well, the highly-touted offensive lineman made his decision, and Athens didn't know it, but they were getting a two-time All-American tackle and Hall of Famer.
Jon's recruitment went a little different. After seeing Matt's success at Georgia, the Dawgs were interested in his little brother and what they could make of the younger Stinchcomb. Jon, however, didn't want to just go to Georgia because the place fit his brother. He wanted to make his own name and find the right place for himself. Other schools came calling, and Jon showed interest, but their mother (Karen) told Jon, "You can visit wherever you want, but the only school I will drive you to is Georgia." Just three years after Matt committed to the Bulldogs, Jon did the same, and the duo would share the field yet again.
Unfortunately, Jon tore his ACL in his senior season of high school. He early-enrolled at Georgia that January of 1998 and rehabbed his knee. His trajectory looked like he would be ready for the '98 season and have a chance to earn a spot alongside his brother. The Georgia staff found it in Jon and the team's best interest to redshirt him his first year in Athens. The brothers never actually played on the same field but still shared a special bond for that one year they had in Athens.
Jon credits Matt as his support staff that got him through that tough time. "Matt would call me on Sunday mornings and ask what I was doing," said Jon. "I would tell him I'm asleep in my dorm, and he would say, 'Great, I'll be there in 15 minutes.' He made sure he would include me in going to church every week." Jon met a pastor at the church they would attend, Kent Reynolds, and he formed a relationship with Reynolds unlike any one he had with someone in the church before. "I remember going to lunch with him at Inoko for the first time," said Jon."The church world was scary to me, but he cracked a joke about me, and I was like 'Woah! Can he really do that?' We formed a legitimate friendship then." Needless to say, despite not playing together, Matt greatly influenced Jon in that short year they had together and introduced Jon to the strength of his faith that they continue to grow in each day.
Following both of the brothers' times at Georgia, they were drafted to the NFL. Matt was drafted by the Oakland Raiders in the first round of the 1999 NFL Draft. His professional tenure would be plagued by injuries as he spent time in Oakland and Tampa Bay with the Buccaneers. Similar to Jon, his faith was a huge facet of life that helped him get through the trying times of an injury. Jon was drafted in the second round of the 2003 NFL Draft by the New Orleans Saints. He would go on to be a Pro Bowler in 2009 and a leader on the Saints Super Bowl winning team that year. Jon would also be the Saints' Walter Payton Man of the Year nominee in 2008 for his unending work outside the lines of the gridiron.
All their success on the field fills up a wikipedia page, but the brothers are not jocks with no class off the field. The Stinchcombs are not satisfied with their prior accomplishments, resting on their prior laurels; furthermore, the two are involved in various charities, giving back to their communities, making massive ripples around this state, continuously working in the right direction.
I first met Jon at Coach Richt's Dawg Bowl where he was one of many former players to come out and support the event. Matt, Jon and David Greene hosted the "Countdown to Kickoff" charity event, raising money for various charities. They now both contribute to multiple charities in many forms and fashions. "There are other players that have come through Georgia, and we have directed our efforts toward helping those guys and the charities they care about," said Matt.
I asked if they thought the Baileys of Champ, Boss and Ron or the Stinchcombs were the better Georgia football brothers. The two in-sync said, "The Baileys 100%!" The two also mentioned Terrence and Robert Edwards as a better duo. I followed up with who was the better football player between themselves? They each said the other one and gave various reasons for why. It's up for debate what the answer is to both of these arguments, but both humble brothers would never say themselves. They were studs of gridiron, but even better, humble men.
For their success on the field, the Stinchcombs are forever remembered in Georgia lore. However, for their continuous work where they don't seek recognition, the two have left a legacy upon Georgia that transcends both time and space.
To watch the full episode visit https://www.youtube.com/channel/UCNQfpShud74VsCU90FOwCqQ to watch Hammy's full interview with the brothers on the latest episode of the Hammy Show presented by Bulldawg Illustrated