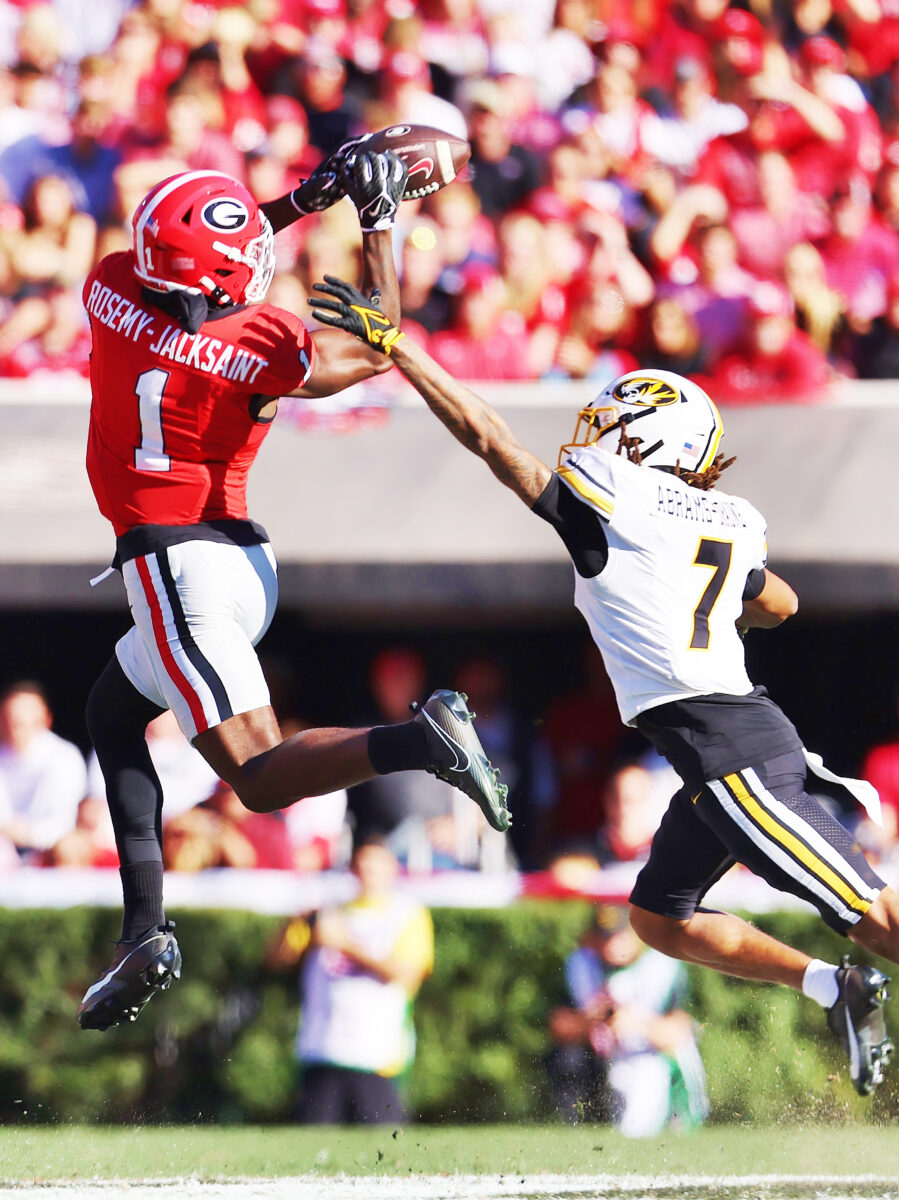 It's another mega Southeastern Conference showdown Saturday Between the Hedges, as the Ole Miss Rebels battle the Georgia Bulldogs. Ole Miss comes in with a record of 8-1, 5-1 in the SEC. Two-time reigning national champion Georgia is 9-0, 6-0 in the league.
Ole Miss is coming off a thrilling 38-35 victory over Texas A&M, the explosive offense shining and a missed field goal by the Aggies at the end avoiding overtime. Jaxon Dart was 24 of 33 for 387 yards and two touchdowns, with no interceptions against the Aggies. His favorite target was wide receiver Tre Harris, who hauled in 11 receptions for 213 yards and a touchdowns. Tailback Quinshon Judkins ran for 102 yards and three touchdowns on 23 carries.
The Rebels are having one of their best seasons since their glory days of the Johnny Vaught era of the 1950s and early 1960s.
Georgia has won 42 of its last 43 games. The Bulldogs have won 26 straight games. The Bulldogs have captured 25 consecutive SEC regular season games, 36 straight regular season contests and have won 24 in a row on Dooley Field in Sanford Stadium.
This past Saturday's victory over Missouri was one of Georgia's most thrilling during this incredible run of success in the Kirby Smart dynasty. The Bulldogs topped the Tigers 30-21. The heroes were headlined by kicker Peyton Woodring, who was three-for-three on field goals, including a 48-yarder that put the Bulldogs up 30-21 in the fourth quarter. Ladd McConkey was sensational yet again with seven receptions for 95 yards. Cornerback Kamari Lassiter headlined the Georgia defense, a stop unit that will be without All-American linebacker Jamon Dumas-Johnson, who was injured against Mizzou.
Georgia has trailed in five of six SEC games this season. Ole Miss has one of the most explosive offenses in the country. Both teams are coming off enormous emotional victories.
This will be Ole Miss's first trip to Athens since a 37-10 Georgia victory in 2012. The last time these two met was 2016, as Ole Miss built a 31-0 halftime lead in Oxford and boat raced the Bulldogs 45-14. In fact, the two most recent teams Georgia has played that won their most recent game against Georgia are the Rebels and Texas, which beat the Bulldogs 28-21 in the 2019 Sugar Bowl.
This is the gauntlet of Georgia's schedule, and the final home game of the 2023 campaign. If Georgia beats Ole Miss, the Bulldogs would clinch the SEC East Division title. The Rebels need to beat Georgia and win the regular season finale versus Mississippi State, and have Alabama lose its final two SEC games at Kentucky and on the Plains against Auburn to advance to Atlanta. It's hard to imagine the Tide losing both of those. But a win over Georgia would put Ole Miss into a great position to play in a major bowl game, and who knows what else could play out.