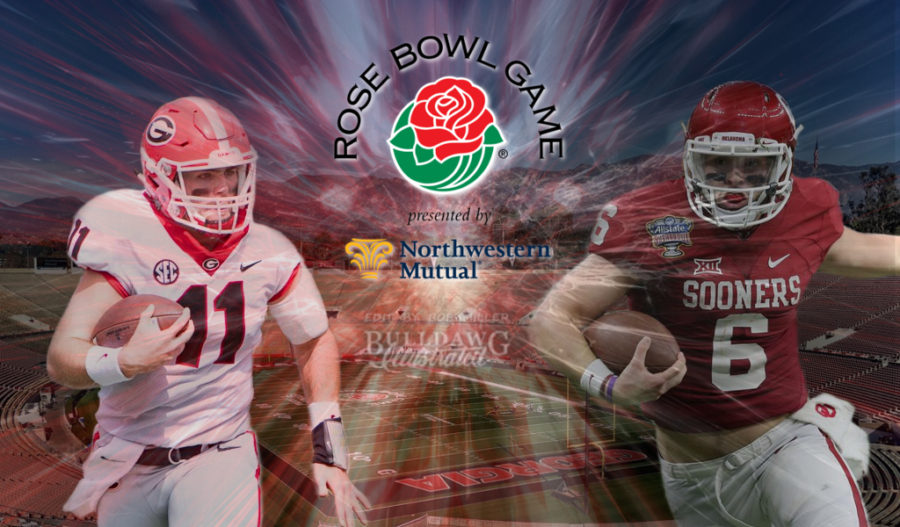 Welcome to Bulldawg Illustrated's Game Day Live Thread for the Rose Bowl College Football Playoff Semifinal game, where the No. 3 Bulldogs take on the No. 2 Oklahoma Sooners for a chance to play in the National Championship game. We have your game day info, where to watch or listen to the game, college football scores, live chat, and more. Go Dawgs! Beat the Sooners!


CLICK HERE – Go Directly To Comments
---
ROSE BOWL GAME DAY INFO & TIMELINE

Match-up: (12-1) #3 Georgia vs. (12-1) #2 Oklahoma
Date: Monday, January 1, 2018
Location: Rose Bowl Stadium (90,888) – Pasadena, California

7:00 AM ET (4:00 AM PT) – Parking Lots Open
11:00 AM ET (8:00 AM PT) – Rose Bowl Parade Begins
11:00 AM ET (8:00 AM PT) – Public Tailgate Opens in Lot 1A
1:00 PM ET (10:00 AM PT) – Georgia Pregame Broadcast Begins
3:00 PM ET (12:00 Noon PT) – Gates Open
4:00 PM ET (1:00 PM PT) – Pre-Game Activities Begin
5:00 PM ET (2:00 PM PT) – Kickoff

---
T.V BROADCAST INFO

CHANNEL: ESPN
LIVE VIDEO STREAMING: CLICK HERE

TV ANNOUNCERS:
Play-by-play: Chris Fowler
Game Analyst: Kirk Herbstreit
Sideline reporter: Maria Taylor and Tom Rinaldi

---
RADIO BROADCAST INFO

BULLDOG NETWORK STATIONS:
WSB AM 750 & WSB-FM 95.5 (Atlanta, GA)
WRFC-AM 960 & WNGC-FM 106.1 (Athens, GA)
For additional affiliates, CLICK HERE.
ESPN RADIO STATIONS:
WFOM-AM 1230 (Atlanta, GA)
KSPN-AM 710 or KLAA-AM 830 (Los Angeles, CA)
For additional affiliates, CLICK HERE.
LIVE FREE AUDIO STREAMS:
GEORGIADOGS.COM: CLICK HERE
ESPN RADIO ON TUNEIN: CLICK HERE
ESPN AUDIO STREAM: CLICK HERE
BULLDOG NETWORK RADIO ANNOUNCERS
Play-by-play: Scott Howard
Color commentator: Eric Zeier
Sideline reporter: Chuck Dowdle
ESPN NETWORK RADIO ANNOUNCERS
Play-by-play: Steve Levy
Color commentator: Brian Griese
Sideline reporter: Todd McShay


---
SOCIAL MEDIA

TWITTER #RoseBowl: CLICK HERE
TWITTER #UGAvsOU: CLICK HERE
TWITTER GEORGIA-FOOTBALL: CLICK HERE

---
DID YOU KNOW?

This is only Georgia's second appearance in the Rose Bowl game. The Bulldogs first appearance was in the 1943 Rose Bowl following the 1942 college football season. UGA was led by Heisman Trophy winner halfback Frank Sinkwich, player of the game Charley Trippi, and a stout defense to defeat UCLA 9-0 on that New Year's Day Friday, capping off an 11-1 SEC and National Championship Season under then head coach Wally Butts.
This aslo marks Georgia's first appearance in the College Football Playoffs since they replaced the BCS system in 2014 and is the first time that both the Bulldogs and Sooners will face each other on the gridiron in the history of their football programs. UGA has been playing college football since 1892 for over 125 years and Oklahoma's football program inaugural year began just three years later in 1895.

PATH TO THE NATIONAL CHAMPIONSHIP

The winner of the Rose Bowl will play the winner of the of the other College Football Playoff semifinal game, the Sugar Bowl featuring the No. 4 Alabama Crimson Tide and the No. 1 Clemson Tigers, in the National Championship game on Monday, January 8th, which will played in Atlantla, GA in the Mercedes-Benz Stadium.

MORE INFO

2018 Rose Bowl Digital Guide: CLICK HERE
Rose Bowl Central: CLICK HERE
---
SCORES & PICK'EM
ESPN College Football Scoreboard: CLICK HERE
College Pick'em: CLICK HERE

---