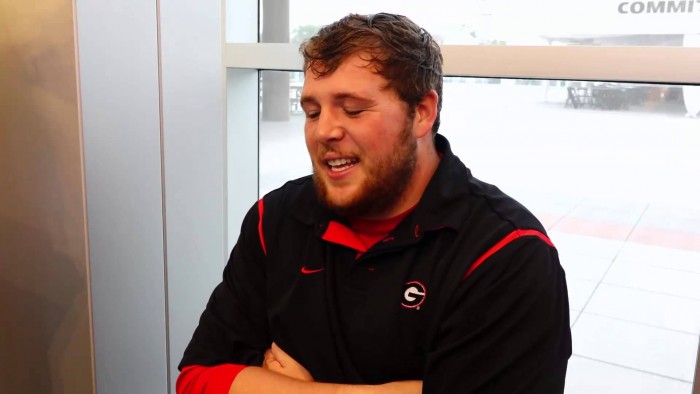 [su_spacer size="20″] Hunter long is the probable starter at center as UGA shuffles its offensive line in the projected absence of Greg Pyke.  He talked to the media this week about his future and looked back on his career.
[su_spacer size="40″]
On being part of the "Dream Team" incoming freshman class four years ago…
"One of the players' moms had some T-shirts made that said Dream Team class of 2011. That's really the only thing that we took part in. It was cool to be labeled that and have such a great class. The guys that have stuck around, it's been a great ride so far."
[su_spacer size="40″] On if people put too much into recruiting rankings…
"On the outside looking in it's a lot like that. It's kind of looked over. But once you get in the program and the locker room it doesn't matter if you're a five star or if you're a walk-on. They don't care. As long as you come in and earn your spot and do your part then they don't care. To the public eye, when you see a five-star guy walking in a restaurant you can identify them and say oh that's John Theus or whoever. It's kind of different for those types of guys, but, for the most part, those guys have worked the same amount and have earned their spots too."
[su_spacer size="40″]
Uploaded by Bulldawg Illustrated on 2015-11-19.

[su_spacer size="120″]