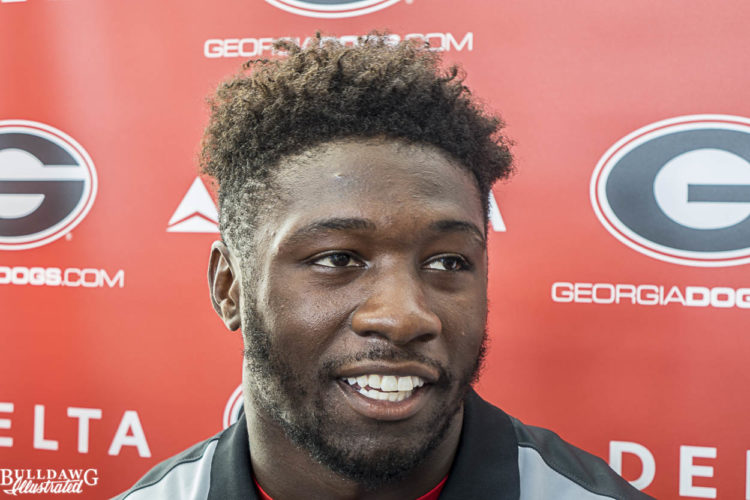 Roquan Smith is one of the most athletically gifted players on the Bulldogs roster and he has gained praise from Kirby Smart for always giving his all day in and day out and playing "with no governor." Roquan returned the praise he received back to the coaching staff and called new inside linebackers coach Glenn Schumann "a guru."
Roquan Smith had one of the most interesting signing days about a year ago but he has moved past all of that and is looking to become a key player in the Bulldogs defense this year. After gaining praise from Coach Smart, he was asked why he plays with such tenacity and determination and he said:
I just figured that's the way the game needs to be played, I don't take anything for granted so I give it all while I got it. My family always told me to go hard in whatever you do, so I believe in that and always will


Roquan Smith did hold an offer from Alabama, when Kirby was the defensive coordinator, but was not heavily recruited by the Alabama staff. In turn, he was not very familiar with Coach Smart and Coach Schumann but has been most impressed by their ability and knowledge as coaches. Roquan even went as far as to call Coach Schumann a guru and after saying that he expanded on what he meant by that:

He's very smart and knows his stuff like the back of his hand so he's pretty good with it… Just overall knowledge of the defense and just knowing stuff before it happens and different things like that.


Roquan continued on in the interview to talk about the depth and how he believes that the linebacking corps will be very productive this season. He also highlighted how his time on special teams helped enhance his game, but the most interesting he comment he made had to be about coach Schumann's sweater and sweatpants that he always wears to practice. Roquan gave us insight on something that every one questions every practice: Why does coach Schumann continue to wear a sweater and sweatpants on these hot and humid Georgia days? Chuckling Roquan said:

He said he's gotta get his workout in


With this puzzling question answered, we know have the full story on why Schumann tortures himself in this sweltering heat. On a more serious note, Roquan seems locked in to be a huge play maker on the Bulldogs defense this season and I am excited to see how he displays his athletic tools on the football field this season


[su_youtube url="https://www.youtube.com/watch?v=W5kDjHeKKA0″]