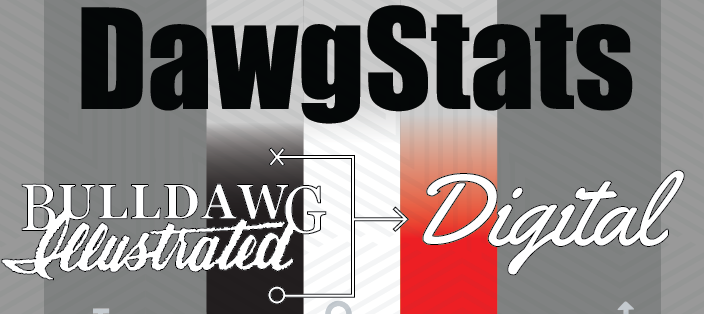 On Friday, I posted some metrics on the returning QBs in the conference.  We got to see the raw numbers and also some efficiency stats.  In this post, I am going show some similar numbers for the skill positions in the conference.
EPA, explosiveness, and efficiency are all related.  EPA (Expected Points Added) is just a number to add value to a play.  EPA numbers ascribe a value to a play beyond the binary "Successful/Unsuccessful" metric that is represented in the success rate.  A successful play (play gaining 50% yards to gain on 1st, 70% on 2nd, and 100% on 3rd/4th) will have a positive EPA.  Conversely, a play that is unsuccessful will have a negative EPA.  Positive EPA plays are added summed to create Explosiveness for a game/season. That Explosiveness Metric is divided by number of Positive EPA Plays (AKA Successful Plays) to create Explosive Rate.  Coach Smart after the SECCG lamented on UGA's explosiveness. 
Let's look at the returning players in the conference and their EPA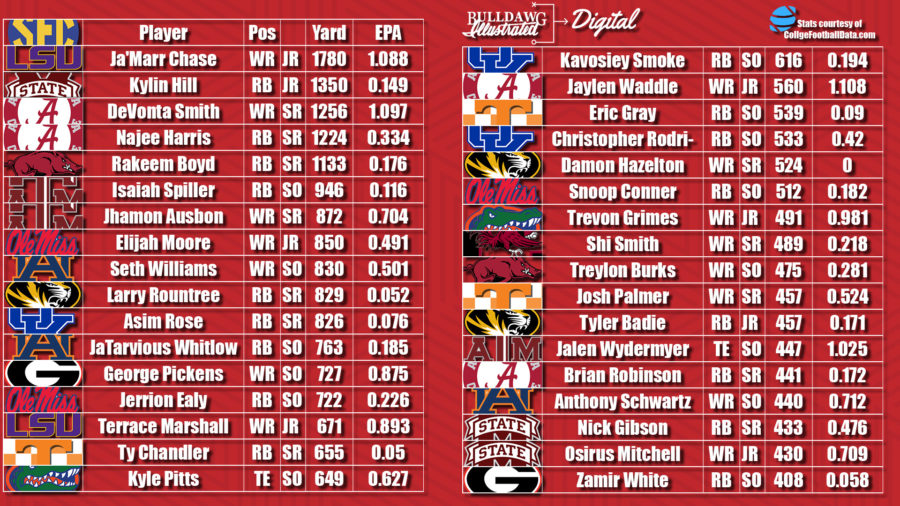 Unfortunately, not a lot of Dawgs on this list. Which, given the struggles on offense after the Tennessee game, shouldn't be a surprise.  But, to build on the EPA metric, you can glance and see that wide receivers dominate EPA numbers.  Running backs get volumes of touches but tend not to be efficient/explosive with those touches.  Zamir White's EPA for 2019 was a paltry .06. In 2018, he was quite efficient for an RB at .296 on 178 countable plays.  Interestingly, James Cook on 49 plays had an EPA of .399 in 2018.
But, what UGA can pin their hopes on is George Pickens.  While his raw yards are middle of pack, his EPA (.875) is 7th in conference with players that had at least 400 yards of offense in 2019.  Depending where you parse it, he is agurably the SEC's third most efficient WR.  And, let say that neither Joe nor Tua is walking through that door.  One would have to bet against Ja'Maar Chase and DeVonta Smith replicating those 2019 stats.  
Here are UGA's returning skill position players and raw numbers (in black). Also, a video montage (and related post) I did back in the winter of UGA's most explosive plays.  I hope this gives some context to all of this, and who doesn't love a highlight montage.