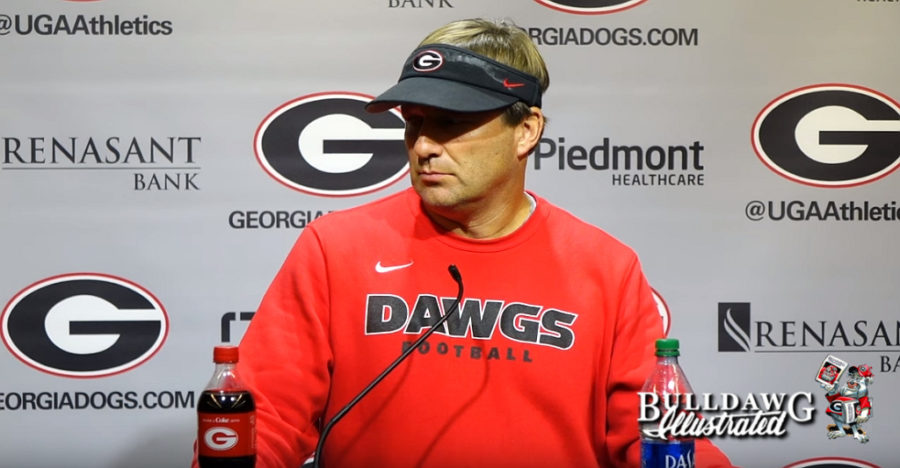 On Tuesday, Georgia head coach Kirby Smart addressed some concerns surrounding the Dawgs' offense and mentioned that it's not time to panic.
Smart was asked several times by members of the media on how he could improve the Bulldogs' offense after a 20-17 loss to the South Carolina Gamecocks.
He gave an honest, and simple answer.
"I go back and say again, we talked about it the other day, it's simple: Don't turn the ball over, be more explosive, and win two-minute, all right?" Smart said. "Those are three really critical factors. We've got to be more explosive."
Georgia ranks 10th in the country in total offense, but against South Carolina the Bulldogs' lacked that big play efficiency. Georgia also ranks 39th in country in the nation on big plays produced. In that category, it defines explosive plays as runs over 12 yards or passes over 16 yards.
Running back D'Andre Swift's longest run this season is 40 yards, but in the last three games, he hasn't recorded one longer than 23 yards. It's because Georgia has lacked in its downfield blocking, and this is something Smart has preached about all season long that has to get better.
Against Notre Dame, Georgia's longest run of the day was by Brian Herrien for 16 yards followed by a rush from Swift for 15 yards. In that game, Georgia's perimeter blocking was something that Smart said postgame that needed to be fixed.
Smart said that against the Gamecocks the ability for a long run was there, but nothing ever came of it.
"The runs that we had, there were about six or seven runs in there that were over 10 yards that I would argue could be home runs if one more guy gives a little more effort and gives a little more blocking," Smart said. "You've got to be able to be more explosive when you get an opportunity to do that. And you've got to win two-minute in games. And you can't turn it over."
Georgia turned the ball overturned four times against South Carolina, and that is what inevitably ruined their chances. It didn't help that the defense didn't force a turnover also.
On Monday, Bulldogs' Swift talked about how he wanted more shots downfield, and for the offense to be more explosive
"We should be one of the best teams in the country in every aspect. I think we need to do a better job of playing faster in practice and hopefully see that trickle down to Saturday," said Swift. "I think we need to take more shots downfield. Try to get the ball to our playmakers in space. Whatever the coaches think that is, think that might be, I think we need to do a better job of it."
Swift also said that when opponents load the box and take away the run that it causes quarterback Jake Fromm to take deeper shots downfield.
"When that happens that means Jake has to beat them, and I think he is going to do that."
This week, Georgia prepares to play SEC East opponent Kentucky in Sanford Stadium at 6 p.m. The energy in practice this week has been nothing but positive commented Smart.
"There's been good energy out there at practice, there's nobody running from work," Smart said, "and there's been good spirit out there."

Here is the video from Smart's Tuesday presser: