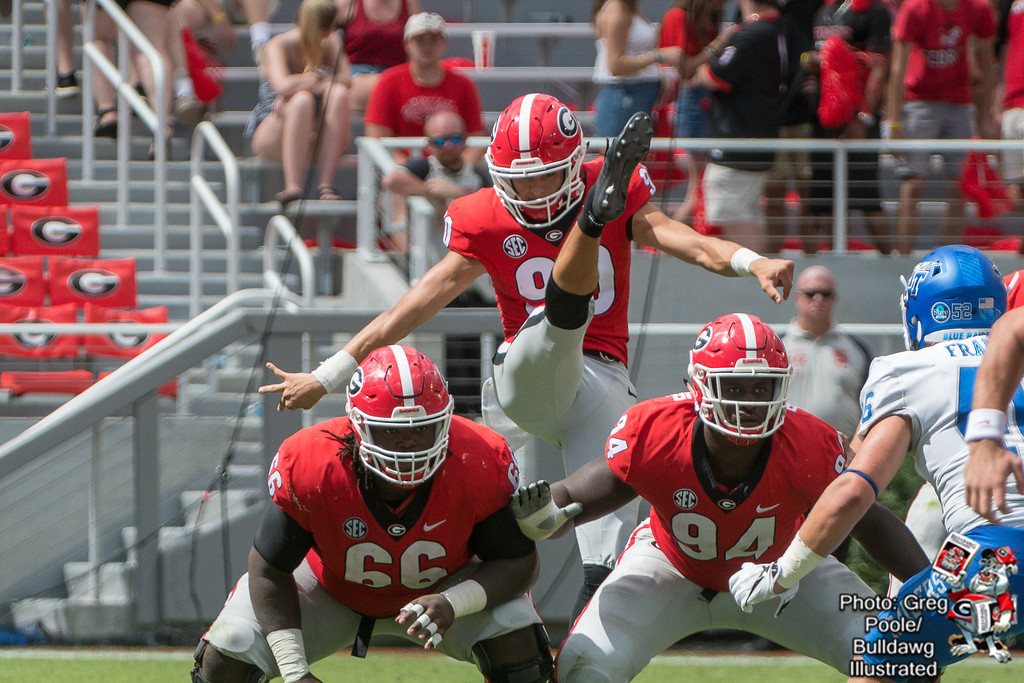 Jake Camarda took over the punting duties since Cameron Nizialek graduated. Through five games, Camarda averages 44.87 yards a punt with five kicks going 50-plus yards. However, he is a true freshman, so his consistency isn't quite there yet. 
The Bulldogs got spoiled with Nizialek last year as he averaged 45 yards over 61 punts. It wasn't the average that this boom fans, but his ability to pin teams deep in their territory. Niazlek kicked 26 of his 61 inside opponents 20-yard line.
Camarda has just three of his 15 punts that downed inside opponents 20-yard line. 10 of the punts resulted in touchbacks or fair catches. He isn't touching Nizialek's numbers yet, but Smart doesn't seem to think there are any issues.
"I wouldn't say that there are a lot of issues there. I think that we're better than we were two years ago, and we've got a guy that I think is a talented punter, who's being broken in, and he's also been in a lot of intermediate sky positions where he hits a 60-yarder, but the net is not there. And I don't think that's necessarily a bad thing," Smart comments on Camarda's punting game. "I think comparing it to last year is probably unfair from the perspective of Cam, who had situations where he was able to pen them in. And Jake hasn't had a lot of those. He's had a lot of these booms — that he wasn't in sky territory that he boomed into the end zone. But he has to punt more consistently, and he has to hit his spot more consistently. But I'm very pleased, and our coverage unit had three guys that were drafted in the first two rounds on it, and those guys are gone. So as much as anything, you gotta cover the punt as good as you gotta kick it."