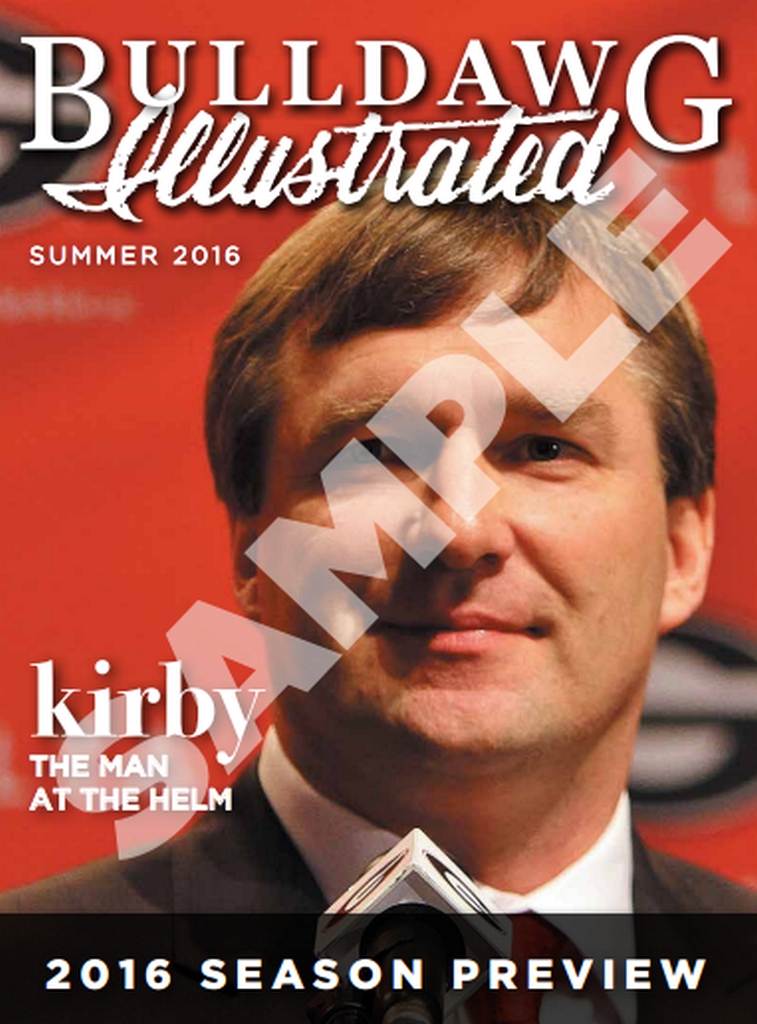 Fourteen years ago, we had the idea of creating a publication built around our love of Georgia football; so today, it is with a tremendous amount of pride that our team at Bulldawg Illustrated introduces our new magazine format. And you'll get a chance today to sneak a peek at our 2016 season preview!


The excitement behind the Kirby Smart era at UGA has Athens and the entire state of Georgia buzzing, so this presented an ideal opportunity for our media company to take the next step forward. By taking Bulldawg Illustrated from newsprint to a magazine, we are going to have more pages to display all things Dawg.


If my wife, Cheri was in the room as I am writing this, I can assure you she would be reminding me to talk about our lifestyle coverage. The funny thing is that she has been doing that since the day I came home with the idea of Bulldawg Illustrated.


And without question, she was right then and remains right now.


From day one, our goal was to have excellent sports coverage in BI, but also to have just as much fanfare. And I can assure you … a glossy magazine format has Cheri creating feature ideas about the people and places of the Bulldog Nation at a furious pace.


For the sports enthusiasts, please know I'm working hard with JD, Murray Poole and Greg Poole on innovative ways to give our readers behind the scenes coverage of our beloved football program.


And don't worry the new BI magazine will be full of fan photos galore. "You just never know, who you'll see in Bulldawg Illustrated" as our BI cohort, Jeff Dantzler coined over a decade ago.


One of my favorite stories regarding our fan shots is when Georgia Sports Information Director and all-time great Bulldog, Claude Felton told me he definitely enjoyed all our sports coverage, however the first thing he did with each issue was look at all the photos to see who we had captured.


That's classic stuff, but also a badge of honor for all of us who have taken those tens of thousands of photos. As the great Bulldog play-by-play announcer, Larry Munson once said. "paint the picture." So now with our new football coach, our brushes/pages will be displayed with a glossy finish. But we will remain steadfast in producing a publication built around our love of the University of Georgia, its sports programs and most importantly, its supporters.


Our Season Preview issue comes out May 24 and we hope this 16-page sample of the new BI will entice your business to join us for the 2016 season. Once the football season hits, we will have an issue each week for every game like we always have. And then we will cap things off with a Bowl Preview issue in mid December. Yes, our Sundays at BI just got a little harder, but we are completely fired up for the challenge.


New coach, new attitude, NEW BI … let the fun begin!


So without further ado, here is a "sneak peek" at the future of Bulldawg Illustrated. A sampling if you will of good things to come. Go Dawgs!


---
CLICK HERE
TO
SNEAK A PEEK
AT
BULLDAWG ILLUSTRATED'S
MAGAZINES TO COME

---