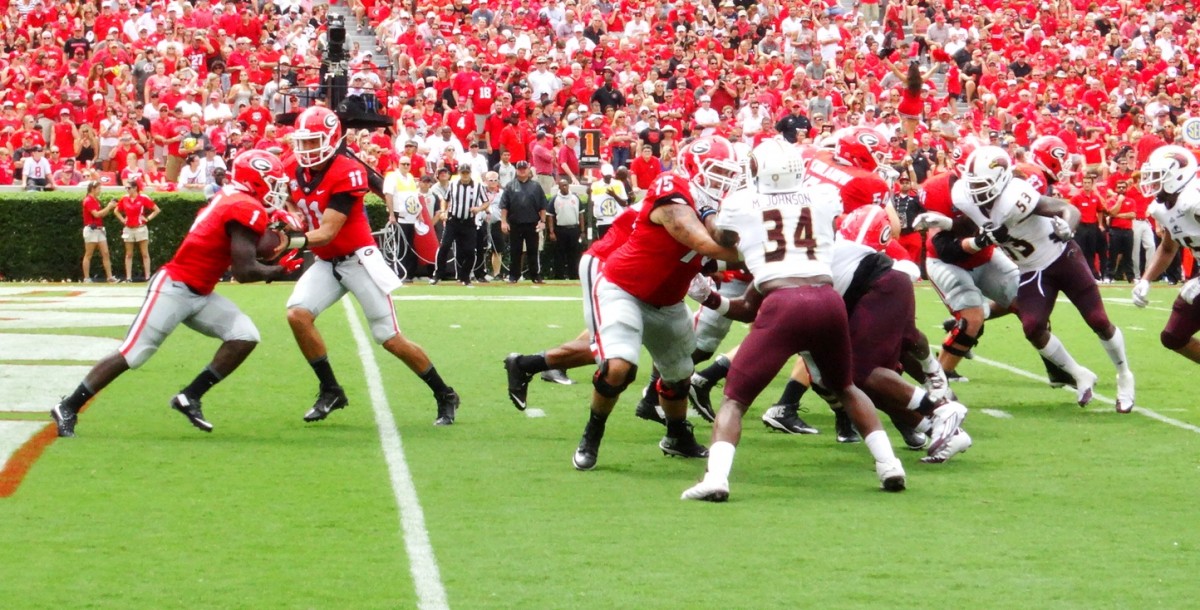 [su_spacer size="20″] The Georgia Bulldogs had a great day against the University of Louisiana at Monroe Warhawks which led to an eventual 51-14 victory. One star of the game was Sony Michel who split carries with three other UGA backs, which were fellow sophomore Nick Chubb, junior Brendan Douglas, and senior Keith Marshall. Although Michel shared time with these other running backs he had a fair share of big plays and a very impressive opening game.
[su_spacer size="20″]
Sony Michel ended his day with a solid 6 carries for 41 yards and also was the Bulldogs leading receiver with 2 catches for 79 yards and a touchdown. Michel showed off his spectacular speed and he made skillful cuts and reads throughout the day and even displayed his power on a couple of running plays.
[su_spacer size="40″] At the end of the day Sony Michel was more concerned about the team and getting the "W" and displayed in his postgame interview that that is the most important task in his mind. When he was questioned on if he was happy with how he performed today this is what he had to say.
[su_spacer size="40″]
I'm satisfied we got the W. I mean stats really don't matter it's just an accomplishment. The W is what really matters.
[su_spacer size="40″] Michel saw some increased time at the receiver role and was very thankful for this time and even said that he was honored that he got to play at that position for a few snaps. This is what he said concerning his role at wide receiver.
[su_spacer size="40″]
I'm honored for Coach giving me that part in the offense, to catch some balls. We have some great receivers like Terry Godwin and Isaiah Mckenzie and we've got much more on the depth chart, but I'm honored.
[su_spacer size="40″] Michel did not forget to acknowledge the play of the big men upfront that blocked for him all day. He was very simple and to the point on his opinion on the Bulldogs offensive line and this is what he had to say concerning them.
[su_spacer size="40″]
They're the best in the country. I don't think no O-line is better than our O-line.
[su_spacer size="40″] Michel had a very impactful team and made many big plays for the Bulldogs despite having to deal with rain delays which was almost viewed as annoying by the team because they just wanted to play ball. Regardless of the delays or not, Sony Michel was a pivotal piece of the Bulldogs offense and i expect him to make many more plays in many of the games this season.
[su_spacer size="40″] [su_youtube_advanced url="https://www.youtube.com/watch?v=cGhnrZvGzog" autohide="no"] [su_spacer size="80″]