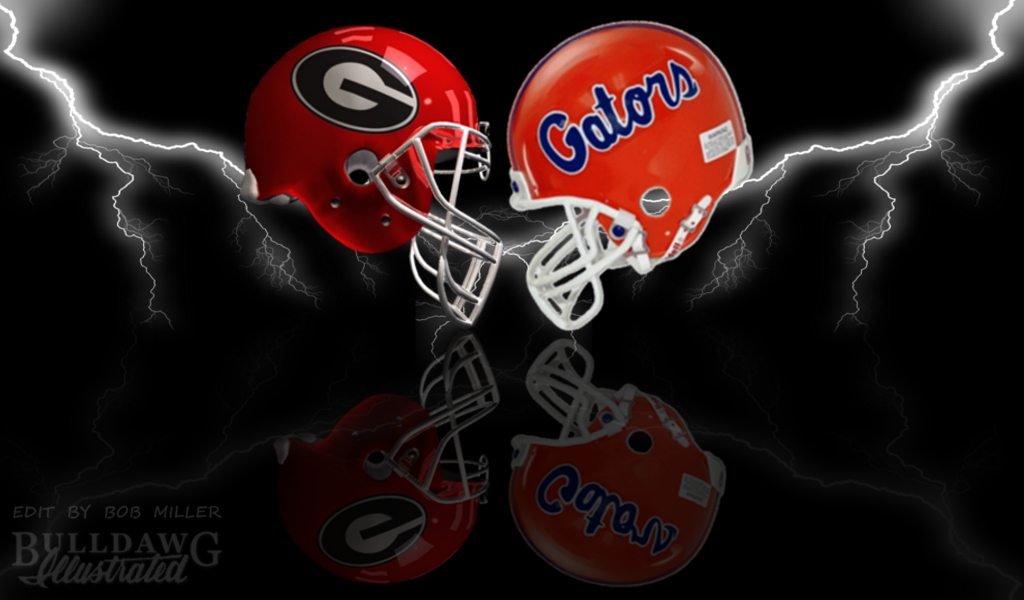 The No.3 Georgia Bulldogs have a sneaky-tough matchup against SEC East rivals Florida, but the Bulldawg Illustrated staff has faith in these Dogs ending their three-game losing streak to the Gators.


Graham Groseclose – Georgia 28, Florida 13

The Kirby Smart 2017 revenge tour continues in Jacksonville with a big win over UF. The lack of depth due to injury and suspension catch up to the Gators. UGA gets one step closer to clinching a trip to Atlanta.


Ella Dorsey – Georgia 34, Florida 10

Florida has dominated this rivalry for the past 20 years, but this year we will get revenge. Felipe Franks will throw 2 interceptions and we will capitalize putting 14 points on the board. Chubb and Fromm will both post a TD, while Florida will only reach the end zone once.


Murray Poole – Georgia 31, Florida 13

After all my years of attending this game, I can tell you to expect the unexpected when the Dawgs and giant water lizards go at each other. But if we're ever to expect a Georgia win, it's this season. If Kirby's guys perform like they have all season, the Bulldogs should dominate the Gators on both sides of the ball. Still, I'm expecting Florida's capable run defense to keep it close in the early going before Georgia keeps pounding and wins comfortably in the end.


ImYourHuckleberry – Georgia 44, Florida 13

Florida is a program in turmoil right now while the Dawgs program is running like a well-oiled machine. This is a statement game for Kirby Smart and the Dawgs and a very loud statement will be made. I have been bullish on the Dawgs with my predictions and I don't see any reason to stop now. A disciplined Dawgs team rips out the heart of the Gators.


Vance Leavy – Georgia 35, Florida 20

It's been a brutal three decades in Jacksonville, but Kirby Smart and company will wear down the Gators in the second half.


Jeff Dantzler – Georgia 24, Florida 20

It will be a battle, but I have confidence that Georgia will pull it out. A new era has dawned and this is another mountain to climb. The Dogs Plant the flag in Jacksonville, beating Florida 24-20.


Bob Miller – Georgia 30, Florida 14

My first Cocktail Party in Jacksonville was my junior year at UGA in 1993 and that was a long car ride home to Athens with 5 wet guys stuffed into a little compact car after what we thought was a game heading to overtime ended up being a 33-26 loss. It would not be my last long, somber car ride home from Jacksonville over the years. 2002 and 2005 come to mind. I've been remembering each and every one of them the last two weeks, but the good news is that is history and has no bearing on the outcome of Saturday's game. This 2017 Georgia team just feels different. These are Kirby's Dawgs. It's THE GAME; so nothing will come easy, but give me Georgia 30-14 over the Swamp Lizards.


Han Vance – Georgia 24, Florida 10

Basically a reverse of last year.


Greg Poole – Georgia 27, Florida 13

The Bulldogs have some breakout performances from Mecole Hardman and D'Andre Swift as they end their losing streak to the Gators. The defense will shut down Florida's offense as Roquan Smith and Davin Bellamy lead the defense in tackles and pressuring Feleipe Franks.


Savannah Richardson – Georgia 42, Florida 3

42-3, I think UGA keeps chugging and plugging. Bulldogs make THE statement game in Jax. Georgia is on a mission and there's no way Florida stops them.


Michael Pope – Georgia 38, Florida 13

The Bulldogs will wear down the Gators with their stout rushing attack and Nick Chubb, Sony Michel, and D'Andre Swift will have a combined great day. The Gators rush defense has only allowed four rushing touchdowns all season but the Bulldogs could double that total in this game. Georgia's defense will force Franks to pass and this will eventually lead to mistakes in the form of sacks and interceptions. The combined efforts of the Bulldogs offense and defense should lead to a comfortable victory.


The staff seems to have faith in the Bulldogs walking out of Jacksonville with a win, but what do you think? Please put your prediction in the comments section.




---
Recent Articles by Michael Pope


[pt_view id="b8629e37y8″]