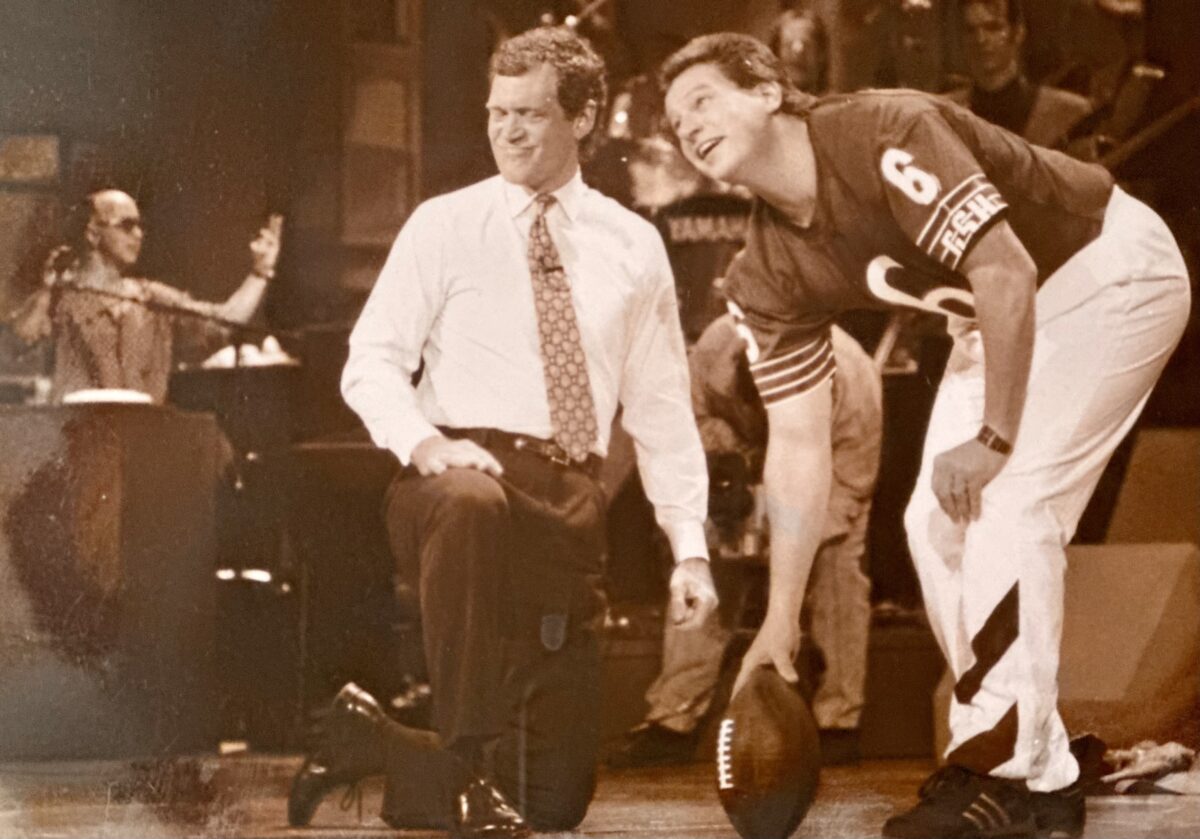 1. Larry Bud Melman's boss went to Ball State – It's a pretty well known fact that legendary late night talk show host David Letterman is the most famous alumni of Ball State University in Muncie, Indiana. The one-time weatherman went on to great fame, first following the great Johnny Carson on NBC and then moving into the 11:30 p.m. slot on CBS. The school of Mass Communication at Ball State is named for the proud Cardinal alum.
2. Kevin Butler was on Late Night With David Letterman – College Football Hall of Fame Bulldogs legend, and Bears great Kevin Butler appeared on Letterman in 1989 when the show was filmed on location in Chicago. The other guests were Chicago Mayor Richard Daley, John Mellencamp and the Playmate of the Year. Supertoe Butler kicked an extra point to the top level in the Chicago Theater with Letterman the holder. "Letterman wore a Georgia sweatshirt when he met me and Cathy the night before," Butler said. " We went down to the theater the night before to make sure it was possible. It was." Butler can now be heard co-hosting the Bulldog Brunch from the Hilltop Grille on the Georgia Bulldogs Radio Network.
3. REM NYC SNL tale – Amongst Athens most famous residents are the four members of the iconic rock and roll/new wave band REM. Uber talented drummer Bill Berry told a story that when REM was the musical act on Saturday Night Live, he was in a bathroom at 30 Rock nearby the stage and brilliant funnymen and SNL cast members Dennis Miller and Chris Farley were in the same restroom, unaware of Berry's presence. Miller said something along the lines of, "I just don't get it with this band," while Farley retorted, "Oh they're so great, I love them." Berry said he never alerted them to his presence for fear of embarrassing anyone. But it made for a humorous tale.
4. Farewell Big John – Big stages in New York, one of the most beloved Georgia athletic greats ever, "Big" John Isner called it a career at the U.S. Open. What a career it was, from his national championships at Georgia, runs through Grand Slam Tournaments and professional titles, the 6-10 dynamo always did it in first class fashion while proudly representing his beloved alma mater. Following John's career brought tremendous joy to so many. There is no lineage or legacy like Georgia Tennis, and John Isner will always be a cornerstone of its remarkable history.
5. 10 % – Following Georgia standouts on the PGA Tour has been a great source of joy. Three of the 30 players in the field of the season ending Tour Championship were Bulldogs – Sepp Straka, Russell Henley and British Open champion Brian Harman. And a final loud "Go Dawgs" goes to Straka and Harman for representing their squads in the upcoming Ryder Cup.