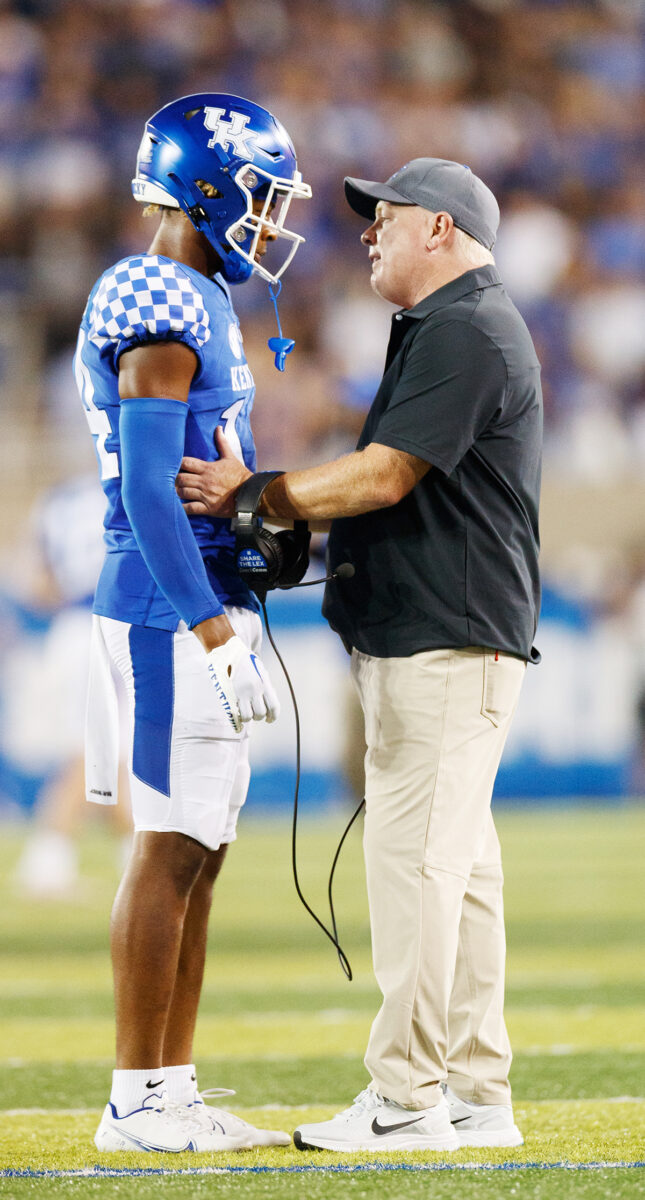 1. Devin Leary Addition – Our Kentucky insider Darrell Bird gives a great take on the Wildcats new quarterback in "A View From." The new Wildcats quarterback is outstanding, maybe an upgrade from Will Levis, who was very good. You know Kentucky is always going to be big and tough and physical. I always remember Coach Dooley and Georgia's players saying that you knew you would be in a physical battle when playing Kentucky. Mark Stoops is an excellent defensive coach and Kentucky is strong in the line of scrimmage. The Wildcats also have a terrific quarterback who can deliver consistency and big plays.
2. Stoops – Kentucky's head coach has done a terrific job in his decade long tenure for Big Blue. This is Stoops 11th season, and he's led the Wildcats to seven straight bowl games. His first year, the Wildcats went 2-10, then improved to 5-7 in each of the next two. Since then, with the exception of the Covid year when they went 5-6, it's been a winning record for the 'Cats. Most notably in 2018 and 2021 when Kentucky posted 10-3 records and Citrus Bowl victories over Penn State and Iowa. Stoops' Wildcats broke the 31-game losing streak to Florida in 2018. Now his team tries to make some magic happen in Athens.
3. Dawgs Decade – Georgia is riding a 13-game winning streak over Kentucky. The Bulldogs "ran the decade" of the 2010s against Kentucky, going 10 for 10.. The Bulldogs last lost to Kentucky in 2009, when the Wildcats won 34-27 at Sanford Stadium. Georgia also carries a 22-game home winning streak into this battle – a streak that began on a rainy Saturday night (and all day) with a 21-0 win over Kentucky in 2019. The school record for consecutive victories Between the Hedges is 24, set from 1980-1983.
4. Yeah Yeah Yeah – One of the most memorable Bulldog victories over Kentucky came in 1978, as Georgia rallied from a 16-0 deficit to defeat the Wildcats 17-16 in Lexington. Rex Robinson delivered the game winner in the closing seconds, and Larry Munson was at his very best. For the Master, that one and the 1982 victory over Auburn that clinched a third straight SEC Championship, was the best the great one ever called. It was a crystal clear, cold night, and that WSB signal was bouncing from Miami to Maine. College Football fans used to surf the radio dials at night like we jump around on TV now. A lot of people heard Larry Munson deliver an epic performance, with a thrilling final drive that culminated with Rex's kick when "the whole stadium's standing, no, some of 'em are upside down, but they're tryin' to stand. "Yeah! Yeah! Yeah!"
5. 97 and 98 for 16 – Two other favorite Georgia victories over Kentucky came in 1997 and 1998 when the Bulldogs current two-time reigning national championship head coach was an All-SEC safety for Jim Donnan's Dogs. Both of those Kentucky teams were led by quarterback Tim Couch, the top pick in the 1999 NFL Draft, running coach Hal Mumme's Air Raid offense. In 1997, stellar tailback Robert Edwards scored on an 80-yard touchdown run in the rain. Right before the half, Ronald Bailey returned an interception 37 yards for a touchdown. It was one of three Couch interceptions on the day. The other two were picked off by Kirby Smart. Edwards scored on a 44-yard run that put the game away, as Georgia prevailed 23-13. The next year in Lexington, Georgia won a 28-26 thriller. The Dogs fell behind 10-0, but turned the game on a goal line stand stop by Orantes Grant. The Dogs got going and built a 28-20 lead. The Wildcats scored, but the Dogs stopped the two-pointer. It looked like Georgia had run out the clock, but fumbled in the final minute while picking up the first down deep in Wildcat territory. Couch drove Kentucky into field goal range, but the snap exchange was botched and the Cats never got the kick off. Whew. Along with Grant, Georgia's defensive MVP was Kirby Smart, who recorded two more picks against the eventual top pick. On one of those picks, he just got tripped up, negating a chance at a long return. Georgia's future Hall of Fame head coach was a terrific player, and two of his greatest games came against Kentucky.