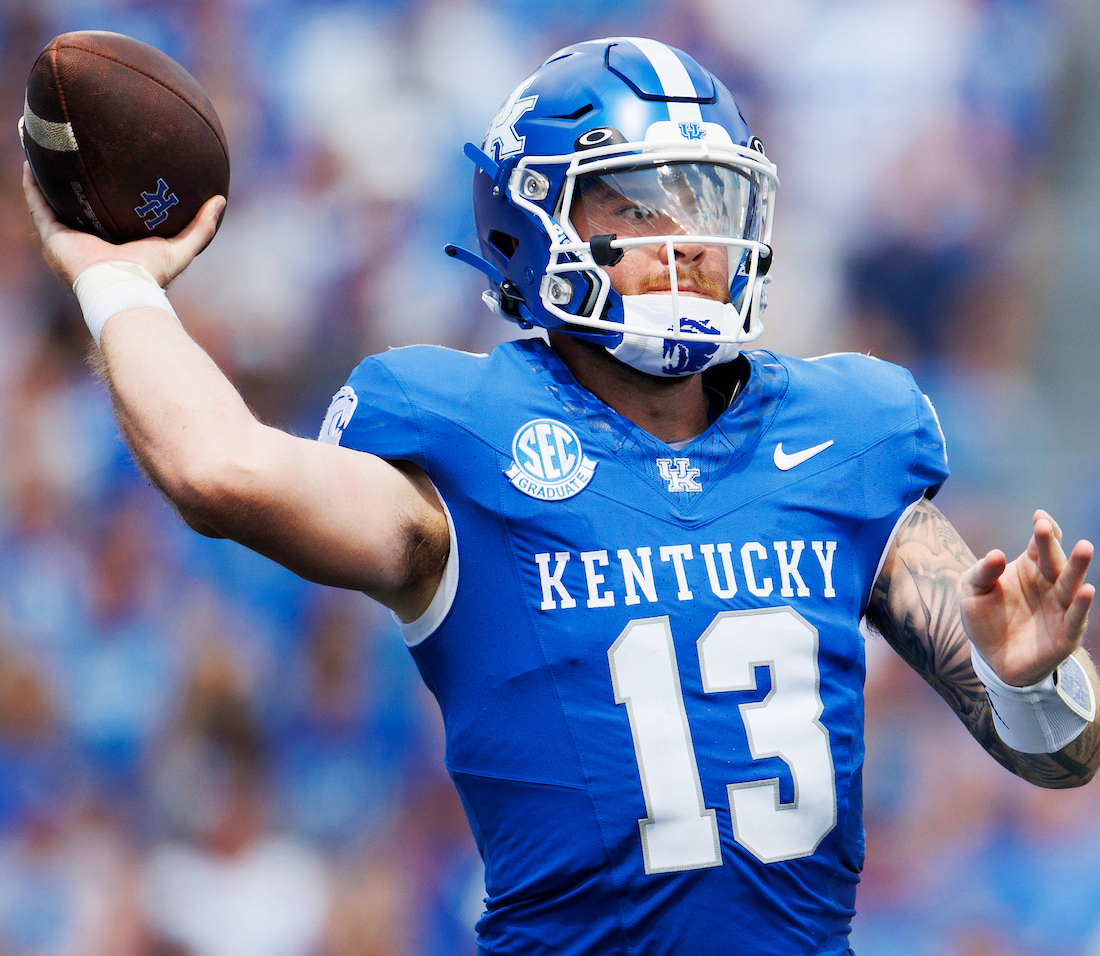 Mark Stoops (HC) – Coach Stoops, renowned for his reputation and motivational prowess, has instilled a winning mentality in this Kentucky Wildcats football program and has grown the team into a true SEC threat in his time in Lexington. His leadership has propelled Kentucky to new heights, earning notice from the college football sphere after proving themselves in their victory against a ranked Florida. The Wildcats may be on the verge of something special, and Stoops will be doing everything to keep it going against the Dawgs.
Barion Brown (WR #7) – Though the Kentucky Wildcat offense is known for their stout run game, that doesn't mean you can disregard what they have to offer through the air. Barion Brown is the speediest option at the receiver position, and given the Cats' liking for the run, a play action shot to him may wind up hurting the Dawgs on defense. Brown's longest reception of the season has been for 55 yards, so he definitely has it in him. He's also tied for Kentucky quarterback Devin Leary's most targeted receiver with 19 receptions this year.
Ray Davis (RB #1) – 280 yards, that's how much Ray Davis ran for against the Florida Gators last Saturday. Just him. It's rare to see that kind of production against an FBS opponent, let alone a team in the SEC, but Davis did it nonetheless. On the season, he now has 594 yards, averaging 7.8 yards per carry. What stands out with this guy is the way the Wildcats like to lean on him. Davis has over three times as many rush attempts as JuhTain McClain, Kentucky's second leading back, with 76 to his 21. Georgia allowed 243 rushing yards to Auburn last week, so that should inspire Kentucky to lean on the ground attack.
Devin Leary (QB #13) – Transferring from North Carolina State, Leary has made an immediate difference with the Wildcats, having thrown for 1,129 yards and 10 touchdowns so far this season. One thing the Wildcats do well is protect their quarterback, having allowed only four sacks to this point in the year. This protection in the pocket gives Leary the extra second he needs to make plays.
Tayvion Robinson (WR #9) – Robinson's numbers speak for themselves. He's the leading receiver for Kentucky with 308 receiving yards, averaging 16.2 yards a catch, and like fellow receiver Barion Brown, has a long of 56 yards. That 16.2 yards per catch is going to be dangerous. As mentioned earlier, he and Brown are tied with the most receptions on the team, so that means Robinson is going to get plenty of opportunities to showcase his explosive capability.
Maxwell Hairston (DB #31) – Maxwell Hairston is an impressive athlete leading the team in tackles from the cornerback position. Not safety, but the cornerback position. Naturally, he has good straight speed and has developed his change of direction since coming to college. It's those traits that have helped him rack up 33 tackles and two pick-sixes this season. 10 of those tackles came against Florida, a season high for the Michigan native. Hairston's going to be coming in hot when the Wildcats take the field this Saturday.
Trevin Wallace (LB #32) – Wallace had a significant impact in the Wildcat's 33-14 rout of Florida, making an interception that led to a touchdown. Beyond that, Wallace has been a consistent source of production for the Wildcat defense, ranking second on the team with 27 tackles, 3.5 sacks, and a forced fumble, in addition to the stats he accumulated against Florida. Wallace is actually a Georgia native – a highly touted prospect from Jesup. He will have some extra motivation playing in his home state, striving to make his mark in what will more than likely be another physical Georgia-Kentucky faceoff.
---
In the 1984 NBA Draft, Kentucky had two of the top six picks … Sam Bowie went second overall to the Portland Trail Blazers and Mel Turpin was the sixth selection by the Washington Bullets.
One of the greatest players in Kentucky football history, Babe Parilli was an All-American for Bear Bryant's Wildcats in 1950 and 1951, leading Big Blue to Sugar and Cotton Bowl victories.
Five different coaches have led Kentucky's storied basketball program to national championships: Adolph Rupp, Joe B. Hall, Rick Pitino, Tubby Smith and John Calipari.