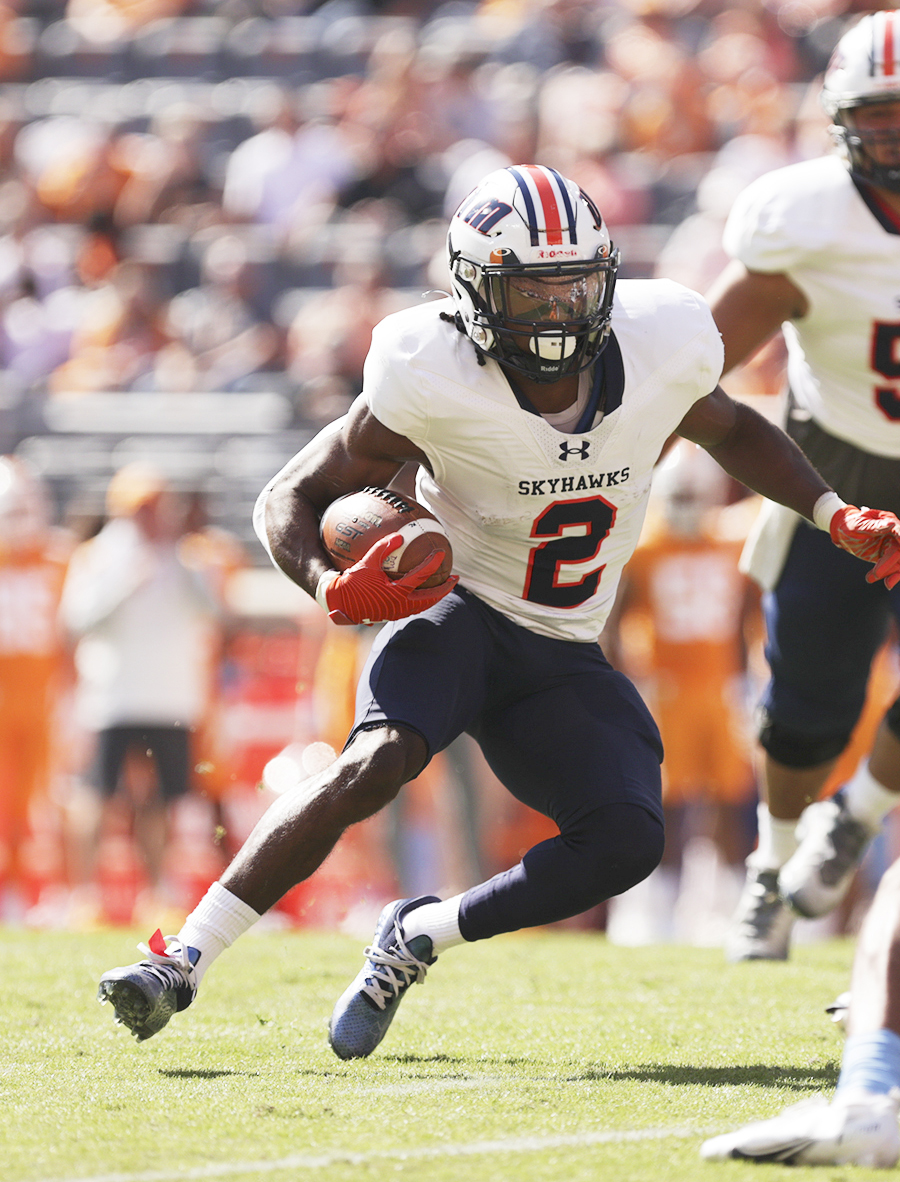 Sam Franklin (RB #2) – Franklin will feature prominently in the backfield for the Skyhawks in the 2023 season. The redshirt sophomore from Little Rock, Arkansas racked up a multitude of honors such as OVC Freshman Player of the Year and Phil Steele FCS Freshman All-American after an exemplary freshman campaign. Franklin carried the ball 84 times for 676 yards and eight touchdowns in 2022, and his ability to run the ball will determine how good this Skyhawk team can be offensively.
DeVonte Tanksley (WR #4) – Tanksley is a standout receiver for the Skyhawks coming off a strong 2022 season where he tallied 53 receptions for 653 yards and one touchdown. UT Martin will be looking for someone to make up the production of now Carolina Panther receiver Colton Dowell, and the speedy Tanksley will be heavily relied upon to be that man. Tanksley was named All-OVC Second Team in 2022 and will make a serious push to be an All-OVC first team player in 2023.
DJ Nelson (TE #5) – Nelson is another Skyhawk who has collected a significant number of conference and national awards heading into just his redshirt sophomore season. The tight end from Selma High School in Alabama led OVC tight ends in touchdowns in 2022 with six. Nelson is a red zone threat that Georgia's secondary will need to be aware of inside the 20.
Daylan Dotson (DE #1) – Dotson is another All-OVC first team recipient following his impressive 2022 season. Dotson was excellent getting to the quarterback last season racking up nearly double-digit sacks as well as 15 quarterback hurries. The Savannah native also has a knack for forcing fumbles where, in 2022, Dotson forced five. Georgia's dominant offensive line will have to keep their eye out for the Skyhawks defensive end.
Oshae Baker (S #0) – Baker poses a threat not just as a safety, but also as a punt returner. The junior from Sanford, Florida is a physically imposing defensive back weighing 200 pounds and is not afraid to come downfield and hit. Last season, Baker compiled 46 tackles and five tackles for loss. Baker's wide-ranging skill set makes him a standout player to watch for the reigning OVC champions.
Jay Rogers (DT #6) – Rogers is a veteran interior defensive lineman for a Skyhawk football team that will have to find a way to move a stout Georgia offensive line. His durability has been rather impressive, having played in every possible game for UT Martin since transferring from Northern Colorado in 2021. Rogers notched 27 total tackles last season while adding on 3.5 tackles for loss and two sacks. The Skyhawks' defensive tackle comes in as a Phil Steele All-Conference third team player in 2023.
---
The most famous UT Martin alumnae is legendary University of Tennessee women's basketball coach Pat Head Summitt, who led the Lady Volunteers to eight national championships.
One of the Skyhawks most notable former players is Jerry Reese, who was General Manager of the New York Giants from 2007-2017, a stint highlighted by two Super Bowl victories.
The most successful season in UT Martin gridiron history came in 1988, as the Skyhawks went 11-2, won the Gulf South Conference and advanced to the Division 2 Playoff Quarterfinals.