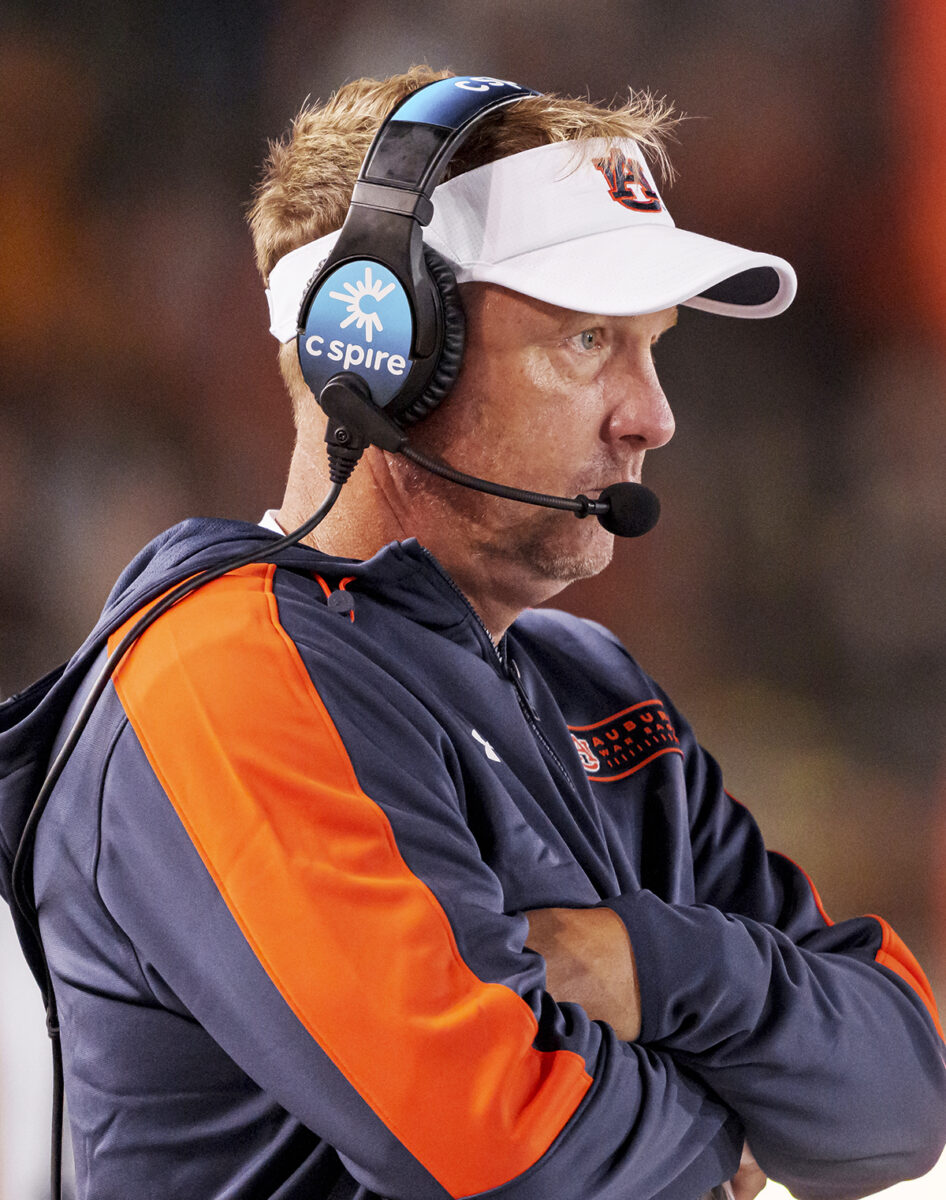 Hugh Freeze (HC) – Freeze was a major offseason hire for an Auburn Football program that was desperately looking for a leader to return the Tigers to college football glory. The newly appointed head coach has experience coaching in the SEC at Ole Miss before being dismissed due to non-football reasons. Freeze is known for his explosive offense and has already proven to be a solid recruiter. Auburn and Freeze will be looking for a program altering win in the Deep South's Oldest Rivalry.
Payton Thorne (QB #1) – A major point of weakness for the 2022 Auburn Tigers was their inability to find success at the quarterback position. Newly appointed head coach Hugh Freeze looked to the transfer portal to grab Michigan State product, Payton Thorne in hopes of changing that. Through the first four games of the season, Thorne has shown his dual-threat ability, passing for 561 yards and four touchdowns, while adding 106 yards on the ground for two touchdowns. Thorne will look to bounce back from a difficult game in A&M to upset the Bulldogs.
Jay Fair (WR #5) – Fair has quickly become Thorne's favorite target. Through four games, Fair has tallied 184 yards and two touchdowns for the Tigers in 2023. Fair is one of the quickest players on the Auburn offense, as well as in the SEC, having run a sub 4.4 40-yard dash while in high school. Allowing for Fair to utilize his speed in open space will be critical for the Tigers' offense to gain momentum against Georgia.
Jarquez Hunter (RB #27) – Hunter is a physical back who possesses great speed and can break explosive plays if allowed the opportunity to get to the second level. Hunter scored a freakish touchdown late in the game against the Bulldogs last season and poses a threat to the Bulldogs' defense. The Auburn running back has rushed for 143 yards and one touchdown so far in 2023. He looks to add to those numbers against the Bulldogs.
Jaylin Simpson (DB #36) – Simpson is a St. Simons Island Frederica Academy graduate who has become an instrumental part of the Tiger defense. So far, Simpson leads the Tigers in interceptions with three. Simpson's exceptional ball skills and explosiveness will be something Carson Beck needs to be warry of when passing in Jordan-Hare. Don't be surprised if Auburn sends him on a few blitzes from the secondary as well.
Eugene Asante (LB #9) – Asante is a talented linebacker for the Tigers who possesses a long frame and good speed. This Tiger has all the traits you want in a linebacker with good body control, sure downfield tackling, and quick reaction to running plays. Asante is currently the Tigers' leading tackler with 28 total tackles, 12 more than the next Tiger. This past Saturday, Asante took a scoop and score to the house for 67 yards for Auburn's only touchdown against Texas A&M. The Auburn linebacker will need another career day to slow down Georgia's offense.
Marcus Harris (DL #50) – Auburn's defensive lineman racked up five total tackles this past Saturday in College Station. The senior is tied for the lead in sacks for the Tigers with two through four games. Harris is one of Auburn's more capable pass rushers from the interior defensive line, something Sedrick Van-Pran and Georgia's guards will need to handle come Saturday.
---
Auburn's 1983 SEC Championship Team is one of the greatest in school history, posting an 11-1 record, capped with a 9-7 victory over MIchigan in the Sugar Bowl and No. 3 national ranking.
Here are Tim Hudson's stats for the 1997 Auburn College World Series team: In 67 games, the All-American hit.396 with 18 homers and 95 RBIs and went 15-2 on the mound with a 2.97 ERA.
All-Southeastern Conference running back Tre Mason had a record breaking day in Auburn's 2013 SEC Championship Game victory, rushing for 304 yards and four touchdowns on 46 carries.