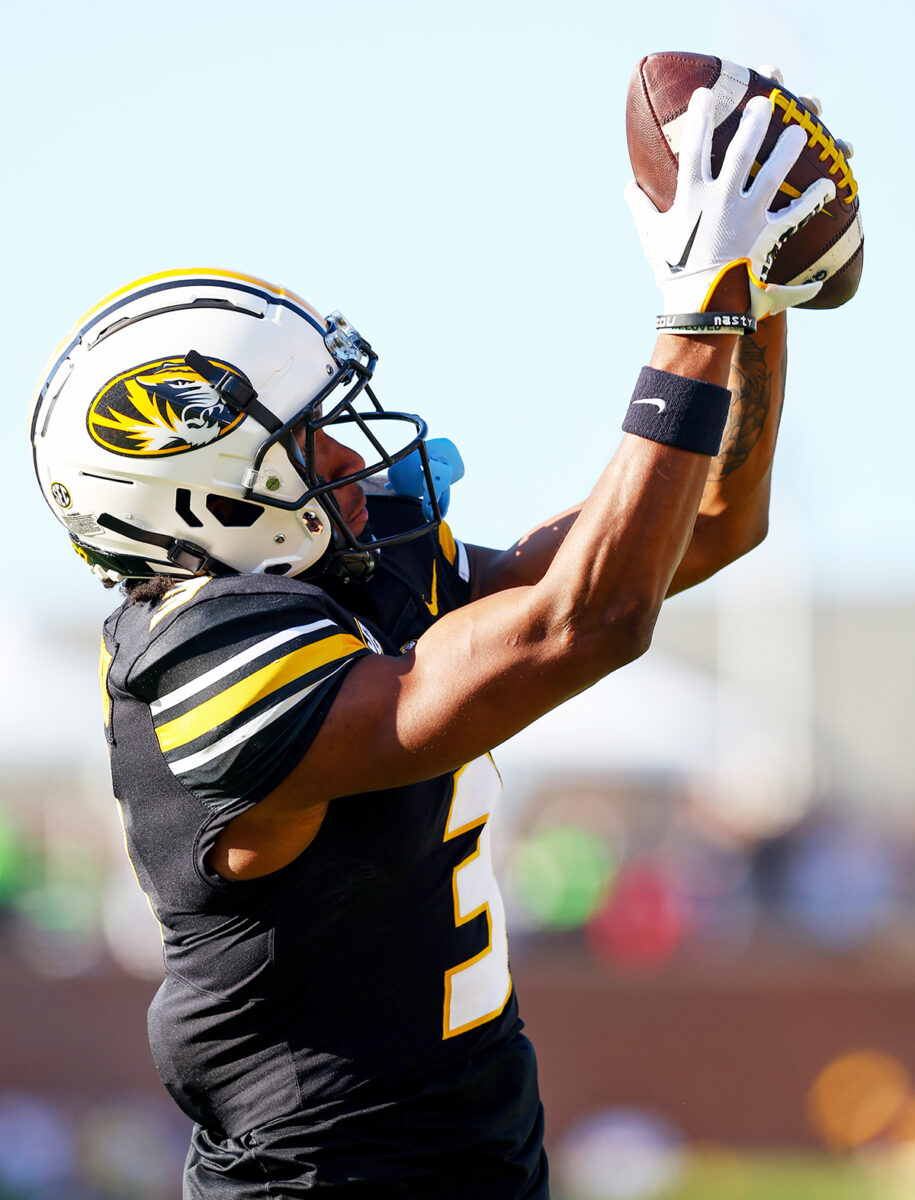 Luther Burden (WR #3) – After beating Florida, Kirby Smart said in his postgame presser that Mizzou was "terrorizing defenses across our conference," and that "terrorizing" is in heavy credit to this young man right here. Luther Burden III is second in the nation in receiving yards with 905 through eight games this season, and whenever he has the ball in his hands, you best believe he's MOVIN'. He's averaging 14.8 yards per catch, which is basically a first down and a half per reception. There is no doubt that Burden will be a threat when the Tigers come to Sanford.
Brady Cook (QB #12) – He's certainly underrated because Missouri Football is a smaller brand than the University of Georgia, but Cook is the real deal. His play is actually quite comparable to the Dawgs' leading signal caller, Carson Beck. Cook has 2,259 yards, 15 touchdowns, and three interceptions on the year. For comparison, Beck has 2,462 yards, 14 touchdowns, and four interceptions. These guys aren't too far apart, which should tell you that Cook could present the Georgia defense with his own set of problems. Keep an eye out for when Cook throws it to Burden. Those two have an elite connection.
Cody Schrader (RB #7) – You can't have a good football team without physicality, and that's exactly what this senior running back, Cody Schrader, embodies for this Mizzou team. Standing at a short and stout five-foot-nine and weighing in at 214 pounds, it's Schrader's low center of gravity that has been helping him shake off defenders and push through, gaining 807 yards this year and averaging 5.8 yards per carry. He's a consistent option for this Tigers' offense, and because of that, he'll have a decent shot at testing the Dawgs' defensive front.
Kris Abrams-Draine (DB #7) – Abrams-Draine is a certified ball hawk. There's something in him that just draws him to the ball when it's in the air, and once he's there, he knows how to make a play. He's averaging about one or two pass deflections a game, and that's a story Georgia knows all too well. In last year's almost-upset versus Mizzou, Abrams-Draine put on a strong performance, swatting the ball away two different times to break up passes. Now a senior leading his ranked team into Sanford, he'll definitely be itching to finish the job this year.
Ty'Ron Hopper (LB #8) – Talk about unfinished business—senior linebacker Ty'Ron Hopper should definitely be excited for another chance to take down the top dog. Last year, he did just about everything he could, getting seven tackles and forcing a forced fumble to try and bring it home for his Tigers. And with the way Hopper and his team have been playing to this point, there shouldn't be much to stop them from the dog fight that's to come next Saturday. As the team's leading tackler with 43 and averaging about five per game, you should see this guy flying up and down the field when Mizzou is on defense.
Darius Robinson (DL #6) – Smart said these guys are "big" and "physical," and that about sums up fifth-year defensive lineman Darius Robinson, standing at a mighty 6-5 and weighing in at a hefty 300 pounds. The scary thing is he doesn't let any of that size go to waste. Robinson has four and a half sacks this season, has forced a fumble, and boasts a whopping 28 tackles from the defensive line position. Robinson definitely knows how to get to the ball, and with a banged-up Georgia offensive line, he may just have a decent chance of doing that when the Tigers suit up to play the Dawgs this coming weekend.
---
Under the watch of head coach Gary Pinkell, Mizzou advanced to the Southeastern Conference Championship Game in 2013 and 2014, the Tigers second and third seasons in the league.
One of the greatest players in Tiger football history is legendary San Diego Chargers tight end Kellen Winslow, a Pro Football Hall of Famer who was on the 1980s NFL All-Decade Team.
Norm Stewart was Missouri's basketball coach from 1967-1999, and was a two-sport star, including being a member of the Tigers 1954 College World Series championship team.