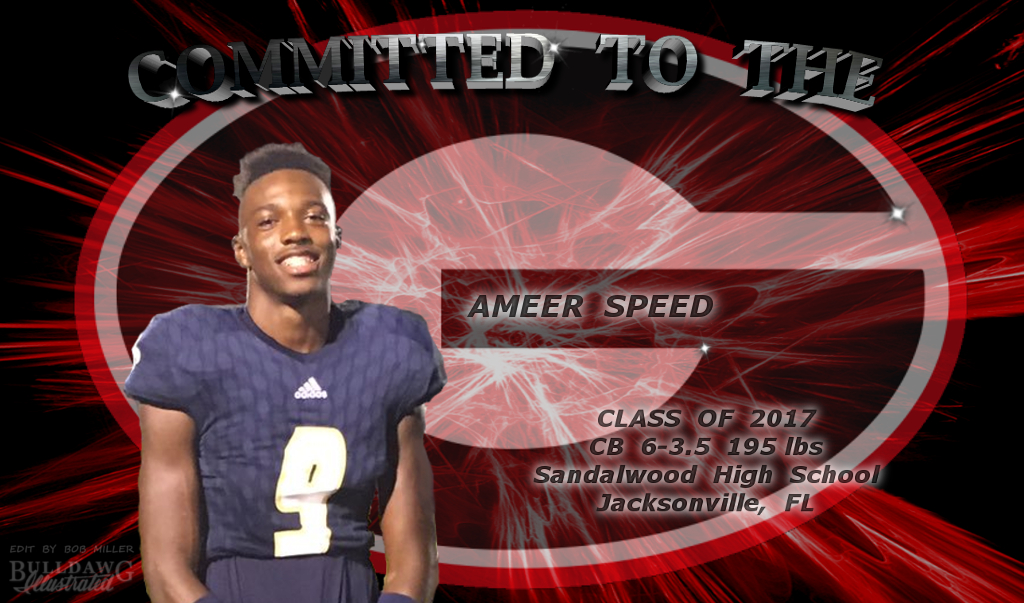 UGA adds Ameer Speed to their defensive backfield with the 2017 cornerback's announcement that he is committing to the Bulldogs.

After Tray Bishop, Deangelo Gibbs, Richard LeCounte III, and William Poole III committed to Georgia, there was speculation as to whether or not the Bulldogs would add a fifth defensive back to this signing class, and if so, who would that be? Just a couple of weeks ago Ameer Speed took an official visit to Athens along with fellow 2017 defensive backs Latavious Brini, Eric Stokes Jr. and Jamyest Williams. It was expected that Georgia would sign one of those 4 out of that group, maybe two. Speed committed to Georgia over North Carolina, Oregon, and Virginia Tech and had scholarship offers from over 38 schools.
Ameer Speed is ranked as a 3-star prospect at cornerback by 247Sports.com and by Rivals. He is ranked a 4-star prospect by both Scout and ESPN.
The 6 foot 3.5 and 195 lbs played for Sandalwood High School out of Jacksonville, Florida at both the cornerback and free safety positions. His size gives him the ability to jam receivers well and play with physicality. Speed does look a little stiff in his hips on his backpedals, but he anticipates the ball so well, he is able to recover quickly to make plays.
Ameer Speed's Highlights:
Highlight Video 1- CLICK HERE


Highlight Video 2- CLICK HERE