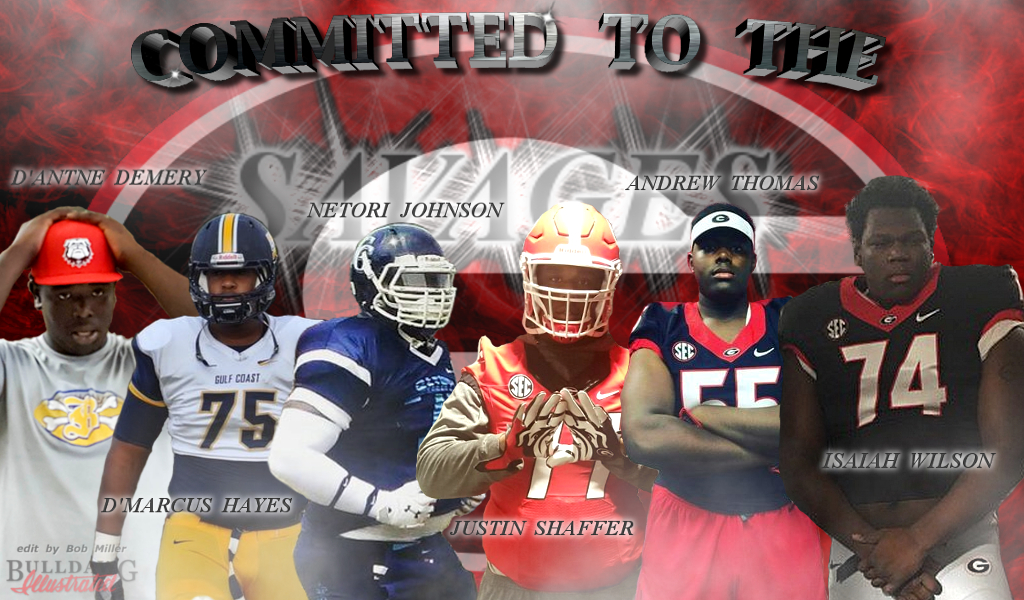 The Bulldogs picked up their sixth offensive linemen commitment for 2017 with Isaiah Wilson's announcement this past Friday. He joins D'Antne Demery, D'Marcus Hayes, Netori Johnson, Justin Shaffer, and Andrew Thomas in perhaps one of UGA's best and biggest o-line classes in over 25 years.
Of course, none of those six are on campus yet and with the exception of D'Marcus Hayes who will enroll early in January and has already signed his Letter of Intent, they will not be till sometime around June of 2017; but the talent and potential of this crop of big men at least passes the eye test. By that, I mean just the sheer size of each of these prospects as well as their innate athletic ability.

D'Antne Demery – 6 foot 6 and 320 lbs (Brunswick HS, Brunswick, GA)
D'Marcus Hayes – 6 foot 5 and 330 lbs (Mississippi Gulf Coast C.C.)
Netori Johnson – 6 foot 4 and 348 lbs (Cedar Grove HS, Ellenwood, GA)
Justin Shaffer – 6 foot 5 and 356 lbs (Cedar Grove HS, Ellenwood, GA)
Andrew Thomas – 6 foot 5 and 325 lbs (Pace Academy, Atlanta, GA)
Isaiah Wilson – 6 foot 7 and 354 lbs (Poly Prep Country Day School, Brooklyn, NY)
If you are counting up the pounds, that is over one full ton of o-line fury at approximately 2,033 lbs added to the Georgia depth chart. Head Coach Kirby smart stated he wanted to work on getting the Bulldogs better and bigger in the trenches, and he and Offensive Line Coach Sam Pittman have certainly done that.
Will Georgia add any more offensive linemen to the 2017 Class?
With six already committed, unless there is a de-commitment between now and NSD, it is highly unlikely that the Bulldogs will take any more than those six on scholarship. Coach Smart and Coach Pittman could look to add some depth with preferred walk-on offers. Georgia offered 6 foot 1 and 305 lbs center William Nana Fabu from Columbus High School, Columbus, GA as a preferred walk-on just this past week. Last year, the Bulldogs added three preferred walk-ons after National Signing day: 6 foot 4 and 300 lbs Sean Fogarty, a transfer from FCS program Savannah State University; 6 foot 6 and 324 lbs Daniel Gothard out of Dunwoody High School, Dunwoody, GA; and 6 foot 7 and 353 lbs Allen Williams out of Appling county High School in Baxley, GA.
Looking ahead to the next recruiting class of 2018, UGA has one offensive lineman already committed, Max Wray, a 6 foot 6 and 282 lbs prospect out of Franklin, TN who is rated a consensus four-star, top 10 offensive tackle by 247, ESPN, and Scout and a four-star, top 20 tackle by Rivals. The Bulldogs also have 17 offers out to offensive linemen for 2018 so far including:

Christian Armstrong – 6 foot 5 and 315 lbs (Warner Robins HS, Warner Robins, GA)
Jackson Carman – 6 foot 6 and 300 lbs (Fairfield HS, Fairfield, OH)
Curtis Dunlap – 6 foot 5 and 350 lbs (IMG Academy, Bradenton, FL)
Trey Hill – 6 foot 4 and 333 lbs (Houston County HS, Warner Robins, GA)
Jalil Irvin – 6 foot 4 and 280 lbs (Stephenson HS, Stone Mountain, GA)
James Ohonba – 6 foot 5 and 320 lbs (Woodland HS, Stockbridge, GA)
Jamaree Salyer – 6 foot 4 and 327 lbs (Pace Academy, Atlanta, GA)
Darrell Simpson – 6 foot 7 and 330 lbs (Northwest HS, Justin, TX)
Badara Traore – 6 foot 8 and 315 lbs (ASA Junior College)
The six space-eaters in the 2017 class will join last year's three offensive line signees from the 2016 class:

Chris Barnes – 6 foot 3 and 301 lbs (Lee County HS, Leesburg, GA)
Ben Cleveland – 6 foot 6 and 341 lbs (Stevens County HS, Toccoa, GA)
Solomon Kindley – 6 foot 4 and 336 lbs (Raines HS, Jacksonville, FL)
With Tyler Catalina, Brandon Kublanow, Greg Pyke graduating off the Bulldogs' offensive line, it's going to be fun to watch spring camp and fall camp this offseason to see who steps up to fill vacant positions or if any of the newcomers can grab a starting spot for 2017.