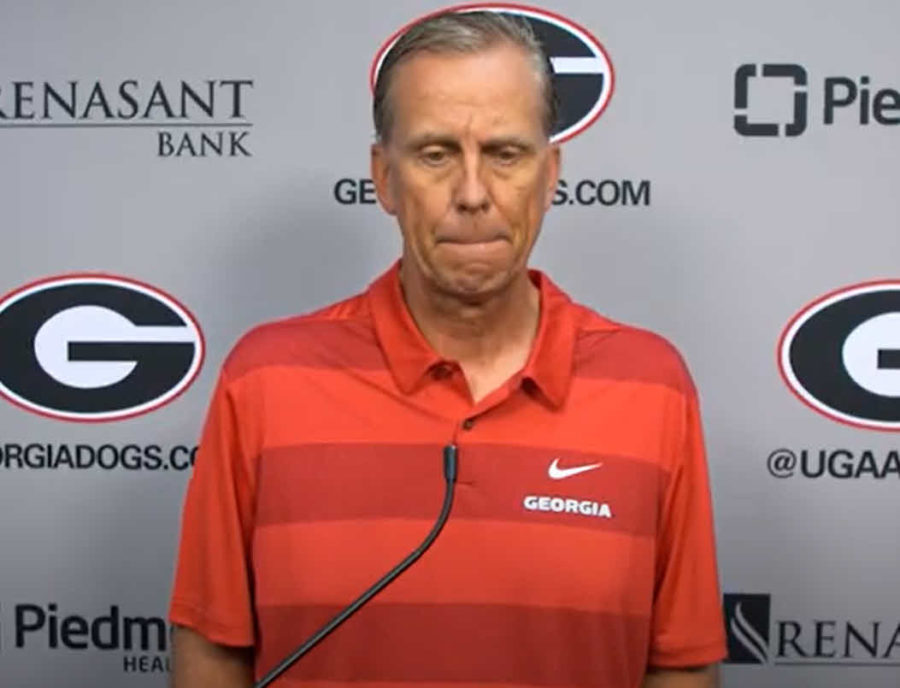 This past offseason the Georgia offense looks completely revamped due to Kirby Smart bringing in former Cleveland Browns offensive coordinator, Todd Monken, to take over the reigns from former play-caller James Coley.
Then, Smart and his staff signed two transfer quarterbacks and added a graduate transfer tight end as well. The unit also added a couple of potential freshman weapons along with returning a whole lot of talent from the running backs and receiving corps.
There are so many questions surrounding the offense right now, but the most important one is: who will be Georgia's starting quarterback going into week one on Sept. 26 at Arkansas.
For the first time since 2016, the Bulldogs football program has a true quarterback battle on its hands. The projected starter is Wake Forest grad transfer Jamie Newman, but former USC signal caller JT Daniels is also closely in the mix. Then, you hear about how well redshirt freshman D'Wan Mathis is adjusting as well as freshman Carson Beck. Even senior and last year's backup Stetson Bennett has had some shining moments in fall camp.
But according to Monken, there's an open battle for the starting role.
"Right now, it's an open competition," Monken said when he met with reporters Tuesday for the first time since arriving at Georgia. "We're looking at all the players because they all have talent. We're excited about getting to scrimmage this Saturday and seeing where we're at."
Monken explained that each of the candidates has a certain unique thing about them.
"I really like our guys. We have a good number of players at that position," Monken said. "It's been fun to be in the room, because they all vary. They're different in terms of their personalities. They all want to be really, really good players. They all want to work at it."
Naming the starting quarterback is going to be Monken's first major task at UGA, and the veteran coach will be looking for some specific things while making that decision.
"Well, first of all accuracy is number one because if you're gonna throw the football you have to be accurate with the football," Monken. "So that would be number one. How accurate are you when it comes to throwing the football? Mental toughness, I think that is up there, that's gotta be a big part of it. How they handle it. Quarterbacks are as closely aligned with winning and losing as coaches. "
He said that's the closest you're going to get in terms of your players as far as winning and losing.
"So those guys have to be able to handle the ups and downs of the position," Monken said. "The mental toughness ability to sustain through the ups and downs of playing the position and the media scrutiny. The next part is the athleticism, being able to move and extend plays. The game has become that so much more in terms of your athleticism."
Monken said both Newman and Daniels both have already been impressive.
"The one thing I'd say about Jamie [Newman] is that while everybody talks about his athleticism, he's a better thrower than people think," Monken said. "I think JT [Daniels] is a better athlete than people think. Obviously, there's film on both of those guys. Obviously, JT was a young player at USC throwing the football. There's film of Jamie, obviously running Wake Forest's offense, very efficiently."
He explained that from the first five days, that Daniels is a better athlete than most think, and Newman has a much better arm that some presume.
Regardless, it's too early to tell because the team hasn't even had their first scrimmage.
"Right now, it's hard, because it's only basically been five days that, as coaches, we've been on the field with them throwing a football," Monken said. "I know it's hard to envision, when you really think about it, that (the coaches) have not been on the field with our players, throwing a football, until we started camp without having spring ball. Everything else is on your own when you have a football on the field, so that made it a little bit difficult."
Here is the video from Monken's interview: