Jerry Varnado bleeds football. He began playing football for the legendary coach, Wright Bazemore, at Valdosta High School. While in high school, Mr. Varnado won two state championships under the tutelage of Coach Bazemore. Mr. Varnado then attended Georgia and played football for five years. His first two years he played under Coach Johnny Griffith, and his last three years he played under Coach Vince Dooley. The next three years he coached at Georgia while earning his law degree. Upon graduation, he practiced law with Fortson, Bentley, and Griffin in Athens for 13 years.
Then, a new chapter of Mr. Varnado's life unfolded due to some tragic circumstances and he began his work in ministry. In 1984, he attended Emory University to gain his theology degree, and in 1985 he became a student pastor at a local church here in Athens. He stayed at the same church for 25 years. As a retiree, he now pastors at Ray's United Methodist Church in Bishop.


Below are a few of my favorite nuggets from my incredible conversation with Mr. Varnado …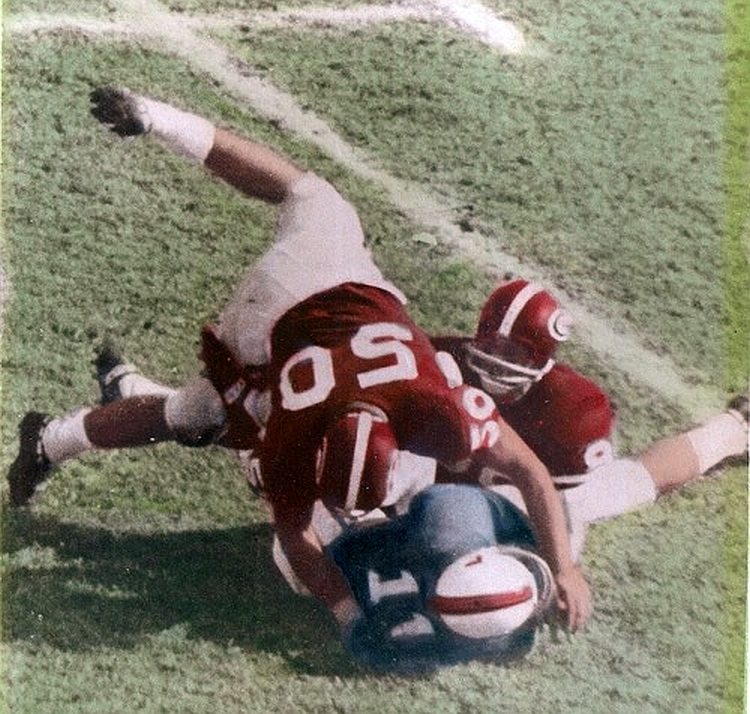 MOST MEMORABLE GAME AS A DAWG

Just like all other past Dawgs, Mr. Varnado's Georgia Tech games were always an experience. To hear the exciting story on Mr. Varnado's adventures with Tech you can listen to my full interview with Mr. Varnado on the podcast below at the bottom of the article.


Although Tech is always a fun one, Mr. Varnado claims that the Florida game of 1966, his senior year, was the most memorable game. Let me give you all a little backstory to this game. Mr. Varnadowas checking into his dorm his freshman year when a big ole guy came up to him and asked, "Are you Jerry Varnado?" Mr. Varnado answered, "I sure am." Then, the burly man asked, "Did you live in Jacksonville?" Mr. Varnado responded, "Well, I sure did." The big fellow followed up with, "I'm Ken Pillsbury!" He and Mr. Varnado grew up together as best friends in Jacksonville until Mr. Varnado moved to Valdosta. They never saw each other again until they got to UGA.


Flash forward to 1966, Coach Dooley always let some of the guys who lived near the site of the away games be captains, and in this case, it was Jacksonville pals, Mr. Varnado and Mr. Pillsbury. "This was the year that Florida was supposed to win the Southeastern Conference championship. Steve Spurrier was their senior quarterback," recounted Mr. Varnado, "They [Florida] had this really hyper-potent offense, at least for back then." Mr. Varnado remembers how the Gators were beating them pretty good, but the Dawgs managed a comeback and shut out Florida in the second half. Mr. Varnado sacked Spurrier in the game, and when the fat lady sang, Georgia was on top 27-10! This loss for Florida eliminated them from being SEC champions. According to Mr. Varnado, "This is why Steve Spurrier has hated Georgia all of his life."


Jerry Varnado's sack on Gator quarterback Steve Spurrier is at the 5:10 mark in the YouTube video clip below of the 1966 Georgia-Florida game.




THOUGHTS ON BILL STANFILL

Mr. Varnado only got to play with Bill Stanfill for one year. The two became good friends over spring practice, which carried on into the fall. Mr. Varnado said, "He [Bill Stanfill] was an all around great guy." Mr. Varnado used to host a bird hunt for alumni down in Valdosta and according to Mr. Varnado, "My mother thought he had hung the moon. She just loved Bill Stanfill." Mr. Varnado couldn't put into words how great Mr. Stanfill was.


PLAYERS YOU WOULD'VE LIKED TO PLAY WITH

"Of course everybody would say, 'I'd love to play with Herschel Walker,' I mean who wouldn't?" He also brought up Fran Tarkenton and Charley Trippi along with Buzzy Rosenberg, a great Georgia punt returner.


THOUGHTS ON THE DAWGS THIS SEASON

Mr. Varnado is a strong believer that the experience we have on the team this year has and will keep serving us right. Mr. Varnado is very impressed with how much speed our team has gained. Along with speed, he has loved seeing the competitiveness in our special teams. He presumes that with an increase in our speed and more competition on special teams some of those losses last year should be victories this season. "You add to that, we have two of the premier [running] backs in the entire conference and some young guys behind them that are snapping at their heels." Overall he imagines that the rest of the season has potential to be an excellent one.


Just like me, Mr. Varnado loves to talk Georgia football. I could listen to his stories for days. In fact, he and his wife have been writing a blog called One Old Dawg since 2014 to recognize the 50th anniversary of Coach Dooley's first three years coaching, which was Mr. Varnado's last three years playing.


Please check out Mr. Varnado's blog, One Old Dawg, at http://oneolddawg.blogspot.com/.


Here is the audio of my full interview with Jerry Varnado,


---
Recent Articles by Hamilton Culpepper


[pt_view id="786b6cb2sw"]